Z-Wave is one of the most widely used wireless communication protocols in the world of smart home and IoT devices. That's why, if you are looking for an easy and smart garage door solution, one of your best options is to choose a Z-Wave Garage Door Controller. 
As with almost any other type of technology, there is a broad range of garage door openers on the market. Some use cellular networks, others use Bluetooth, Wi-Fi and some even use Z-Wave and ZigBee. It's hard to name one of them 'the best' as each of them is useful in its own way and each of them has some pros and cons. Nonetheless, we've decided to compile a list of the best Z-Wave garage door controllers that the market has to offer.
Best Z-Wave Garage Door Controllers
As Z-Wave enthusiasts generally prefer to make their own DIY solutions, you won't find a lot of Z-Wave Garage Door controllers on the market. However, with the recent rise in demand of Z-Wave enabled devices a lot of Smart Home hardware companies are trying to come quickly out with their solutions. There are also some major players that already have stable Z-Wave garage door garage controllers, which are also easy to install, and are a perfect solution for any home.
The GoControl/Linear Z-Wave Garage Door Controller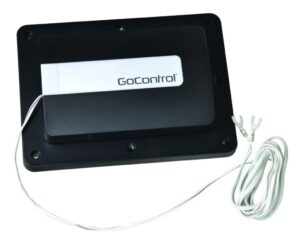 Pros: 
Easy to Install
Up to 100ft Range
Audible and Visual warnings
Cons: 
The GoControl/Linear Z-Wave Garage Door Controller is a perfect option for those who want to make their home smarter. It's extremely easy to install and use. It requires 120 VAC and works on 908.42 MHz frequency with the position sensor frequency at 345 MHz. The device also has some additional safety features, which include audible and visual warnings, before the movement of the door. The only downside of the device is that it doesn't support every garage door opener that has come out throughout the years, and people may experience certain compatibility issues.

Aeotec Z-Wave Garage Door Controller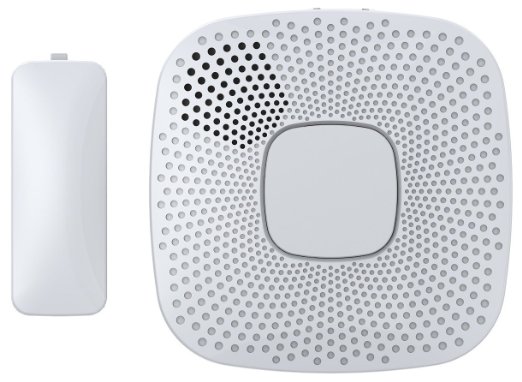 Pros: 
A number of Supported Command Classes
Smartphone Notifications and Garage Door Entry Log
Has Safety tones and a 105 dB Siren and LED lighting to warn of door closures
Cons: 
May Experience Compatibility Issues with some Garage Door Openers
Limited Availability
The Aeotec Smart Z-Wave Garage Door Controller by Aeon Labs is one of the best z-wave controllers on the market. It is incredibly easy to install and has all the items and cables you need to install it in the box. It has some safety features. The device even features a customizable siren, with changeable and custom MP3 tones. However, as with other Z-Wave controllers Aeotec also requires your garage door opener to have two cable device support. Furthermore, the device currently has limited availability, and it might take you some time to purchase and receive your device.


NuTone Smart Z-Wave Enabled Garage Door Controller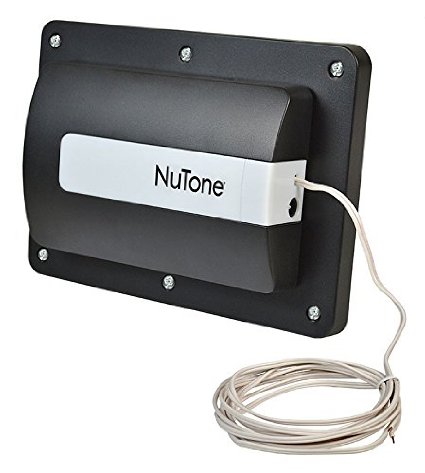 Pros: 
Secure Barrier Command Class Encryption
Compatible with a wide range of Older Garage Door Openers
Easy to Install and Use
Cons: 
Compatibility Issues with Newer Garage Door Openers
Mediocre Support from NuTone according to customers
The NuTone Z-Wave enabled Garage Door Remote Controller is a extremely similar device, much like a re-branded Go/Control Linear controller. Nevertheless, the boxes and branding, as well as the devices felt quite different both in terms of build and performance. The NuTone Z-Wave enabled Garage Door Remote Controller a great easy-to-install device that lets you control your garage door automatically. What's great about this product is the fact that it is compatible with a great range of some of the best garage door openers from the past. However, if you are into home automation and have some of the more modern garage door openers you might find some compatibility issues. If you are worried about safety, you should be happy to learn that NuTone has a secure barrier command class encryption, which separates it from the rest.


The Easy Solution – Z-Wave Plus Garage Door Tilt Sensor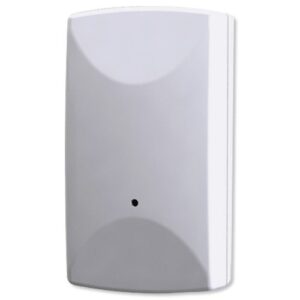 In case you want an easy and affordable smart solution, you might want to go with this Z-Wave Plus garage door tilt sensor. Working with the latest iteration of Z-Wave, the tilt sensor allows you to know when your garage door has been opened. While not as sophisticated of an automation solution as the aforementioned controllers (and in fact, not a controller in a sense) it will help you make your garage door that much smarter.
Pros:
Works with Z-Wave Plus
Extremely Easy to Install
An Affordable Solution
Integrates Easily Within your Smart Home Ecosystem
Cons:
Can Experience Garage Door Opener Compatibility Issues
Doesn't offer any type of controls

The Common Problems with Z-Wave Garage Door Controllers
As with other types of garage door controllers, Z-Wave garage door controllers also have limited compatibility. Furthermore, some companies don't manage to provide the required support and customers may have to fix some issues on their own.
The Best Features of Z-Wave Garage Door Controllers
Nonetheless, having a Z-Wave Garage Door Controller may be the best option for you. They are easily connectible to your smart home hub, as well as other devices. Furthermore, they give you further customizable options for a better smart home experience.
If you are interested in upgrading your garage door opener to achieve smart home automation capabilities also be sure to check out our piece on the best smart garage door openers for 2016 article here.
For more info on the best garage door openers and controllers, as well as the latest guides, tutorials and news in IoT and the Smart Home world make sure to stay tuned to BuildYourSmartHome.co