We're through first half of the year, and by now we have a pretty clear idea of what are the best smart locks in 2018.
Smart locks are predicted to be a fastest growing segment in the smart home devices industry in 2018. If we speak about customers, smart locks became popular among the broad population, not only within a group of smart home enthusiasts and early adopters. The possible reason for this is that home security is one of the most critical decision-making factors for buyers.
According to Energias Market Research, the factors driving the growth of the market includes the adoption of a sophisticated keyless access device, increasing demand for smartphones, increasing security and privacy concerns among users and growing demand for connected home solutions.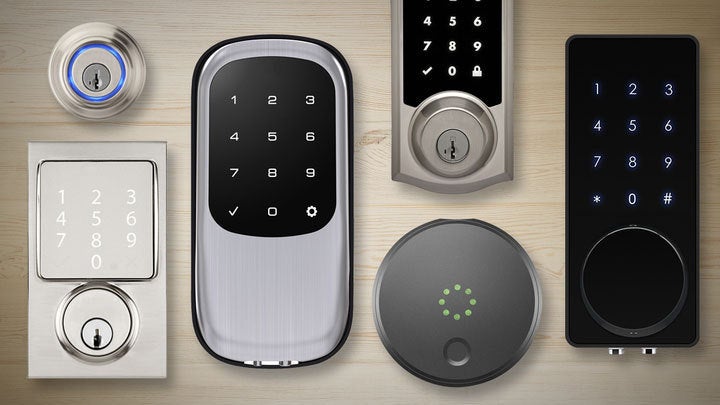 Image from TechHive
Due to its affordable price and user convenience, smart locks are emerging door lock devices. They are replacing many of the conventional locks. Smart lock helps to deny or grant access remotely by a mobile app, and it is playing a vital role in providing real-time information, by enabling the user to trace the entries and exits.
Currently, a leading communication protocol in the global smart locks market is Bluetooth.
Schlage Sense

Image from Amazon
Security: Schlage Sense sends alerts when home security is at risk. The smart door locks' built-in alarm activates when someone tries to force the door open. In the event of a nighttime break-in, the lock gives you information. This way, it helps to deter potential intruders from entering your home by attracting unwanted attention to them.
You can set the auto-lock feature to lock your door after a time between 15 seconds and four minutes to make sure you don't leave your door unlocked.
Remote control: Schlage Sense's mobile app is simple, so you can add and remove guests from your guest list with little effort. You can assign up to 30 guests codes and share them via text message or email. This feature is very convenient because guests don't have to download an app to their phones. You can create permanent access or one based on a schedule.
The lock can also be used manually, which means you can unlock the door with a key, in case you lose your phone or batteries run out unexpectedly.
Compatibility: Amazon Alexa, Google Assistant
Cons:
Doesn't have the ability to detect when your door is open.
Doesn't work directly with any video doorbells, but Amazon Alexa can control the lock and Ring Video Doorbell separately.

August Smart Lock 3rd Generation

Image from Amazon
3rd Generation August Smart Lock looks significantly different from the first two versions. However, it is a more affordable option with a few new features that make it easier to install and more secure. This model is straightforward to install; it takes around 10 minutes for installation.
Security: DoorSense feature brings door sensor functionality to the August Smart Lock so it can track if your door is open. It can also send you an alert if the door is left ajar. It helps eliminate any doubts that your door is closed and secure. To use this feature, all you have to do is to install an included magnet on or in the door frame near the lock and calibrate it as prescribed in the manual.
Remote control: You can send permanent, recurring and temporary keys to your guests by mobile app. This smart lock has auto-unlock feature, which uses your phone's location to track when you get close to home and unlocks as you approach the door. Similarly, August Smart Lock auto-locks your door when you leave.
Compatibility: Amazon Alexa, Google Home, Nest, Xfinity, Wink, Logitech Harmony and others.
Cons:
Doesn't have an alarm to deter intruders from entering your home.
Doesn't detect when someone tampers with a lock or tries to force the door open.

Nest x Yale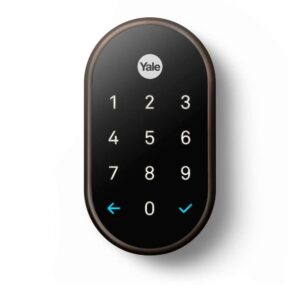 Image from Amazon
Nest x Yale was released in early 2018; this is one of the latest models in the market of smart locks.
Security: Two features give it advance concerning security. The first one is that it has no keyhole. This feature means no-one can pick the lock and must damage the lock to get it open, which triggers an alarm.
The second one is that Nest x Yale won't let you use common codes such as 1234 or 7777 for the lock when adding them from the app. It will prompt you to choose a more complex code.
The lock uses geofencing tools to lock the door automatically when you're not at home.
Remote control: You can have up to 20 codes for the lock, and it responds rapidly to commands from the mobile app.
Compatibility: Nest Connect, Nest Guard
Cons:
Nest is the only compatible platform
High price

Kwikset Obsidian Amazon Key

Image from Amazon
The sharp lines and square touchscreen of this lock will give your front door a smart and elegant touch. Touchscreen immediately illuminates in white when you touch it, allowing you to see the screen in all lighting conditions.
Security: This smart lock has a nice keyless design. Remove of a keyhole gives you additional security because there is no way of breaking into the house. The lock also has an alarm that sounds when someone tries to break it off.
For increased security, it has SecureScreen technology to prevent detection of user code via fingerprints on the touchscreen. SecureScreen technology helps protect against unwanted entry by having users press two random numbers before pressing their security codes.
Remote control: You can create up to 30 user codes for family members and friends.
Compatibility: The lock's Z-Wave capabilities allow it to work with smart hubs such as Samsung SmartThings, Vera, Amazon Alexa, Control4, Crestron and Savant.
Cons:
Requires a smart hub to add smartphone controls.

Samsung Ezon SHS-3321

Image from Amazon
The lock has a very sleek, modern look. But aside from that, this lock can withstand freezing temperatures and is weatherproof, so it is good for using on outer doors. It also has a fire-detecting sensor, which is a small but essential addition to a smart lock.
Security: One of the most important features of this unit concerning safety is the automatic locking. Whenever the door is closed, the system automatically locks it, which is very helpful in case you forget to lock the door. A special touch to the security is the anti-theft mode: if there's someone who tries to press a button, you will hear a sound that will let you know about this.
You can use the lock with both a password and a card due to the lock's double authorisation feature.
Remote control: It can't be used with an application, but it is compatible with the Samsung video door phone or your home automation system that allows you to unlock the door.
Compatibility: Samsung video door phone
Cons:
No possibility of remote control via an app on mobile.

Ultraloq UL3 BT

Image from Amazon
This smart lock provides you with several ways of opening the door. It is easy to install and can be connected to your smartphone. The connection is via Bluetooth.
Security: You can unlock the door via smartphone – Android or iPhone, keypad, fingerprint, and mechanical key.
This smart lock can store 95 different codes, from 4- 8 digits long. Also, 95 fingerprints can be enrolled.
The smart lock has an auto-lock feature, but the app also allows you to set the lock to remain unlocked for a period so that the door can be opened by pressing down on the handle. You can also lock the door which can be opened only by using a mechanical key.
Remote control: Both Android or iPhone can be used to unlock the door.
Compatibility: iOS, Android
Cons:
Fingerprint recognition not reliable.

Danalock V3

Image from homekitnews.com
Danalock claims they have the Smartest, Smallest, Safest smart lock on the market.
Security: The same level of security that Danalock has integrated is used in the military and bank security. So, from the hacking aspect, it is the safest smart lock available.
The auto-lock feature locks your door after 5 seconds to 3 minutes delay, which you can adjust. Guest access has three settings: recurrent, temporary and permanent.
The lock sends audio and mobile alerts when it is unable to lock, but it can't detect forced entry attempts.
Remote control: You have remote access for Danalock via a smart home system or the free Danabridge mobile app. The Danalock V3 BTZU uses Bluetooth to communicate with your mobile device, which means you have to be within Bluetooth range (around 40 feet) to control the lock with your phone. The lock doesn't have a Wi-Fi radio, but you can configure a Wi-Fi bridge to control it remotely.
Compatibility: Danalock V3 is compatible with certain Z-Wave and Zigbee smart home systems, which means you can link to connected hubs like Samsung SmartThings, Fibaro Home Control, Homeseer 3 and Wink. Danalock is also compatible with Amazon Echo via IFTTT and should work with Google Home later this year.
Cons:
Requires a bridge for control outside of Bluetooth range.
The security depends on the strength of the deadbolt you attach it to.
H-Gang Prisma

Image from Amazon
This smart lock door lock employs both a keypad and a fingerprint scanner as entry systems. The design is thinner than previous models; the lock seems elegant. This type has faster fingertip recognition than previous versions. The white light button enables you to see keypad in any lighting circumstances. This smart lock has fire alarm implemented, so at a certain level of room temperature, the temperature sensor detects heat, sounds alarm, and automatically unlocks the door.
Security: As this is a keyless lock, it has a high level of security. Additionally, you can safely enter your passwords by the random number, in case you don't want the person next to you to see it. You can register up to 4 passwords and up to 100 fingerprints.
Remote control and Compatibility: None. From this aspect, this is not really a smart lock because it cannot be connected.
Cons:

After checking the best smart locks in 2018, you can compare them with our choice from 2017. and see what are the newcomers to the market of smart locks.