Living in a world of smart homes as a smart device means that you are up to date and technically advanced. But if you really want to be on the top of the hill, you need to be connected with other devices and, of course, Alexa. Even if you are a doorbell!
For your convenience, we have checked out the market of Alexa compatible video doorbells and their features. We have talked about smart wireless doorbells earlier and features that you need to look for when buying one. Let's do a quick review.
There are multiple features you should look for when you are on the hunt for the best Alexa doorbell.
1. Functionality – The Alexa connected doorbells are so much more than a doorbell. Once you have checked all the available models, you will choose the one with the functions you need the most.
2. Alexa compatibility – Since the title of this article is "Best Alexa Doorbells" we will go through the features that work by voice command to Alexa, such as Start / Stop recording of video, Take a still image, Enable / Disable quiet mode and of course, view the camera on an Echo Show or Spot.
3. Installation – you will find wireless and wired Alexa compatible doorbell, and if you already have the wired doorbell, you will probably not take the wireless one into consideration. But, it is an exciting option, right?
4. Video quality – Today, you will hardly find a doorbell with resolution below 720p. But bear in mind that, even though all cameras with resolution over 720p are claimed to be HD, quality of an image depends on video processing, storing and other factors, as well.
5. Video Storage – You can save the video recording and pictures on the cloud or in the local storage. When purchasing the Alexa compatible video doorbell, be sure to check do you have available the free storage, and what is the monthly fee if you wish to keep the data on the cloud.
6. Battery life – if you choose the wireless doorbell the lifetime of the battery will certainly be one of the main questions that you will be concerned about, so choose the one which suits your needs the best!7. Night Vision – Infrared is the most common form of night vision for video doorbells and security cameras. But it makes black and white images, and if you wish to have colour videos, you will need a doorbell with illumination.
8. Motion detection – You will need a doorbell with a motion detector if you are purchasing it for security purposes. This kind of doorbells start recording the moment that motion is detected and sends you an alert, there is no need to wait for someone to ring a bell, you already know somebody is at the porch.
You might find some other features more essential for you, and will focus on them during purchase. Now, let's check out what are the best Alexa compatible doorbells.
1. Ring Video Doorbell 2
The Ring Video Doorbell 2 is good looking video doorbell designed for convenience and security. It has 2-way talk feature so you can talk to the person at the door, being home or not. Its camera can automatically record visitors to your house, and if a motion sensor is on, you will get notified even before you hear the chime. The field of view of the Ring video doorbell 2 is 160 degrees. It is water resistant and works on temperature -5°F to 120°F / -20.5°C to 48.5°C.
The size is a bit bulky, but if you install it on the wall next to the doorframe, it will not appear too robust. You will receive all the tools necessary for the installation in the package together with the doorbell. If you have a hardwired traditional doorbell, you can just replace it. Still, you can use the wireless option of the Ring video doorbell 2 without worrying that it will get stolen. The manufacturer will refund it when Police report provided.
Alexa Compatibility
If you are an Alexa owner, you can handle the Ring doorbell with the following actions:
– see, hear and speak to people in front of your camera from Echo Show and Echo Spot devices
– see and stop your Ring feed
– view your most recent video clip on Ring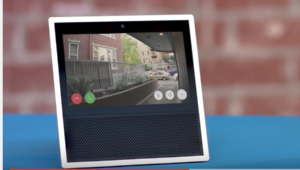 The skill doesn't let you answer the door, so you'll have to use for your phone for the door opening.
The Ring video doorbell 2 is also compatible with IFTTT.
Other Features
Video is recorded at 15fps and a resolution of 1920p x 1080p. The audio part works excellent, but a video can be a bit blurred if there is too much motion. Still, as this is not a security camera but a video doorbell, so it really makes its purpose well.
Too bad that there's no free subscription available and you'll have to pay $3 per month or $30 per year for one device, or $10 per month/$100 per year for multiple devices in case that you have ring security camera as well.
The Ring claims the battery will last between six months and a year, which is long enough not to be a hassle. The battery is removable, and you will use it only if your Ring Video Doorbell 2 works wirelessly. It is charged via present micro-USB port.
It uses four infrared LEDs and captures the area up to 30 feet of night vision. Night-time video is better, as the camera can capture higher-quality images from greater distances compared to the previous version.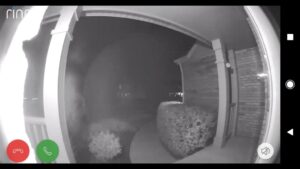 The motion detection is a flexible system, which means that you can control motion detection zones and the detection distance. With these controls, it's easy to configure motion detection so that the camera doesn't pick up a neighbour or someone walking past your door.
Since Ring uses integrated PIR sensors, instead of monitoring the video stream, there will be no false alerts. Plus, you can disable motion alerts at certain times by setting up a motion detection schedule.
Wrap up
With proper security features, Alexa compatibility, a higher-resolution sensor, removable battery, wireless option and adjustable motion detector, in spite of some minor drawbacks, it may be the best choice for you.

2. Ring Doorbell Pro
A slimmer model than the Ring Video Doorbell 2, it comes much more elegant and better looking. With a 1080p camera resolution, this model has an excellent image quality. Ring Doorbell Pro offers a 160- x 100-degree field of view, which covers all the entryways well. 2-way audio is possible via smartphone app on both iOS and Android. If you choose, you can connect it to your existing chime or use a wireless ring or mobile app, too. This model is excellent if you are looking for one that will replace your traditional hardwired doorbell and you will get all the tools for it in the package.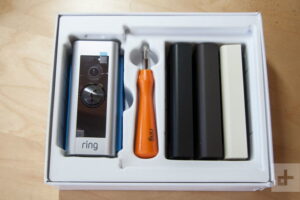 Installation is easy and straightforward, as it is only a replacing the previous doorbell. The conditions ranging from -5 F to 120 F / 20.5°C to 48.5°C. After you install it, download the mobile app and enjoy the full experience of the Ring Doorbell Pro.
Alexa Compatibility
Even though you cannot start or stop recording video, have your doorbell ring on an Echo or use a quiet mode Ring Doorbell Pro has the most important features when connected to Alexa. You can do the following actions:
– Get a live video feed by saying "Alexa, show my front door."
– Stop the live feed by saying "Alexa, hide my front door."
Phrase "front door" can be changed to whichever name you give to your doorbell.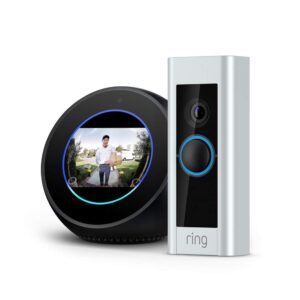 You can also display the camera image on a compatible Fire TV device via Alexa. The Ring Doorbell Pro works with IFTTT, Google Assistant, SmartThings and Wink as well.
Other Features
This is a 3rd generation camera with a resolution of 1080p, which makes great videos, not only during the day but also at night. Video processing is also excellent. The high-quality video is supported with the same quality audio.
The storage fees are the same for all Ring products: you'll have to pay $3 per month or $30 per year for one device, or $10 per month/$100 per year for multiple devices. Still, you will get the first month of storage free of charge.
The ring Doorbell Pro is a hardwired model, so there is no battery needed for it. For some users, this can be considered as a drawback, but in case you wish to have one, check out other wireless doorbell options available on the market.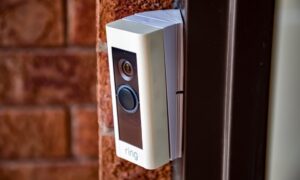 The same as Ring Video Doorbell 2, the Pro uses infrared LEDs and captures the area up to 30 feet of night vision with higher-quality images compared to the previous version.
The motion detection options are a bit different than with other doorbells. Ring Doorbell Pro lets you select the area using the actual camera view. Recordings are captured from 10 seconds before a ring or motion is detected and last for 60 seconds.
If you have a smart home hub like Wink and connect Ring Doorbell Pro, you can set the doorbell or motion sensor to trigger other smart devices like lights.
Wrap up
The Ring Doorbell Pro is an excellent solution if you are looking for a hardwired model and don't need a silent mode. You will get a good looking device which provides excellent videos during the day and night time, reliable motion sensor and Alexa compatible device for the upgrade of your home, at a reasonable price.

Ring – The story behind
In 2018 the start-up company Ring was acquired by Amazon, but it all started in a garage of Siminoff, former owner of the company, after several other businesses that worked or failed. And the idea of his wife who complained that he never hears the doorbell. So, Siminoff created a doorbell which had its downs at the beginning, but after investment made by billionaire Richard Branson in 2015 and improvements of the doorbell in 2016, it became one of the top players on the market of home security devices. For example, in L.A. where devices cover only 10% of the area's homes, burglaries fell by 55% within six months in 2016.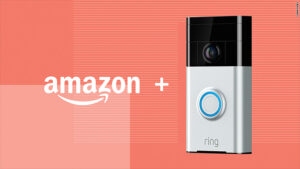 Today, there are two Ring video doorbells compatible with Alexa – Ring video doorbell 2 and Ring Doorbell Pro. And they are placed at the top of the world of smart video doorbells. And the Ring Alexa skill connects your Ring Video Doorbell 2, Video Doorbell Pro, Video Doorbell Elite and Floodlight Cam to your Echo Show, Echo Spot, Fire Tablets and Fire TV. It's compatible with all generations of Fire TV, the second-generation Fire TV Stick, all Fire TV Edition Smart TVs and Fire Tablets Gen 7 and above.
3. Nest Hello
If you already have smart gadgets around your home, or even better Nest hub, you will be delighted with Nest Hello doorbell! It is a bit expensive but with features like facial recognition, a full video streaming feed and pre-recorded audio responses it will make every cent worth investment.
The compact Hello doorbell looks good and is built to last. However, the doorbell is rated for operation above 14 F / -10°C so people living in areas with lower temperatures should consider this when purchasing. The doorbell is hardwired, and installation can be a bit tricky, but once it is done, set up goes smoothly.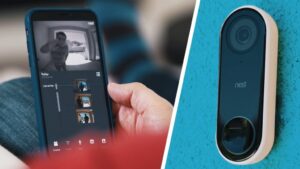 The Nest Hello features night vision functionality and a 160° diagonal field of view, the 4:3 aspect ratio, two-way audio communication and 8x digital zoom. The video is in portrait mode, so you can hold your phone normally and have a chat. Considering audio interface, you are enabled to prerecord three messages which will be played if you are not able to answer yourself while away or busy.
Alexa Compatibility
When you enable the Nest Camera skill on Amazon Alexa, it will allow you to see a live feed of your nest hello doorbell, but you must have an Amazon Alexa spot or an Amazon Alexa show to see the video. It's a great option to pull up your doorbell feed in a second. However, you cannot talk to the person at the door via Alexa.
IFTTT channel has only triggers, and you can control other devices when a sound or motion are detected by your Nest Hello.
Other Features
The resolution of the video from the Nest Hello is 1600 x 1200 at up to 30 fps. With the HDR system, the footage is high quality and shadow areas are without blown-out details. The faster-moving video might lose a bit of detail, but the image is brilliant when someone is standing still in front of your door waiting for you to answer.
Facial recognition system will notify you who is at the door if it is a familiar place that you entered into the base. But as the time goes by, some faces that appear more frequently will also be memorised by the camera, and you just need to name it to get the notification for that particular person.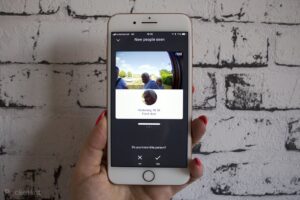 If you are not willing to pay for the Nest Aware subscription, you can view live stream 24/7, with recorded playback limited to snapshots of the last three hours. With the subscription of $5 per month, you can see the full archive.
The Nest Hello is a hardwired model, so there is no battery charger included.
A night vision mode makes grayscale videos by its IR LEDs, and the footage is perfectly viewable. LEDs are very powerful so you can rely on them that will light up the whole porch and surrounding garden.
A nice advantage of the Nest Hello is that you can separately set motion sensor, facial recognition and sound detection. You can even check activity for each of the triggers via the app.
Wrap up
As long as you don't mind hiring an expert for installation, paying a subscription for full history review and lack of wireless feature, Nest Hello is an excellent choice for a video doorbell, with facial recognition, 8x zoom and other advanced features.
4. Skybell HD Video Doorbell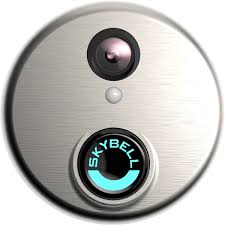 The pretty one, Skybell Doorbell Camera will be a nice addition to your front door. Its round shape is lovely. And it will enable you to speak, listen and see a visitor at your doorstep form your mobile. An additional plus of this video doorbell is that there is no additional fee for the storage of videos. But more about it later.
The SkyBell HD video doorbell works in all weather conditions, between -40F and 140F / -40° to 60°C, and is water resistant. The field of view is 180 degree, which is a bit wider than the previously described doorbells. 2-way audio is also available.
Silent mode is available, which is a step forefront for most of the other doorbells compatible with Alexa. And it also works with IFTTT, Nest, and a lot of different ecosystems. All members of your family can be connected via the same account, and you can even give access to your friends so they can log in to the account.
Alexa Compatibility
The SkyBell HD gives you more opportunities regarding communication via Alexa. You can give it different sorts of commands such as:
– Alexa, tell SkyBell to turn on/off quiet mode
– Alexa, tell SkyBell to take a snapshot
– Alexa, tell SkyBell to record video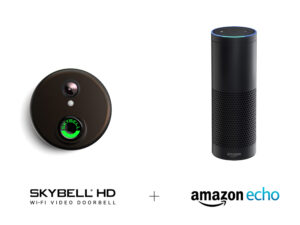 And Alexa will respond, for example: "Your SkyBell device has taken a snapshot". Features work really well, and you can rely on Alexa and SkyBell to execute all commands.
Other Features
You can select the quality of the image to be 480p, 720p or 1080p. With a resolution of 1080p the picture is clear and sharp, but the download takes a bit longer than 720p, which makes pretty good photos and videos as well. Additionally, you can choose the speaker volume level on High, Medium or Low.
When you compare the SkyBell with other competitors, it has one big advantage in free storage. It stores triggered video in the cloud for seven days. You can check them out via your mobile application, but you'll have to download important videos before they're automatically deleted.
Doesn't have a backup battery as it is a hardwired doorbell.
The SkyBell HD uses multi-colour LEDs which provide full-colour night vision video, compared to black-and-white footage that you get with PIR technique. The night video is bright and well-defined up to 20 feet distance from the camera. You can also connect the SkyBell with other smart devices in your home, and set up rules for triggers, such as to automatically turn on the front door lights when motion is detected at night.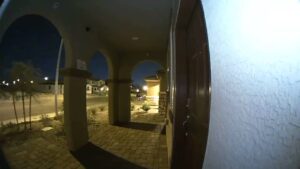 With the SkyBell, you can enable or disable motion detection and set one of three sensitivity levels: High, Medium and Low. However, there is no option to define areas, as it is with Ring doorbells.
Wrap up
The Skybell is easy to install if you are replacing previous hardwired doorbell. It is also easy and use takes great pictures and doesn't charge a fee for capturing and storing videos. So it can be a good choice for you if these are features that you are looking for in a video doorbell.
5. Vuebell Doorbell Camera
When talking about Vuebell Doorbell Camera, we can say that it is a reasonably priced option for having a smart video doorbell. It has all the features you need from the video recording, 2-way audio communication, motion detector and so on.
This is a hardwired doorbell, and you can install it with existing wires of the previous doorbell. You can have a full scene of the front yard because the horizontal field of view of the camera is 185° and vertical 120°.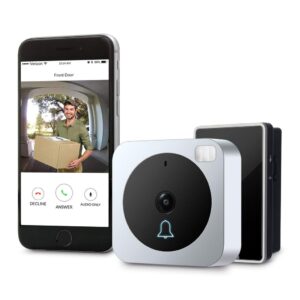 Setup on both IOS and Android system is performed via exclusive QR code auto-configuration in second. For the installation itself, you will receive all the equipment needed in the package. You can install the doorbell within 100 meters from your Wi-Fi because reception is really well made and durable.
Alexa Compatibility
Compatible with Alexa, it also works with Echo show on which you can watch the live stream from Vuebell Doorbell Camera. So, you can Ask Alexa to show you front door and see who is there, and if you have a smart lock connected, combine the door opening without a need to get up from the sofa while watching TV, or leaving the kitchen while cooking.
Other Features
With 720p resolution the face of the person stands within 2 feet in front of the camera is very recognisable. Since it has a wide angle lens, a fish-eye effect is expected, but the image quality is excellent.
The cloud storage is free up to 7 days of storage so you can check who passed and went through your yard one week in reverse. It also records a few seconds video of the brief alert.
Doesn't have a backup battery as it is a hardwired doorbell.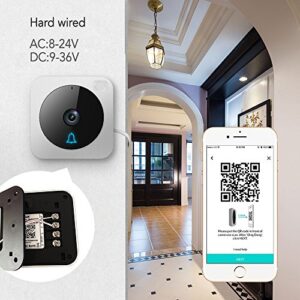 Night vision is performed with 8 IR LED and 18 ft infrared distance. However, users have complained to the camera reflection and a bit blurred face of the person in the dark.
The camera is equipped with a motion sensor so you will receive an alert when the moving is captured. You can customise the detection area and time, and focus on the most critical period of the day. The motion can be detected up to 3 meters away from the camera.
Wrap up
This is a good buy with the lower price compared to its famous cousins, but it also lacks some of their features. But if you don't need more than a motion sensor, night vision, Alexa compatibility and free storage, this might be one of the best choices for you to buy.

6. August doorbell cam
August doorbell works well with other August smart devices, but not only that. There are options of three types of rings: chime, mobile application and old mechanical chime and you can choose which one will ring, or you can set all of them to work.
The installation for this hardwired doorbell is not tricky, and instruction is straightforward. With the 120-degrees field of view of camera covers your doorstep, but will not cover not the entire front of your house.
August doorbell cam has an excellent HD video quality, motion detector and clear two-way audio.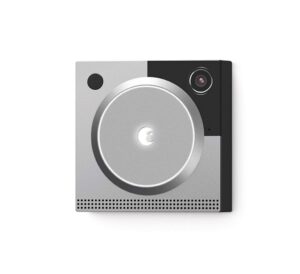 Alexa Compatibility
Since May 2018 August doorbell cam is compatible with Alexa. With other smart devices by August, you can really improve your smart home with commanding Alexa things you wish to be done. You can also connect the doorbell with Nest cameras and thermostats and combine them all through IFTTT. Via Echo Show, you can see who is at the door from your sofa.
Other Features
The resolution is 960p by 1280 p. The image from the camera is in portrait mode. It is beautiful and sharp on a smartphone screen, but it doesn't rotate if you flip your phone around. This means you get a pretty good look at what's going on in front of your door but little visibility on either side.
August includes a 30-day free trial of its Video Recording subscription. After that, you will have to pay $4.99 a month or $49.99 a year, for storing videos for 30 days. That's a really high price and a substantial drawback of this doorbell.
August doorbell cam is hardwired doorbell and has no backup battery.
The doorbell isn't equipped with the infrared LEDs needed for night vision, so you need to have light in front of your home. That can be good because you get to see real colours at night. The light on the doorbell just isn't sufficient to illuminate the area.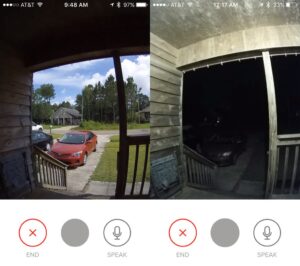 Detection is based on an infrared sensor, and there is no video detection, which is sort of good, as you don't get false notification caused by passing cars. There's a sensitivity setting for the exposure and there are no detection zones, but there is a pre-record function called "Hindsight". It continuously buffers several seconds of video, so when triggered, it can provide video of not just what happens after trigger but also what happened before.
Wrap up
The August doorbell camera is a good performer, with all the features that a smart doorbell must have. Still, great deficiency is the high price of storage so this might be a reason for you to search for another doorbell.