The home security is one of the points in life that concerns us all very much. It is not only about burglaries, it includes oven or heater left on or window left open. Not so long time ago, if you wanted to invest in the home security system, you would have to spend a huge amount of money for it. Luckily, today, there are plenty of options for smart security cameras available. There are so many types on the market with numerous different features. So whether you need it for indoor or outdoor surveillance, or you wish it to be wireless so you don't need to run wires through the walls, you will find the type that suits you the best.
With smart security camera, you can choose to have a lifestream and check on a tablet, mobile or laptop whatever is going back home while you are away, all in real time. You can also connect it via Alexa or Google Home to other smart devices like door lock or smart light. Also, many new features are made possible by using a smartphone as your interface. You can define areas of motion sensitivity within the camera's field of view and limit the number of alerts that you will receive on your smartphone.
Sometimes the best solution is one that is the easiest to use. So let's check out what are features that you need to check when choosing your security camera.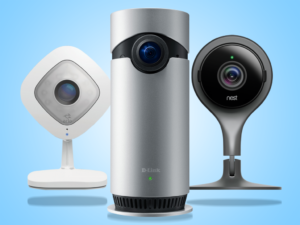 What Features Should You Consider?
We talked about important features of security cameras in our review in 2017. But it is always good to repeat it and expand knowledge as well.
Resolution– This is an essential feature when deciding which camera you should get. The resolution of your camera should be no less than 720p, with 1080p. With this resolution, it is not difficult to identify items and faces recorded.
Sound–It is also important for a camera to be able to receive sound via microphone. Additionally, some cameras are able to both emit sound via a speaker and receive input via a microphone so you can communicate with your children if they are home alone.
Field of View– This feature represents the size of an area the camera can record. If you want to invest in fewer cameras, look for one that has a greater field of view, so that it can capture a wider area of your home.
Motion Detection– Motion detection can be important as some cameras start recording the area at the moment when motion is detected. A recording will last for a shorter or longer time, depending on a type of camera and this might be the important feature for you.
Movement– Camera that has the radius of moving can record wider area than a static one, so you will need less moving cameras to install.
Connection and Compatibility – Unlike in the past, today there are numerous cameras that are wireless, not only regarding electricity supply but connectivity to Wi-Fi and other smart devices such as IFTTT, Samsung SmartThings, Apple HomeKit, and Amazon Alexa, and it is up to you how much connectivity you will need from your camera.
Data Storage – The best place to keep records is on the cloud, where it is less likely to be lost or erased. In this case, you will have to pay a monthly fee. However, you can choose to store data on a local drive such as a microSD card or USB thumb drive, which you won't have to pay for, but you can lose data if your storage unit is damaged, stolen or lost.
Night Vision – Today practically all security cameras come with night vision. So you need to check the distance from which your camera can record images in no- to low- light situations because most criminal activities happen at night.
Additional features – With a tech advantage, there is also a progress in Security cameras features. You might wish for your camera to have facial recognition, measure humidity, temperature, and air quality or sound a siren when you order it to do so. With numerous types available you can choose to buy a camera with any of those options.
We made pieces of choice of the best cameras you can get in 2018. and you can learn more about them further in this article. If you wish to check on some other types of smart security cameras read our article: Best Home Security Camera Systems for 2017.
Indoor cameras
Momentum HD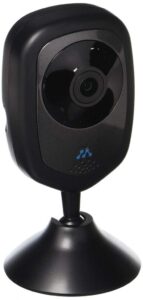 The Momentum HD smart camera is one good security solution with a reasonable price. With this camera, you have 24/7 live video feed of your home from anywhere you like.
Resolution and Night Vision: With 720p picture is sharp and with rich colours during the day, and at night it is black-and-white. Night picture is clear up to the 10-foot distance.
Field of View: The camera has 110-degree viewing angle, and you can zoom in up to 8x or take pictures and record videos with it.
Motion Detection: Momentum HD detects motion and sound and it will alert you right away. You can then see what's going on at your home at all times via mobile application.
Movement: Even though field that camera covers is 110 degrees, it has tilt and swivel manoeuvrability.
Connection and Compatibility: Wi-Fi connection available for both Android and iOS. Does not work with IFTTT, Alexa or Google Homekit.
Data Storage: You can choose between a cloud subscription for a little monthly cost and storing your video locally on a microSD card.
Additional features: This model has two direction sound possibility, so you can hear what is going on back home, and also talk to anyone that might be in need.
Wrap-up
This camera is easy to install, and with all its features it is a good product for a reasonable price. However, it could use some improvements such as compatibility with IFTTT, Alexa or other smart home devices.

Lighthouse AI Smart Camera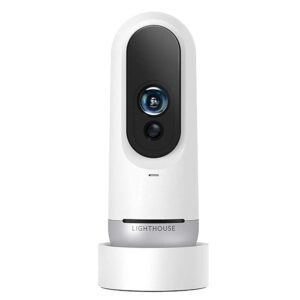 The Lighthouse AI will provide you with lifestream in high-definition 24 hours a day, with up to a 30-day backlog of recordings if you subscribe to the company's $10 per month cloud service. But let's check camera's features one by one.
Resolution and Night Vision: Lighthouse provides a 1080p live stream and night vision. Day vision is excellent, in RGB colour system. Night vision, helped with four infrared LED lights, activates automatically in low light and gives adequate illumination to the room.
Field of View: The 112-degree viewing angle is enough, but there's a little fisheye distortion because it is on the narrower end of the wide-angle lenses. The camera doesn't have a zoom function, though, so you cannot get a closer look at an object or activity when you're viewing the record or lifestream.
Motion Detection: Lighthouse's system is able to differ organic motion (adults, children, pets) from inorganic motion (trees, cars, etc.). It works based on the 3D movement, so there will be less false alarms if a 2D change appears such as changes in light.
Movement: There is no possibility of moving the lenses, so you can't move the field of view up or down or left or right.
Connection and Compatibility: You can connect to the camera via Bluetooth and connect it to your Wi-Fi network. It is best for indoor use as it needs to be plugged into an electrical outlet. However, it is not compatible with Zigbee or Z-wave nor with Alexa, Google Home, Apple Homekit, IFTTT or Smartthings.
Data Storage: Your video is stored securely in the cloud so you can access it whenever you wish to check the recording.
Additional features: With facial recognition feature Lighthouse AI tells the difference between people and pets, children and adults, and who you know and faces you don't. Software supports multiple cameras linked together through the mobile app. The camera has a powerful siren that can scare the intruders. The Lighthouse also has two direction sound possibility.
Wrap up
The Lighthouse is an excellent choice for people looking for the ability to customize notifications for pets and kids, looking for a powerful siren, facial recognition or two-way communication. However, it is expensive, and if you do a bit of research you can get the camera with similar features for even lower price.

Amazon Cloud Cam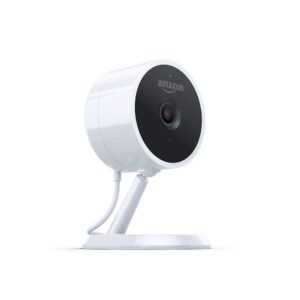 With the favourite features of Amazon itself, the Cloud Cam is affordable and easy to use. The camera will provide you with excellent video quality and night vision and motion detector. And, of course, it works with Alexa! Check out features separately in the list below.
Resolution and Night Vision: The Cloud Cam provides a 1080p resolution at 30 frames per second and night vision. Day vision is excellent, but colours may seem a bit washed out. Night vision helped with eight infrared LED lights, gives a sharp picture even in total darkness. It also has two-way audio feature.
Field of View: Cloud Cam captures a wide 120-degree view. It also has an increased video digital zoom from 4x to 8x.
Motion Detection: The motion sensor has sensitivity in terms of detecting human-sized objects in motion at 5, 10 or 20 feet, from low to high, respectively. Any Echo device will alert you to motion or person detection — on the Echo Show and Spot, and an alert will pop up on your mobile device. For a low monthly fee, you will be able to set up zones for blocking out motion triggers like a car driving by an open window.
Movement: The camera is mounted on a flexible ball pivot that rotates 360 degrees.
Connection and Compatibility: You can connect to the camera via Bluetooth and connect it to your Wi-Fi network. The Cloud Cam can be controlled by Alexa as an Amazon device.
Data Storage: Cloud Cam stores up to 24 hours of recording on USB, and it has free cloud storage. But you'll need to subscribe to a premium tier to get more storage.
Additional features: The Cloud Cam can distinguish between pets and people. Available geofencing feature turns the camera on automatically when your phone leaves a defined area.
Wrap up
The Amazon Cloud Cam is less expensive than its competitors, has good cloud storage options and delivers good-quality video. So if you already have Alexa, this would be a great and reasonably priced safety camera for your home. But if you wish to have a full range of features you will have to subscribe to the premium account on Amazon.

Outdoor cameras
Blink XT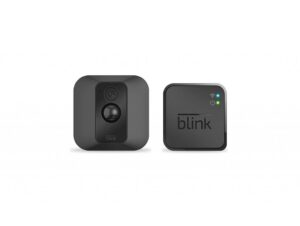 The Blinx XT, an advanced cousin of the Blink camera, is waterproof and wireless. Now, when we have your attention, let's check other features of this outdoor camera.
Resolution and Night Vision: Resolution of Bink XT is 1080p, which is improvement comparing to Blink, which has 820p. Considering night vision, Blink XT uses infrared for night vision instead of an illuminator which is used by many other cameras. However, it does not have a two-way audio capability.
Field of View: A 110-degree field of vision is a comparatively narrow coverage, considering that it should cover a wider area as an outdoor camera. Also, there are no zoom capabilities.
Motion Detection: The Blink XT is reliable when it comes to motion detection. You can choose on your mobile application the sensitivity of sensors, and you can also choose how long you wish a record after a movement to be. And if it continues to detect movement, it will continue to record.
Movement: You cannot tilt or swivel Blink XT. The mount has a little bit of flexibility, so if you want to change the angle you'll have to do it manually.
Connection and Compatibility: Blinx XT works with Alexa and supports IFTTT. It is connected via Wi-Fi.
Data Storage: Cloud storage is free, but it is not unlimited. You can store up to 7,200 seconds of recordings before new footage records over the old ones.
Additional features: Just to remind you it is waterproof and wireless, so it can be installed on the tree or anywhere outside wherever it is the best for you. The camera also monitors ambient temperature, displaying the current temperature on the application on your mobile device.
Wrap up
The Blink XT is a very reasonably priced security camera and the fact that storage is free is a huge bonus. But remember this is an inexpensive, basic outdoor camera. If you're looking for a camera with higher image quality, more smart home integration and panning and zooming ability, be sure to check other products as well.

Netgear Arlo Pro 2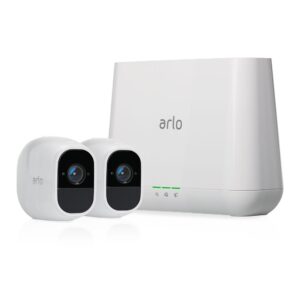 The Netgear Arlo Pro 2 has its pros and cons like every other outdoor camera, but it is solidly built and capable of recording crystal-clear HD video and that is why it is one of the outdoor cameras of our choice for 2018.
Resolution and Night Vision: The resolution of 1080p HD camera is really fabulous and the picture is sharp and clear. Night vision is IR based, but the IR is bouncing off nearby surfaces and causing a fog effect. Placement of the camera is the key to avoid those bouncing of IR. The camera has 8x digital zoom and two-way audio option.
Field of View: Netgear Arlo Pro 2 has the 130-degree wide field of view which is perfect for most applications.
Motion Detection: This camera has motion and sound detector. The advantage is that repeated motion events triggered the camera immediately, even if a previous clip had been saved just seconds before. And you can set the camera to sound the siren if the motion is recorded.
Movement: With a 130-degree wide angle, there is no need for moving the lenses or the camera.
Connection and Compatibility: The Arlo Pro 2 has Amazon Alexa and IFTTT support for integration with other smart home devices. It is Wi-Fi connected.
Data Storage: Cloud storage is free for 7 days of recordings and if you wish to have more than that, you can purchase one month Premiere or two months Elite plan. You can also keep recordings on USB ports for connecting external hard drives for local backups and MicroSD cards for local recording.
Additional features: Netgear Arlo Pro 2 offers both geofencing and scheduling, and the two can be easily combined through the app. It also has a 100db siren to scare off intruders. The bad side of this camera is that you need to charge it using lead and plug provided.
Wrap up
After all said, it's easy to see why Arlo is a popular choice with those who take home security seriously. There's no doubt this is one of the most advanced systems available. Setup might be difficult, as it needs a base station to connect to your Wi-Fi router, but with the amazing picture quality and other benefits, you can take this model into account when buying an outdoor camera.

Logitech Circle 2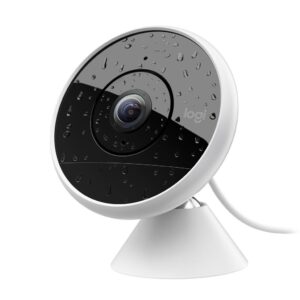 The Logitech Circle 2 has many useful features for monitoring your property, and it is easy to use. With its solid built and being waterproof, it is suitable for outdoor use.
Resolution and Night Vision: You can choose the resolution you prefer: 720p or 1080p. Night vision is up to feet, but the picture is crystal clear.
Field of View: This security camera has the widest angle of all mentioned by now: 180-degree lens for a panoramic view of your property. And it is possible to choose narrower 'wide' and 'ultra-wide' modes.
Motion Detection: The Circle 2 has a motion detector and recording time is adjustable between 10 and 60 seconds. You can see the recordings in the sidebar of the application.
Movement: The camera is fixed to a base which you can rotate to suit almost any desired angle, and moving can be done without any problems.
Connection and Compatibility: The Logitech Circle 2 has Amazon Alexa, Apple HomeKit, Google Assistant support for integration with other smart home devices. The application is available both on Android and iOS, via Wi-Fi.
Data Storage: You will get free 24-hour event-based video history, or you can purchase 14- or 31-day event-based video history for $4 or $10 per month respectively.
Additional features: Logitech Circle 2offers geofencing feature, so the camera can be automatically turned on when you leave home. The bad side of this camera is that you need to charge it regularly.  Logitech claims that the rechargeable battery lasts for up to 3 months, but it is better to check it every now and then just to be sure that camera works.
Wrap up
The Logitech Circle 2 is responsive, versatile and easy to use a security camera, but you should be prepared to do checkups on the battery so that it works 24/7.

If you want to read more about other types of smart security cameras, check out our article on the same topic from 2017.