Smart lights are the easiest way to introduce smart appliances into the home. It is one of the lowest price and easy to install gadgets. On smart lighting solutions, you can learn, adjust and get used to smart home appliances and perhaps in the future broaden your home with other more complex smart appliances.
We have reviewed some of the smart lighting solutions back in 2016. Taking a look at the market of smart lights right now, one thing is for sure, Hue Philips is still the benchmark for other solutions concerning its features. But it is expensive compared to other manufacturers, so perhaps you will look for less pricey products. So, let's get illuminated!
Sengled Element Classic A19 Kit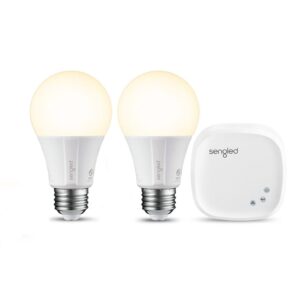 Setup
Setting up of Sengled Element Classic is easy. In the package, you will get two soft-white controllable bulbs, the Element wireless hub, a power adaptor for the hub and network cable. The simple connection goes in a couple of steps: you have to connect a hub to your router and install the app onto your mobile. Then plug in bulbs and from the app's dashboard, you can see what rooms the lights are in, and control the lights from your mobile.
The App
It is pretty straightforward. You can turn lights on and off, dim or brighten, and set schedules using the app. The application is available for (iOS and Android). You can use it with IFTTT to trigger lights based on time of day, weather, location and more.
Compatibility
Sengled Element Classic will work with Google Home, Amazon Alexa, Samsung SmartThings, AT&T Digital Life Wink, and Stringify, which is a competitor to IFTTT.
Additions
There are good additions to the basic A10 Kit. You can buy single bulbs with added features such as control of the colour temperature in Element Plus bulbs, security cameras and motion detectors implemented in SmartSense and Snap bulbs while Sengled's Pulse and Solo lights have built-in speakers. Everbright has a backup battery that provides up to 3.5 hours of light if the power goes out and the Boost has a Wi-Fi repeater.
Pros
Inexpensive
Easy to set up
Extra bulbs are cheap
Simple, clean app interface
Scheduling features
Cons
Scheduling app not as robust as Philips Hue's
Requires hub
Light colour not tuneable
Limited compatibility with third-party hubs
Final Verdict
Even though features are not up to the level of Philips Hue, Sengled Element Classic is compelling lighting package for those looking to save some money.

Wigbow Color-Changing Smart Bulb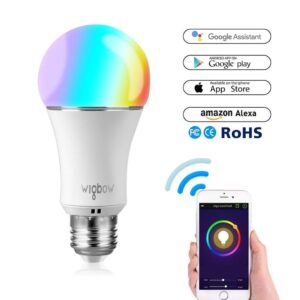 Setup
The Wigbow Color-Changing Smart Bulb is easy to install, especially because you don't need a hub. Simply screw in the bulbs, download the free application from the Google Play Store or App Store to your smartphone and connect to your home Wi-Fi router. The application you should look for is Jinvoo and the title of the app is "TUYA."
And, you can start enjoying the benefits of this light bulb.
The App
The best feature it has 16 million colours that can be changed directly from your smart devices. You can set the mood and ambience in any room. Also, colours are dimmable. The night light mode allows you to change the colour temperature from 2000k warm white to 9000k cool white, too. The light brightness changes as you slide your fingers across the desired brightness range. The timers for the lighting is an added value to this smart light.
Compatibility
The Wigbow Color-Changing Smart Bulb is compatible with Amazon Alexa and Google Home so you can use voice commands for management of your lighting.
Additions
The Smart Bulb has a 12-month warranty from date of purchase and has a 40,000 hour(s) of lifespan. This is the third generation light bulb from Wigbow and it is white and same shape as other incandescent. The bulb works with 110 volts, is a 60-Watt equivalent and energy efficient because it is consuming only 6-Watts.
Pros
Budget-Friendly
Night Light Option
Timer
No HUB needed, works with Wi-Fi and smartphone
Compatible with Amazon Alexa and Google Home
Colour changing and dimmable
Cons
Directions for setup can be confusing
Final Verdict
The Wigbow Color-Changing Smart Bulb is a fun and affordable way to try smart lighting in your home if you want a budget-friendly colour changing bulbs, without a need to buy a hub.

Piper and Olive Smart LED Bulb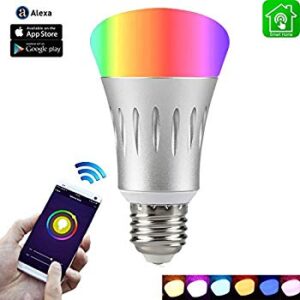 Setup
For setting up the Piper and Olive Smart LED Bulb you simply have to scan the QR code to download the app, install the bulb and use the application to get started with dimmable, colour-changing lighting
You should use Wi-Fi to connect to the app, so there's no need to spend extra money on an additional hub.
The App
You can control the bulb from your iOS or Android once you added a smart bulb to the Piper network. You will be able to control bulbs individually or in groups and also set brightness levels, share control with other family members, set timers to wake you up or send you to sleep with your favourite colour, and control lighting from anywhere you like as long as you have a Wi-Fi connection, all from your smartphone, smart home device or tablet.
Scene Selection Mode and Timer ensures you can Switch between lighting features, brightness and timers from the convenience of your mobile or smart home device in a snap
Compatibility
You can integrate Piper and Olive Smart LED Bulbs with Amazon Alexa and Google Assistant for voice-activated commands. It also integrates with other Z-Wave devices.
However, this smart bulb doesn't support IFTTT recipes nor does it support geofencing.
Additions
Piper and Olive Smart LED Bulbs are cost efficient and energy saving and allows you to reduce power usage by 80%.
It also has a motion detector, so you can set up rules to have the light turn on when motion is detected.
It can also be set to turn on when the Water Sensor detects moisture, and when the room temperature changes beyond set value.
Pros
Very easy to install and use
Broad choice of colours and dimmable
Reasonably priced for a colour changing a smart bulb
Doesn't require a hub
Integrates very well with a variety of different smart home systems
Cons
More expensive than a white smart bulb
Might cause some difficulties during installation.
Doesn't support IFTTT or geofencing
The app doesn't inform you if you've successfully installed the bulb.
Final Verdict
This bulb is more affordable than some of the other multi-coloured options, but we still consider it a bit pricey for the features it has compared to some other smart light bulbs, especially Philips Hue.
TP-Link Smart bulbs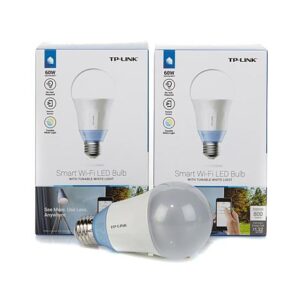 Setup
Any type of TP-Link Smart bulbs is easy to set up, firstly because it doesn't need a hub. TP-Link's smart bulbs have Wi-Fi built in so to set up the bulb, you first need to connect to the bulb's Wi-Fi and then go through the setup process in the TP-Link Kasa app. This actually involves connecting the bulb to your Wi-Fi network.
The App
TP-Link's Kasa app is used for all of the smart home devices of the company, which include smart plugs, routers, security cameras, and motion and door sensors.
Within the Kasa app, you can dim the lights or set schedules for when the lights turn on and off. If you have colour-changing bulbs, you can also change its colour and see how long you've used the lights.
One nice feature of the tunable white bulb is that you can have the colour temperature changed automatically based on the time of day. This way, you get a cooler light during the morning and midday, and a warmer white in the evening.
Compatibility
TP-Link has an Alexa skill and you can control your lights by using your voice on your Amazon Echo. Any TP-Link smart bulb is also compatible with Google Assistant. However, there is no IFTTT channel at present.
Additions
TP-Link have three versions of bulbs.
First is the Dimmable Light, which shines a warm white, has a brightness of 800 lumens and uses 10W of power.
Next up, is the Tunable White Light, which can have its colour temperature tuned to between 2700K and 6500K, shines at 800 lumens and also uses 10W of power. This model.
Finally, there's the Colour-Changeable Light which is also an RGB bulb which lets you pick practically any colour. It has a brightness of 800 lumens and uses 11W of power. This model can be temperature tuned between 2500K and 6500K. Even though these bulbs are made to be a match for the Hue range in terms of features, colour changing bulb aside, Philips' bulbs are still considerably cheaper.
Pros
No bridge required
Works with Alexa and Google Assistant
High-quality white and coloured bulbs
The app includes a Circadian Mode.
Cons
Larger than other smart bulbs
Expensive
No IFTTT channel
Wi-Fi not always as reliable as Zigbee
You can't change the bulb's colour using Alexa commands
Final Verdict
With all the features that TP-Link's have and good price, if you need only a few smart bulbs you can consider these a good option. However, if you wish to replace a lot of bulbs at home, you might consider Philips Hue. It seems more expensive if you buy a starter kit, but single bulbs are much cheaper than TP-Link's.

If you wish to check more options of smart light bulbs, you can do it in our report from 2016.