If you already have Amazon Alexa, why wouldn't you enrich your home with small inexpensive gadgets like Alexa compatible switches and plugs? They are an excellent way to improve your home and are pretty much basic smart devices that are really useful. They will release you from worrying if you have switched off the heater or the iron. So, let's see how they make a great team with other devices and what benefits will they provide to you and your budget!
GE Z-Wave Plus Smart Control Dimmer Switch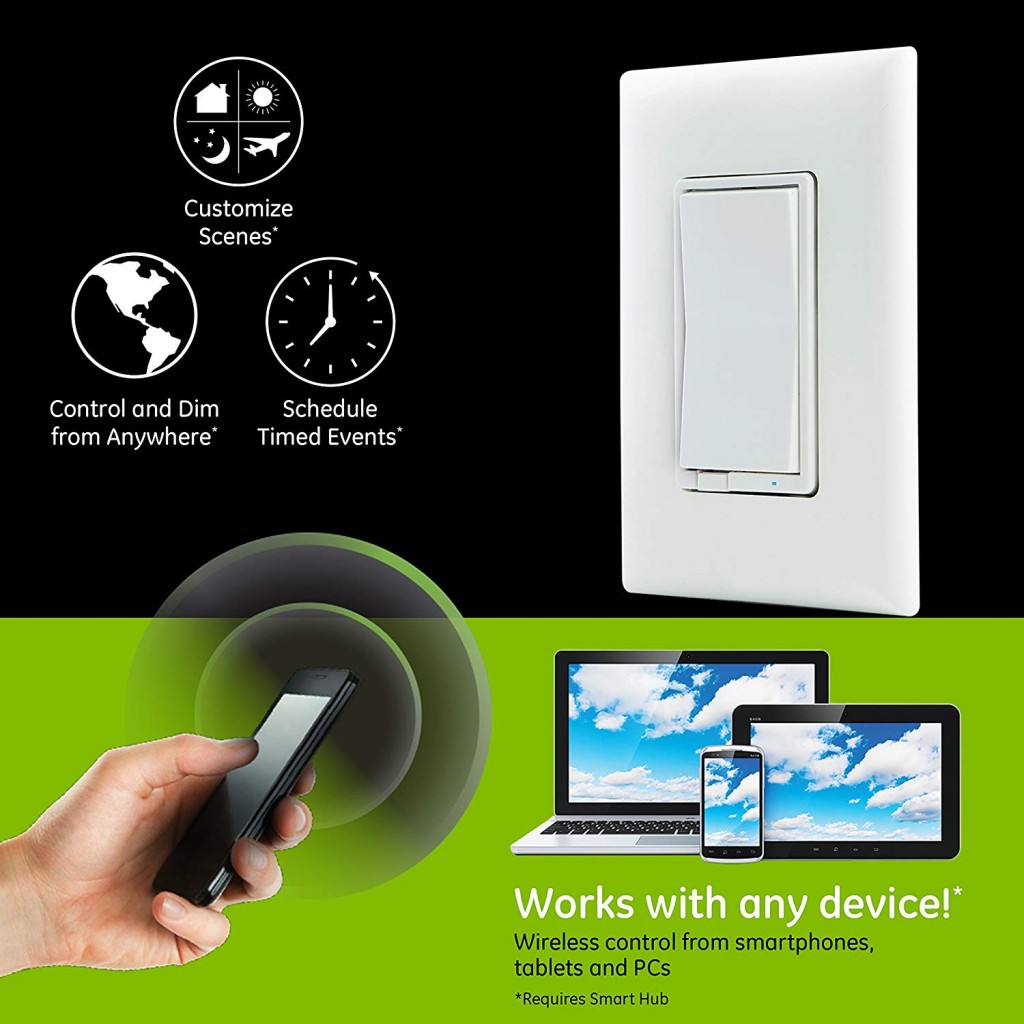 If you are looking for the best smart light switch to automate your home lighting, the GE Z Wave Smart Lighting range should be at the top of your list. This product might not be as affordable as the other smart switch brands in the market, but it definitely provides the highest quality and is the best seller on Amazon!
Even though it requires a smart hub, the installation is very easy. This dimmer replaces a standard light switch, and it needs a neutral wire to be connected. If you're replacing a multi-pole switch, you'll need GE add-on switch at each of the other ends of the line. The instruction is a bit confusing but with a little bit of patience, it should be a piece of a cake. Once installed, you can connect it to the hub via the application.
The GE Z-Wave Plus works with a wide range of light brands, so this will make it easier for you to choose the bulbs. Also, it is compatible with Alexa as well as many others such as Wink, Pulse, Nexia, SmartThings, HomeSeer, Vera, and Smart Security.
The best thing is that you can control the switch via app remotely from anywhere in the world and make your home looks inhabited even when no one is there, as a matter of security.

Honeywell Z-Wave Plus On/Off Smart Light Switch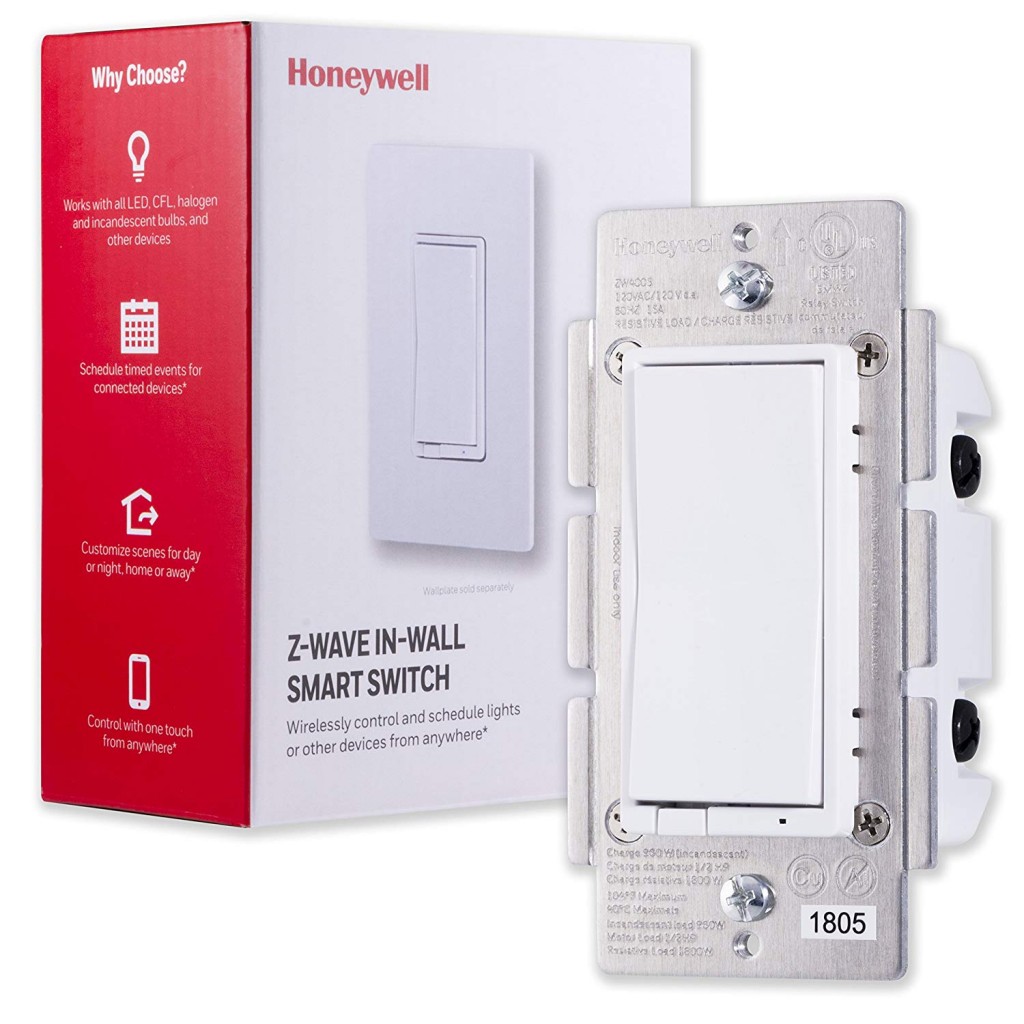 Honeywell Z-Wave Plus can help you save the money while adding a level of convenience to your home. Although it has a very plain design, it has a blue LED indicator light which can be used as a nightlight. Not only the smart switch helps cut the energy costs, but it increases the safety of your home by keeping the rooms looking bright and lived‑in.
Installation is easy, all you have to do is to replace the traditional switch with Honeywell Z-Wave Plus. It requires a certified Z-wave hub, but it is compatible with Alexa and more: Honeywell, Pulse, SmartThings, Wink, Trane, Nexia, HomeSeer, Honeywell, Smart Security, Vera, Harmony Home Hub Extender, and Fibaro.
Once installed and connected, you can customize scenes for day or night, home or away. You can also wirelessly control switch from anywhere through your smartphone, PC, tablet, or Z-Wave remote. And it works well with all LED, CFL, halogen and incandescent bulbs. So with all the possibilities that this light switch offers you can make it one of the best items on your shopping list.

Samsung SmartThings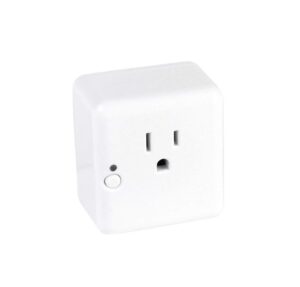 The SmartThings plug is a great and helpful gadget to connect numerous smart or traditional appliances in your home. The plug can be controlled via the mobile application, as well as via Alexa, but to control it by Alexa, you need a SmartThings hub. Of course, it is compatible with Samsung SmartThings, as they belong to the same family.
Installation of The SmartThings plug is a piece of cake. You need to plug it in in range of 15 feet or 4.5 meters from SmartThings hub and do the registering of the device in the mobile application by scanning the code on the back of the device. And the plug is ready to work.
You can control different actions and devices via the plug from anywhere you like. The SmartThings plug will enable you to set, monitor and control electronics and small appliances such as coffee machines, Crock-Pots, A/C units, portable heaters and fans to turn on and off automatically. A decrease of monthly bills for electricity is also possible with the SmartThings plug by restricting power to electronics or appliances. For additional security of your home, you will receive alerts on your mobile if electronics were accidentally left on.
Reasonably priced, the SmartThings plug will make you more relax regarding remembering to turn off devices and make you feel secure as you will be able to check the status of the plug from anywhere anytime. However, there are some more advanced plugs available for the same price.

TP-Link Kasa Mini Smart Plug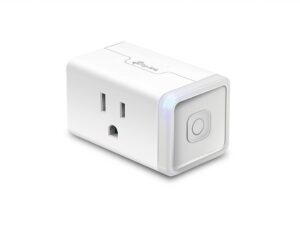 The Kasa Smart Wi-Fi Plug Mini by TP-Link work as an excellent smart plug with a simple setup, great scheduling options and Amazon Alexa and Google Assistant compatibility. It fits into all standard outlets and rectangle shape keeps the plug from blocking outlets below or above it. For additional security, the plug has a manual power button to turn it on and off at the outlet.
Installation is straightforward and pretty similar to one for SmartThings plug. Once you've paired the plug and connected it to your Wi-Fi by following the steps prescribed in the app, the plug is ready to go. With the same app, you can control other TP-Link devices in your home from mobile, both iOS and Android. The Kasa Mini Smart Plug works with Amazon Alexa and Google Assistant for voice commands.
The plug and the application are more advanced compared to the SmartThings plug. They enable you to schedule the Smart Plug to automatically switch on and off when away or set a Scene for controlling many connected devices with a single button. Additionally, you can create a schedule for each device any time, any day of the week, or customize it by a defined time in a day.
Regarding security, the Kasa Mini has an away mode, which makes the plug turn on and off randomly, simulating that someone is home. The plug also has a timer which counts down a set number of minutes or hours to when you'd like the device to turn off or on. However, it doesn't have a real energy monitoring, but it is currently being developed in TP-Link so the feature will be implemented in the next plug model by this manufacturer.

D-Link Smart Plug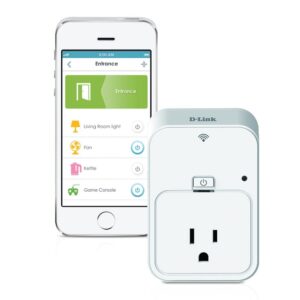 This plug is different from TP-Link's one in terms that it is quite robust and might hide the outlet above or below. But it has its benefits that you will like and perhaps make the D-Link Smart Plug your choice.
The installation can be a bit buggy but it is not complicated. The first step is to install the Smart Plug using its Android or iOS software. The Smart Plug will pair to the app, and you can start using it. If you have other D-Link devices, you can connect them all via application and make different scenes. The plug is also compatible with Amazon Alexa and IFTTT. The device is very responsive, there are no delays or interruptions while handled from mobile.
There are several advantages to this plug even though its basic functions are not the smartest one among plugs. It tracks power usage so you can see in real time on your mobile how much power is being used on the certain plug and even set up a power budget to ensure you aren't wasting too much energy. Temperature is also monitored, with a user-defined cut-off limit which enables you to ensure the device trips out before it draws too much power and gets dangerously hot especially if it is in a confined space.
Considering the price, it is pretty high, considering this is a pretty basic smart plug unless you have other D-Link smart gadgets with which you can pair it with.

AWAIR Air Filtration Smart Plug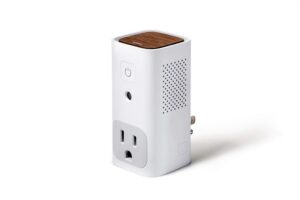 And, now, something completely different! Well, not really completely different, because the plug part of AWAIR does all the things that smart plug should do. But there is an addition to the plug: an air controller with which it can track humidity, CO2, temperature, and airborne volatile organic compounds. It also has a built-in nightlight and motion sensor.
The appearance is nice and futuristic, although a bit bulky. But we cannot blame the company for that, after all, it is 2 in 1 device. If you wish to hide it by sticking it behind furniture, you'd lose features of its nightlight, motion sensor, and status indicator functions, and you might as well reduce the efficacy of its other sensors.
Installation is easy, and the app leads you step by step through it, but you will have to create an account before you start with it. After installation, you will have to answer several questions so that the air controller can adjust its measures to the surrounding, whether it is home or office and so on. You can choose to leave the controller on the default mode, but you can also choose to set a specific goal, such as improving productivity, sleeping better, being vigilant for allergens or baby-room set up.
You can check the quality of the air in the room via the app, but you can also see it on the LED on the switch which changes the colour from green if the air is good, to red if there is a serious air quality problem. If the colour is orange, check the app to see what is the problem. The mobile app has the same green-orange-red scheme along with an overall air quality score.
The price of around $100 it is not cheap, but it gives you a decent smart plug and air controller connected with Alexa and IFTTT. The pieces of information you will receive are useful, and knowing your home has decent air will help you sleep better at night for sure.

Belkin WeMo Mini Wi-Fi Smart Plug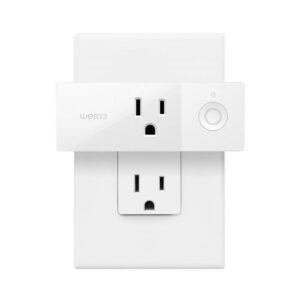 Well-known WeMo Smart Plug became a bit smaller, as its name says, in order to make neighbouring outlets available. The price is also very reasonable, considering that the new model doesn't offer anything more than its ancestries did.
The Belkin WeMo Mini has integrations with platforms and services like Nest, IFTTT, Google Home and Alexa but it still has no support for Apple HomeKit, or for Siri. And it still did not get the energy usage tracker.
WeMo Mini will give you an opportunity to be creative and choose which one of the traditional devices you will make smart. With it, you can schedule the device to be turned on before you come home. For instance, turn the oven right on time to arrive home for a warm dinner.
With other simple features that come with a smart plug from the upper middle category, there is nothing to add, but for a reasonable price, you can make several devices of your home smart and improve it on a budget.