Thermostats play an important role in every home automation system because most people would like to optimize their monthly energy bills with the help of cutting-edge technology. One benefit of a perfectly automated smart home is the ability to cut your costs, in the long run, letting the system basically pay for itself with the cost savings in the upcoming years. In fact, the return on investment of proper home automation should be very high – if it is done right.
Our friends from dealdragon.co are now providing us with a state-of-the-art dynamic list of the best products. Below this iframe you will find our old blog post, but we now recommend this new list as it represents the current market more accurately.
You might have already read our article about smart thermostats which clearly lines out the benefits of these devices. You probably have even already decided that you definitely need to have one of those gadgets and that there is no way around it if you want to have an actual smart home. The problem is that there so many products out there in the wild that most home automation lovers feel a bit overwhelmed by the variety of devices. Moreover, there is a wide range of different automation protocols which makes the decision even harder. But don't worry, if your home automation system is centred around Z-Wave or consists at least of one Z-Wave enabled controller we have selected the best products that will fit your needs. On this page, you will find short reviews of what we would consider the best z-wave thermostats. To be honest, there are not a lot of programmable thermostats out there that speak Z-Wave which made the selection a bit easier.
Our Winner: GoControl Z-Wave Thermostat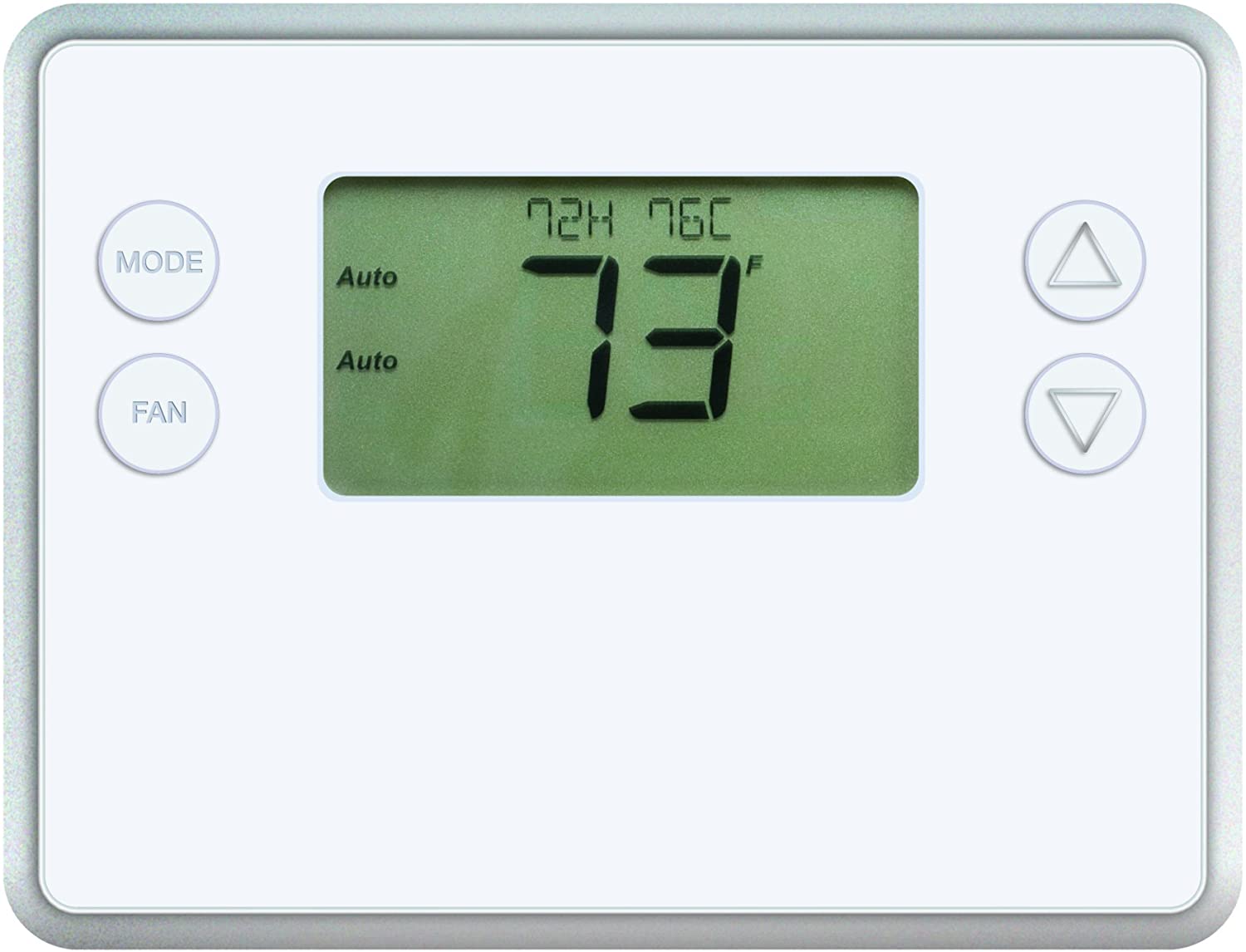 GoControl Z-Wave Thermostat is still the leader on our list! There aren't a lot of sophisticated Z-Wave thermostats on the market and GoControl certainly doesn't lead the pack in innovation. Nevertheless, the company has managed to provide a decent product with a great array of features that work seamlessly together. Above all else, a thermostat should be compatible with as wide of a variety of home heating and cooling systems as possible. And in fact, the main reason we choose this device as our winner is just that. The GoControl Z-Wave Thermostat has a great compatibility with most home heating systems. Plus, it's Z-Wave capabilities are enhanced by a long range and great hub support. The device also works with Amazon Alexa, but of course, for the purpose of using it, you will need a smart home hub.
Pros
Works with Amazon Alexa
Compatible with most Z-Wave hub systems
Great Support of H/C Systems
Cons
Doesn't Support Z-Wave Plus
Extremely Limited Display
No. 8: IRIS CT101 Z-Wave Thermostat
If you are searching for something affordable that works with the most popular Z-Wave smart home hubs on the market, you should look no further than the Iris CT101 z-wave smart thermostat. Developed by Radio Thermostat for IRIS, the CT101 doesn't differ much from its Radio Thermostat CT100 counterpart with much hardware-wise. However, the price tag of the model for IRIS is much cheaper than its other siblings from the manufacturer.
Pros
Extremely Affordable Price Tag
Complete DIY Programming Customization
Works with Most Smart Home Hubs
Support for Z-Wave Products
Cons
Build Feels Cheap
Display Shows Little to no Information
No. 7: Radio Thermostat CT100 Plus Z-Wave Plus Thermostat
Challenging the CT100 by 2Gig, the Radio Thermostat CT100 is the Z-Wave smart thermostat by the company with the same name. Delivering their new "plus" version, Radio Thermostat have made sure that their device now supports the latest iteration of the Z-Wave home automation protocol. With an updated design that looks rather stylish, especially compared to other products on the market, the CT100 is definitely a worthy purchase choice for any home automation enthusiasts that loves Z-Wave.
Pros
Z-Wave Plus Compatible
Complete DIY Programming Customization
Affordable Price Tag
Decent Z-Wave communication range
Cons
Build is Cheap and Plastic-y
Display Doesn't Show Much Information
No. 6: RCS Z-Wave Communicating Thermostat
The California based company RCS (Residential Control Systems Inc.) isn't well known yet for a majority of Home Automation lovers. But it has already established quite some reputation in the manufacturing of programmable thermostats. After gathering a lot of experience in this market the engineers have realized the growing importance of Smart Home technology and decided to build a thermostat with integrated ZWave functionality. RCS is known for putting a lot of effort in the technology of its products. That's why the Z-Wave Communicating Thermostat might not be a real beauty from the outside but its insides are working perfectly together.
Pros
Bright, illuminated blue display
Strong Z-Wave radios with an extended range
Cons
Display font doesn't look very modern
Overall design not very beautiful
Most expensive thermostat in our list
No. 5: Remotec Z-Wave Thermostat ZTS-500
Headquartered in Hong Kong, Remotec is the global leader in providing high-quality infrared and/or Z-wave solutions, Bluetooth, OEM/ODM services and home automation products. The company created its Z-wave thermostat with the end user in mind. The intuitive and simple user interface is combined with compatibility with any Z-Wave controller or gateway. The thermostat supports 2 stage heat, 2 stage cool, and 2 stage fan. It has to be C-wired, but can also use batteries for power supply and work when there is electrical power down.
Pros
Compatible with WINK HUB 2, Vera Secure, Vera Edge, Vera Plus, Samsung SmartThings

Easy setup and use

Advanced features

Outside temperature feature

Battery and wall power
Cons
Not programmable without Z-Wave bridge
No. 4: Honeywell YTH8320ZW1007/U Z-Wave Thermostat
Honeywell has been in the thermostat industry for a couple of decades and recently also started to manufacture devices that are tailored to the requirements of typical smart homes. This of course also includes having at least one thermostat in their product line that speaks ZWave. The Honeywell YTH8320 makes no secret of having that exact functionality by showing the official Z-Wave logo at the top of the minimalistically designed case. Its display is showing a clear differentiation between background and text making it easy to read the temperature even in dark environments. A nice feature is the so-called Wire saver which allows the use without a common wire. But this information comes from the manufacturer and we cannot confirm if it really works without a C-Wire. Please refer to our section above on how to overcome this problem.
Pros
Clean design
Nice display
Well established and renown manufacturer
Fully programmable
No need for a C-Wire (according to Honeywell)
Cons
A bit more expensive but well worth it
Extremely Outdated Design
No. 3: 2gig CT100 Z-Wave Thermostat
For the past couple of years, 2gig has made a name for itself in the Z-Wave Home Automation branch. Its low-priced products offer solid quality without inflating the complexity by offering too many features. The devices do what they are supposed to in a very reliable fashion. The 2gig CT100 is no exception and moreover, it is the least expensive thermostat in our list. Admittedly, the display is not the best of its class in terms of design but it still offers touch functionality and back illumination.
Pros
Low price tag
Minimalistic design
Fully programmable
Good Z-Wave communication range
Cons
Display doesn't show a lot of info
Design is Relatively Outdated
No. 2: Trane Z-Wave Thermostat
While boasting a slightly higher price tag than the other thermostats on this list, the Trane Z-Wave Thermostat also has one of the sturdiest builds. Working with Alexa, with a hub required, the device is extremely easy to set up. With its sleek design, the product offers you full remote control of your smart home heating/cooling system via the Z-Wave protocol.
Pros
Amazon Alexa Integration
Extremely easy to Install
Supports most Z-Wave hubs
Compatible with most H/C Systems
Cons
Doesn't Support Z-Wave Plus
High Price Tag
Tip: How to install a thermostat without a C-Wire
Almost all smart and programmable thermostats need HVAC (heating, ventilating, and air conditioning) system with 5 wires to operate. The mysterious 5th wire that most people don't know or haven't seen yet is the Common Wire or often referred to as C-Wire which is normally coloured in black. A lot of sources state that this wire is responsible for powering the device but that information is not completely correct. The Red Wire (R-Wire) is actually the power source and therefore called the "hot" wire. The C wire is simply the "common" side of the transformer 24V output and closes the circuit while allowing a continuous flow of 24V energy to power the thermostat. Unfortunately not all HVAC systems already have a C-Wire. In fact, less than 40% of the United States households even have programmable thermostats which lead to a majority of homes without the need of having the necessary wiring required by the modern devices in the first place. Some thermostats work without it by using some kind of workaround – one of them being the Nest Learning Thermostat, which is not a Z-Wave thermostat, but a Wi-Fi thermostat (most of our recommended Z-Wave controllers support both protocols). But be warned that a few customers still report about having problems without a proper C-Wire installation. The Nest homepage states the same: "The Nest Learning Thermostat is designed to work even if your home doesn't have a common "C" wire, but installing a new C wire may be required in rare cases."
But what if I told you there is a simple device that avoids the hassle of calling an HVAC electrician and pay for a complete rewiring of half your home. I am talking about the Venstar Add-A-Wire 5 Wire to 4 Wire Adapter which is overwhelmed with good reviews on Amazon by satisfied customers that finally got their thermostat working with just paying an additional $30. Venstar provides easy to follow installation videos.
However, in some households, there are rare wiring setups like 2-wire or even 1-wire combinations. In these cases, a complete rewiring performed by a professional is recommended to be absolutely future proof as our homes become smarter and smarter.