Want to purchase a new small appliance for your kitchen, but don't know whether or not all those new 'smart' features are worth it? Let's check out the best small smart home appliances to help you make your purchasing choice.
The past few years the technological scene has been overrun with the idea of inter-connectivity. Well-known names within the industry and new startups are pushing the limits of what can be defined as smart. Today, everything from your toaster and coffee maker to your tea machine can be connected to the internet and controlled via a smartphone. It's safe to say that smart home appliances are all the rage this year as well.
Yet, one of the biggest arguments against the smart movement still lingers. Why do your socks need to have a fitness tracker in them? Why does your toaster need to give you a notification when your toasts are ready? While we can't stand behind some of the most ludicrous ideas, the fact is that in most cases the interconnected tech in your home is both cool and nerdy. And we love it! But that doesn't mean that we won't be critical to the devices we'll review and feature in our list of the best small smart home appliances of 2018. Without further adieu, let's take a look at how we'll rank those devices and which devices we chose for our list.
The Criteria We Used in Defining IoT Innovation in Home Appliances
The criteria we decided to use in our review list is simple. To rate the smart appliances we'll first take a look at the design, usability, overall build and the price. Finally, we'll check out the necessity of the inclusion of inter-connectivity solutions. Here's a more detailed overview of the criteria we'll use on this list.
Design – This isn't necessarily the most important factor when it comes to home appliances, but it is definitely something to consider when making your purchase. Even though the size and shape of devices in your home might not be the first item on your mind, we'll nonetheless give points to those who've went out of their way to make their home appliances look amazing.
Build Quality – You don't want your juicer to break, if you push your carrot in it too hard. With that in mind, we'll also give points for build quality. After all, appliances aren't tech you want to change every year, like your smartphone or laptop.
Usability – One of the most important factors we use to measure any tech we review is its actual usability. In 'usability' we'll take a look at the available features of the appliance and check to see how useful they are in an everyday setting.
Necessity of 'Smart' – This special criteria we'll use in this list will take a note of the actual necessity of the 'smart' tech included in a certain appliance. Here we'll take a look at the available 'smart' features and whether or not they enhance your use of the appliance.
Price – Last, but not least, we'll take a look at the price. Here, at BYSH, we give points at tech that is worth its market value. Expensive doesn't necessarily translate to better. Nevertheless, in this category we'll also take a note of the actual selling points of a certain device and its targeted audience and see whether or not the price properly reflects the marketing message and the quality of a product.
Reviewed Devices
On our task to find the best smart home small appliances we went on to review a number of different appliances in a range of different categories. Here are the categories of products we reviewed, alongside the items we tested.
Smart Coffee Makers – Behmor Connected, Mr. Coffee Wi-Fi Enabled Coffee Maker, Brewgenie Smart Coffee Maker, Smarter Coffee Machine
'Smart' Juicers (Portable USB Juicers) – Netcosy Smart USB Portable Juicer, Topfit USB Juicer Cup, TOWABO USB Juicer Cup, E-UNIONA Rechargeable Portable Juicer, SUMGOTT Portable Juicer
Smart Small Kitchen Home Appliances – ChefSteps Joule Sous Vide, Crock-Pot Wemo Smart Wifi-Enabled Slow Cooker, Nomiku WiFi Sous Vide, AIMOX Smart Wifi Stainless Steel Electric Kettle, Perfect Drink Pro, Perfect Bake Pro, Perfect Blend Pro, Anova Precision Cooker
We would also like to review smart blenders and smart microwaves, but currently we were unable to find devices that were connected to the cloud or our smartphones to do so. If you have any ideas, make sure to mention them in the comments or by directly contacting us. It's the same case with smart mini-fridges and bar & accessories. Also, we understand that BudLight has an E-Fridge only available in California, USA. Unfortunately, we aren't located there nor were we able to get our hands on one, but be sure to contact us, if you can provide us with a review of the product. Of course, be sure to mention any other product we've missed in the comments below and we'll make sure to get our hands on it as quickly as possible.
Best Smart Coffee Makers
Tapping on your smartphone whenever you want coffee is far more useful than it might seem. Especially, if you are a coffee lover, having a smart coffee machine can change the way you make your coffee. With a brewer that is connected to your automated home system, you'd be easily able to have your coffee whenever you want, without having to wait for your machine to get ready. Plus, waking up to the sound of the notification that your coffee is ready is definitely a dream come true.
Behmor Connected – 8.1/10 (For the Wealthy Coffee Enthusiasts)
Check out our full Behmor Connected review.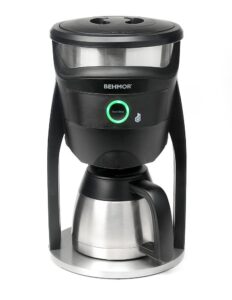 There aren't many WiFi connected coffee makers on the market. Nevertheless, those that are manage to do a great job of taking coffee brewing to a whole new level. One of our personal favorites and the one that we decided to feature on our list, due to its positive reviews from customers, is the Behmor Connected smart coffee maker.
One of the reasons why this coffee maker is beloved by everyone is the way the manufacturer has integrated simplicity and ease of use, without sacrificing on advanced functionality. Although the coffee maker does have a relatively high price tag, it is definitely worth a look.
Design – 7.95/10
Build Quality – 9.5/10
Usability – 9.75/10
Necessity of 'Smart' – 5.95/10
Price – 7.55/10

Smarter Coffee Machine – 7.2/10 (A Smarter Coffee Machine!)
Check out our full Smarter Coffee Machine review.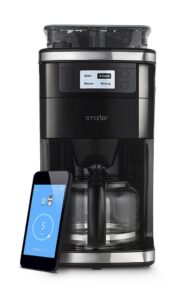 Smarter Coffee Machine is an overall improvement of your average coffee brewer. Although it's build quality is not perfect, the design of the product fits nicely within the modern kitchen atmosphere. One of the best features of the coffee maker is its ability to schedule the brewing of your coffee via your smartphone app. It also asks you whether or not you want coffee when your alarm wakes you up. The added coffee bean grinder is definitely a great added bonus as well. Nevertheless, the brewer has its downsides. It's lack of any additional features and the instability of the connectivity of the app are issues you might have to deal with.
Design –  7.5/10
Build Quality – 5.65/10
Usability – 9.15/10
Necessity of 'Smart' – 5.95/10
Price – 7.50/10

Best Smart Precision Cookers (Sous Vide)
Before we started our research on the best small smart home appliances, we weren't aware of the existence of precision cookers. We were positively surprised to find out that home automation is making its way to more niche home cooking techniques, such as sous vide.
Used by professional chefs and cooks for decades, sous vide is now a popular home cooking technique. It is a way in which you set a pot to exact time and temperature settings, so that you are able to get your favorite meals just the way you like them. Usually used for cooking steaks, this method is also implemented in the preparation process of a wide variety of meals.
Now, with the added benefits of wireless connectivity, sous vide precision cookers can do much more than simply tell you the temperature and the time. With the use of smartphone apps, they allow you to tap into recipe specifications used by infamous chefs and do much more.
Anova Precision Cooker – 8.2/10 (A Bluetooth Sous Vide Wonder!)
Full review coming soon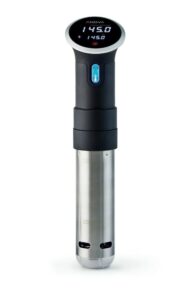 The Anova Precision Cooker provides you with anything you might want from a sous vide. Changing the way you cook your food, it can be used to cook almost anything. We are not experts in sous vide functionality, but compared to the other cookers we've tested, the functionality of Anova was undeniable. Nevertheless, where the product truly shines is its smart home features. In fact, even if your home setup is Z-Wave based, you'd be easily able to make things work, as this Bluetooth cooker has IFTTT support!
The best thing about Anova, when it comes to automation, is its app. Available on both iOS and Android, the app is one of the most functional ones we've tested on any product. It widely expands the features of the device and provides additional cooking tips and tricks. Just like a precision cooker app should! The price is in the rather high range, but having in mind the product, it is quite worth it!
Design – 8.5/10
Build Quality – 8.5/10
Usability – 9.95/10
Necessity of 'Smart' – 7.95/10
Price – 6.10/10

Nomiku WiFi Sous Vide Immersion Circulator – 6.5/10 (Not There Yet!)
Full review coming soon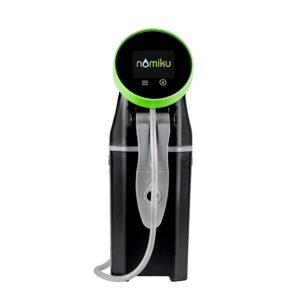 The Nomiku WiFi Sous Vide isn't the best precision cooker around, but it is definitely a nice immersion circulator. Easily connecting to your Wi-Fi network, the product is extremely easy to operate. You simply download the app and you are set. However, it is not for everyone.
The Tender app that is used to operate the device works quite well. It doesn't have a lot of features, but for the most part, it helps you set up your sous vide. Nevertheless, the Nomiku will disappoint you with its cheap quality. Now, if the product was priced well below its current price point, this might have not been an issue. However, with its current high price tag, the product just doesn't deliver on the expectations. Ever since you first hold it in your hand, the sous vide feels rather cheap. Plus, using it for two weeks we ended up testing three different products, due to issues with the first two, and even the third one doesn't seem to hold up properly after about a month and a half of use.
Of course, the precision cooker does allow you to do what you love to do, but it simply isn't there yet! Nevertheless, we decided to share it with you, as if you have the money to spare, this product is a great way to advance your cooking experience.
Design – 5.95/10
Build Quality – 4.5/10
Usability – 7.75/10
Necessity of 'Smart' – 7.95/10
Price – 6.5/10
Best Smart Juicers (Are there any?)
When you think of small smart home appliances, a juicer is probably the last product that comes to your mind. Yet, with people from our team being health junkies, it was on top of our list. We didn't need a smart juicer. We WANTED one. We craved it!
But, as chance would have it, we were out of luck. Excluding the abomination that was the Juicero, we couldn't find any product on the market that is the slightest bit smart. What we found, were not that much of small smart home appliances, but more of smart accessories. And while we are still on the fence of whether or not we should keep these products on the list, we found them so useful, that we believe any smart home enthusiast would love to have one.
TOWABO USB Juicer Cup – 7.3/10 (A Portable Juicer!)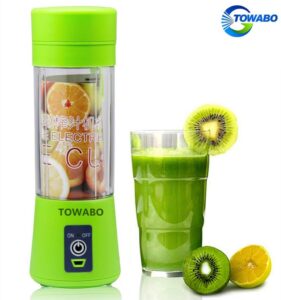 Much like the other juicer cups we reviewed, the TOWABO USB Juicer Cup is not the slightest bit 'smart'. Nevertheless, it is an amazing accessory! Completely portable the device allows you to easily create a fresh cup of juice on the go. The design and the build quality of the product are great and the only real downside is that it doesn't truly stand out from its competitors. Of course, there are some portable juicers that don't offer the same quality and build, but the two featured here are relatively similar. We gave this product a '1' in Necessity of 'Smart' due to its lack of 'smart' features. But, hey! It lets you charge your smartphone!
Design – 8.95/10
Build Quality – 9.25/10
Usability – 9.75/10
Necessity of 'Smart' – 1/10
Price – 7.55/10

Netcosy 'Smart' USB Portable Juicer – 7.3/10 (Another Portable Juicer!)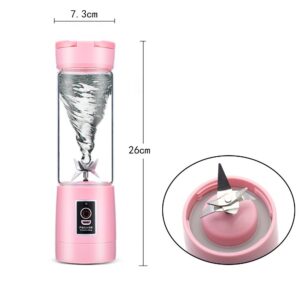 The 'Smart' USB Portable juicer offered by Netcosy is pretty similar to all the different portable juicer we've tried. With the added benefit of being pink, the device is great for outdoor juicing, if you are into that sort of stuff. The only thing that sets it apart from TOWADO is its lower price. The build quality also seems to be rather lower, but it is nonetheless sturdy and for the over five weeks of avid outdoors use, this device hasn't budget. And again, it's great for charging your phone!
Design – 8.95/10
Build Quality – 7.5/10
Usability – 9.75/10
Necessity of 'Smart' – 1/10
Price – 9.55/10
Best Other Small Smart Home Appliances
Crock-Pot Wemo Smart Wifi-Enabled Slow Cooker – 7.9/10 (An Expert Smart Pot for Tasty Meals!) 

Full review coming soon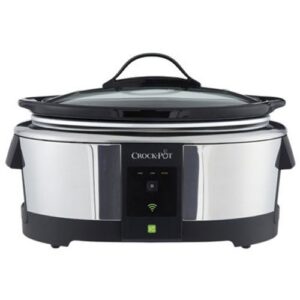 The WeMo Crock-Pot has definitely expanded our idea of how useful the WeMo family of devices can be. Despite, not offering the full set of features we'd be satisfied with, WeMo products are nevertheless useful. Especially when it comes to small kitchen appliances.
The Crock-Pot itself works perfectly. Build from stainless steel, the device feel sturdy and durable and while we are not too keen on the overall design, it did manage to fit the atmosphere of a modern kitchen nicely. The best thing about the slow cooker is the fact that it works completely through the WeMo app. While the app itself is not the best, having all products in one app without the need of setting up everything through IFTTT, is definitely a bonus for those looking for ease and simplicity.
Design – 7.95/10
Build Quality – 8.5/10
Usability – 9.15/10
Necessity of 'Smart' – 6.95/10
Price – 6.95/10

Perfect Blend Pro Smart Scale – 6.7/10 (A Perfect Blend of Features!)
Full review coming soon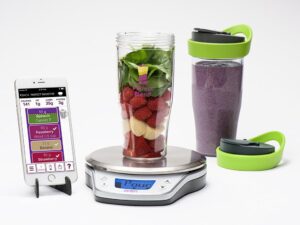 bla bla, Perfect Blend also has other products, but for the purposes of not saturating the article with one company and similar products, here are the other products – Perfect Drink Pro, Perfect Bake Pro
In the latest episode of the cult TV series Adam Ruins Everything, Adam did ruin the common misconception that calorie count is an exact science. Nevertheless, calories can be extremely helpful and with devices that are a tiny bit smarter, you can get slightly more exact results. That's where the Perfect Blend Pro Smart Scale comes in.
The 'Perfect' family of kitchen scale devices is just that. In fact, Perfect makes scales for pretty much about anything. Out of all their scales, we've tested their Perfect Drink Pro and Perfect Bake Pro. And we've had pretty similar experiences with all of them. What makes the scales stand apart are their dedicated apps. While not the best in the world when it comes to design, the apps do offer great functionality and for the most part, make it easier not just to scale thing, but also to prepare your perfect nutritional smoothie, drink or about any meal!
Design – 7.5/10
Build Quality – 7.5/10
Usability – 8.5/10
Necessity of 'Smart' – 5.2/10
Price – 4.95/10

The State of Small Smart Home Appliances
The idea behind reviewing the top small smart home appliances came with coffee makers. As coffee enthusiasts, we wanted to check out what the smartest solutions on the market currently are. But going further, we wanted to see if we were going to find any smart toaster. Because, whether in ironic or not, you know that the smart connected trend is here when even your toaster is connected to your home automation setup.
Again, as aforementioned, we are aware that a lot of appliances are quite smart. For example, microwaves have smarter functionality. Yet, we ended up completely baffled by the results. We couldn't find a single microwave that connects to your smart home. Not to mention, a toaster.
The Appliances Do What they are Supposed to Do
A lot of the products that were advertised as 'smart' used the term primarily for advertising purposes. Plus, appliances that did have the integration of smart algorithms and software, didn't have any wireless connectivity options. Nevertheless, we did manage to find an array of awesome small smart home appliances that genuinely surprised us.
For starters, the smart coffee machines did what they are supposed to do. They connect to your home automation network and they make coffee. The array of advanced functions on the Behmor Connected let us appreciate coffee a bit more, while Smarter Coffee Machine ended up showing the ease of automated coffee brewing.
Going further, we were disappointed by the lack of any smart juicers. The only thing close to 'smart' that we found were portable juicer cups. Even though they don't have any functions and we were on the fence of including them on this list. In fact, we are still quite hesitant about them so if they are removed from the list, you'll know why.
The precision cookers were what blew us away. Even though most members of our team love to cook, we wouldn't call ourselves chefs. We aren't even that big of cuisine enthusiasts. But researching the best smart home appliances, we found the amazing tool that makes cooking much smarter! Suis vide precision cookers should be the norm. The other products on this list were also amazing in both functionality and the implementation of wireless connectivity features and more.
We are definitely happy to see how smart and connected technology help change our everyday routines, hobbies and more.