Why wouldn't you enjoy your perfect cup of coffee every morning, or have fun with friends instead of preparing coffee in the kitchen? Check out best Alexa compatible coffee makers! You certainly can live without them, but once you learn that smell of your favourite coffee can wake you up, you will simply love this gadget!
Our friends from dealdragon.co are now providing us with a state-of-the-art dynamic list of the best Alexa Coffee Makers. Below this iframe you will find our old blog post, but we now recommend this new list as it represents the current market more accurately.
Smarter Coffee (2nd Gen)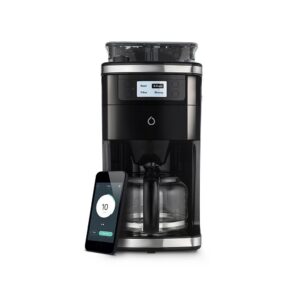 The Smarter Coffee Machine doesn't disappoint in build quality and design. Even though you might think that due to the lower mid-price range it is not a high-quality one, you will be surprised by features of Smarter Coffee. The difference from other more expensive smart coffee makers is really subtle.
The Smarter Coffee Machine comes with three replaceable front plates: red, black and white, so you can change the colour of it. Smartphone application works well both on iOS and Android. There are reports on disconnection from time to time, but when it is connected, it works perfectly.
You can schedule the brewing of your coffee and you will get an alert when the coffee is ready. It is also fun to wake up and get a notification, asking if you would like to have some coffee ready. Also, you can set up for your favourite coffee to be prepared on a routine basis. However, there is not much more than ordering the coffee, and for some users, this might not be sufficient.

Behmor Connected Coffee Maker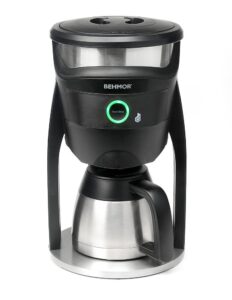 Another Alexa connected coffee brewer is the Behmor Connected. Regarding its appearance, it is more of a classical looking coffee brewer than a futuristically designed device. The build quality more than makes up for the design. It is built from stainless steel with plastic beam support.
It is very easy to use and although it has some troubles while connecting to the Wi-Fi for the first time, users agree that the brewer does its job perfectly. After you connected the Behmor Connected to the app, you can immediately start brewing your coffee via the use of your smartphone. There are different special configurations you can set which will release your thoughts of what are additional functions of the brewer. Every step of brewing can be customized and the brewer gives you a wide spectrum of options every coffee enthusiasts would love to have.
The app can be messy sometimes, but once you get used to it, you will have the access to the functionality you might need. And, if the price doesn't matter to you as much, the Behmor Connected Coffee Maker is the right choice, when it comes to smart coffee brewers.

Check out other smart kitchen appliances that will make your cooking a lovely experience in our article The Best Smart Kitchen Products of 2018.