The market for Z-Wave controllers can be a bit overwhelming at first glance but we compiled a comprehensive list of the most suitable controllers for being the central component of a majority of home automation systems. We created a short review of every product to summarize the most important key points. We will also guide you through the process of pairing different protocols in another tutorial soon. Most of these controllers already support multiple automation protocols which are the foundation for pairing a vast number of various devices and brands.
Our friends from dealdragon.co are now providing us with a state-of-the-art dynamic list of the best products. Below this iframe you will find our old blog post, but we now recommend this new list as it represents the current market more accurately.
Tips
Choosing the right Z-Wave Controller is not an easy decision. There are three main questions you should ask yourself:
1. How many devices do or will I need to control?
2. How many different Home Automation Protocols do or will I need to combine?
3. How much freedom do I want to have in terms of customization and orchestration
If you only have Zwave devices in your possession and don't need complex scenarios you will be happy to hear that any controller in this list will suffice. You should have a look at the design and the user interface of the corresponding apps to narrow down your decision.
If you have a lot of different devices that are using various protocols you will need to resort to a controller that supports multiple protocols and therefore will be the glue to hold your complete infrastructure together.
Anyway, feel free to have a detailed look at the reviews of our candidates below.
Our Winner: Samsung SmartThings Hub
3rd Generation – Now Compatible with Amazon Echo and Google Home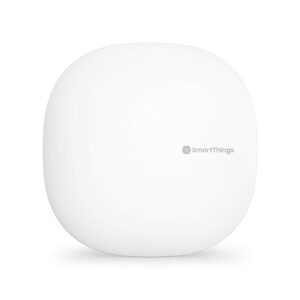 This thing is indeed smart and supports ZigBee, Z-Wave and WiFi devices. The combination of these 3 protocols is absolutely future proof since we consider them as the three technologies that will play the most important role for the Home Automation market in the upcoming years.
3rd generation is updated in terms of connectivity as it is now a wireless version. This means you will no longer have to plug the Hub into your router via an Ethernet cable to be able to control it with other devices connected to the same network. You can just connect via WiFi.
The Samsung SmartThings Hub improved its sensitivity as it implemented upgrades into the motion sensor, multipurpose sensor, smart outlet and even added a water leak sensor.
On the top of its improvement, it is now compatible with Amazon Echo and Google Home.
The Samsung SmartThings Hub will present you with a very well designed web interface that is very easy to use. The nice clean and minimalistic device should seamlessly fit into any home.
The fact that it is currently the Nr.1 Best Seller for Home Automation Controllers at Amazon speaks for itself.
Pros
Very simple to install
Nice design
Nice and modern interface
Beautiful smartphone apps
Supports ZigBee, Z-Wave and WiFi

Compatible with Amazon Echo and Google Home

Doesn't need Ethernet cable for connection

Very low price tag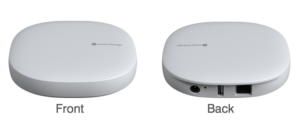 The New Top Contender: Wink Hub 2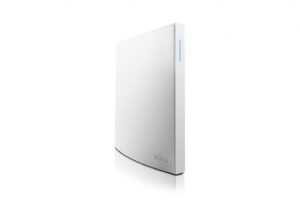 After a range of new software updates and tweaks, the Wink Hub 2 is an extremely easy to use customer product that also allows for a touch more professional control and functionality compared to its top contender the Samsung SmartThings. 
The Wink Hub 2 is the second iteration of the smart hub of the same name. Released in the fourth quarter of 2016, the device offers impressive specs and is a huge improvement over its predecessor. The Wink Hub 2 comes at an affordable price and is packed with both wired Ethernet and dual-band Wi-Fi support. The sleek and stylish new design is enough to catch the eye, what makes the hub worthwhile in the eyes of a common user. Yet, the biggest strength of the device lies in its user-friendly app and the ease of installation. Another huge selling point of the hub is its support of all major protocols, including Z-Wave and Zigbee. The Wink Hub 2 also supports a few more obscure protocols, such as Kiddie, Lutron and Clear Connect. Another great feature of the device is its Amazon Alexa and IFTTT support.
Pros
Supports All Major Protocols (and a few obscure ones)
Clean and Sleek Design
User-Friendly App
Easy to Install
Very Affordable Price Tag
Cons
Doesn't come with Battery Backup

(Still) The Cool Kid: VeraPlus Z-Wave Controller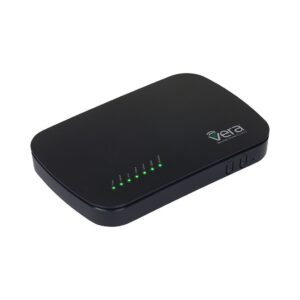 Throughout the previous two years, Vera Control made further efforts to become a market leader in smart home tech. One of our previous top contenders on the top Z-Wave controller list, the first generation of VeraEdge quickly became obsolete with the release of the more secure Z-Wave Plus protocol, prompting the innovative brand to release a new product. Yet, also answering to the different needs on the market, Vera Control released not one, but three successive product in the face of the Vera Edge, the Vera Plus and the Vera Secure. The three options come at different price points, depending on the specific needs of the potential market. The Edge is a second iteration of the product with the same name with the most notable change being the design. For the most part, it works for most smart home enthusiasts, who are dedicated to the Z-Wave protocol. Allowing for ZigBee and Bluetooth connectivity, making the total number of communication protocols up to 4, the VeraPlus is the most obvious choice for buyers as it combines a decent price with functionality. The VeraSecure is the premium option, allowing for up to 5 communication protocols and more than 200 connected devices, while also increasing the security via VeraLink, Alarm System and adding a Siren, Microphone and speaker for 2-way communication.
Unfortunately, all three devices require quite the deeper understanding of hardware, for those who want to use their functionality at full capacity. While with the latest software updates and throughout their respective ecosystems both the Wink Hub 2 and the Samsung SmartThings are extremely intuitive and rather stable devices to use, this can't really be seen withe the VeraEdge line of products. Yet, there is a lot of potential there and we would love to see some tweaks and fixes implemented in a future generation of the product.
Pros
Z-Wave Plus
Rather Simple to Install
Modern design
A Great line of Buyer's Choice
Cons
Stability Issues
Not as easy to use

Pro Tip: HomeSeer HomeTroller S6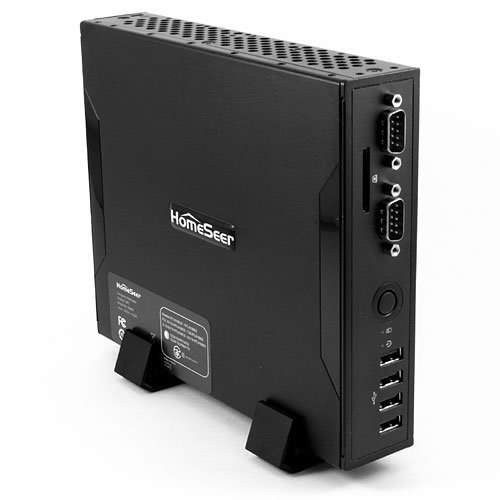 Last but not least, the Ferrari of Z-Wave controllers. The HomeSeer HomeTroller S6 does come with a high price tag but for a reason. Apart from Z-Wave this controller can be upgraded with interfaces for ALL major protocols like Insteon, UPB, X10 and more. Attention: By default the controller is not shipped with a Z-Wave hardware interface. You will need to purchase it separately. But the good news is , its not very expensive:
The S6 is the ideal device if you have a bunch of different devices and want to streamline that fragmentation with one single access point. It also supports all kinds of Android and iOS devices which means you can control everything with your phone. And by everything we mean Lighting, Thermostats, Door Locks, Audio/Video, Security, Irrigation and more. Home owners can access the HomeTroller S6 at home or via the cloud with just about any smartphone, tablet or table-top touchscreen. The free standard cloud-based "myHomeSeer Remote" service provides easy remote access without storing your sensitive data in the cloud.
Needless to say that the HomeTroller also supports complete voice control, turning your home into the command & control center of Tony Stark. And to be honest , this is why we are looking into home automation anyway, right? Jarvis , one coffee please.
Pros
Supports all major protocols
Z-Wave Plus
Voice Control
Very good support
No monthly fees
HomeSeer is the market leader in Home Automation
Cons
High price tag
Hardware interfaces for the protocols are sold separately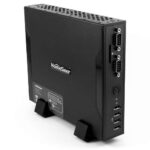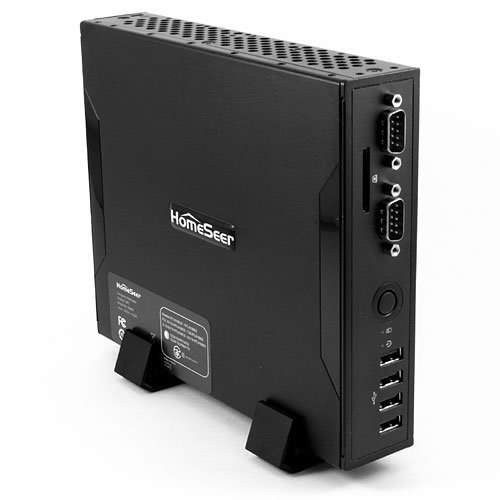 The Verdict
In most cases the SmartThings Hub is the right choice. It struggles a bit when it comes to customization and the ability to create complex scenarios. However, the Plug & Play nature of the beautifully designed device will appeal to a majority of users.
For those of you who need a bit more freedom and like to tinker a bit with technology will be very happy with the VeraLite. It allows for scripting and the creation of complex event triggered scenarios.
Who is still not happy with the features of the VeraLite might need the Hometroller S6, which is a device for people who only want the best of the best. It is based on years of experience of the leader in Home Automation – HomeSeer. It will give you even more possibilities in terms of orchestration and the combination of different home automation protocols and devices.
Previous candidates for top Z-Wave controller (older generation products)
We have significantly updated our list and tried to represent the general consent of the majority of home automation users and what they think of the different controllers. However, there are still other devices that are worth to be mentioned here , although they might didn't get much attention yet from the consumer base. Be aware that this is just a personal opinion and perhaps the Zipabox for example is exactly what you want. That's why we kept the links to amazon.com in place in case you want to have a look at the product in detail.
VeraEdge Z-Wave Controller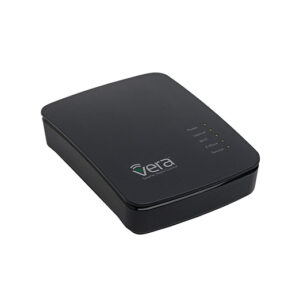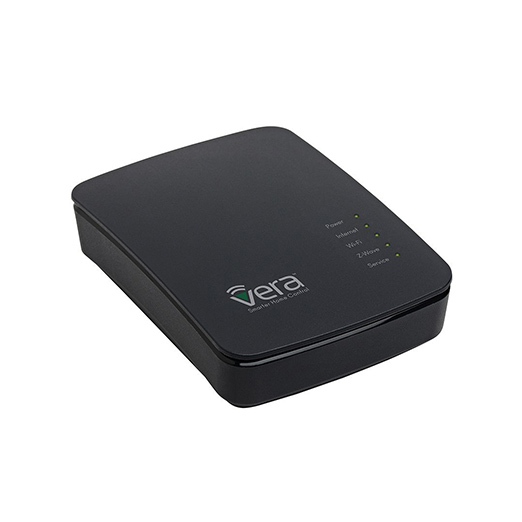 We already wrote about the newest product release from Vera Control in one of our news articles. The new VeraEdge is available for purchase and succeeds the "old" VeraLite.  It uses the newest Z-Wave technology called "Z-Wave Plus" which offers a lot of advancements including longer battery life, faster operation, better RF coverage and easier installation. Moreover it supports up to 220 devices on one network which is 4 times the number of devices the VeraLite supports. A Smartphone app lets you monitor every connected device on the go. Vera Control has also tweaked the hardware specs of the controller but still kept the price relatively low. Incase you have any problems the support community at the micasaverde forums always offers valuable help and can answer frequently asked questions. 
This hub handles extremely well a few years after its release. In fact, it has become one of the top contenders in the industry.
Pros
Z-Wave Plus
Very simple to install
Simple design
Nice and modern interface
Cons

Nexia Z-Wave Bridge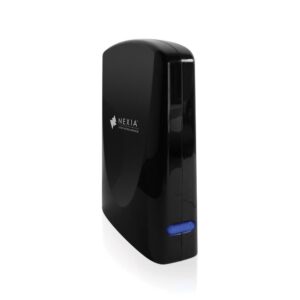 Nexia is another great hardware option, that would be wonderful, if it wasn't for the cost. Released under the Nexia brand, the Z-Wave Smart Home Bridge is extremely easy to install and serves as the central hub for your system. All you have to do is plug it in, connected with the app and you'd be good to go. With energy management and security being the two top priorities of the brand, it is one of the best choices for remote home control, perfect for vacation homes. In addition, it's mesh network support allows you to connect up to 200 devices in the same network. The only true downside is that while the hardware is relatively affordable, the costs can quickly accumulate up, as using the device requires a monthly subscription.
Pros
Supports Connection of up to 200 Z-Wave Devices
Easy mesh network setup
User-Friendly App
Easy to Install
Very Affordable Price Tag (of the hardware)
Cons
Requires a Monthly Subscription

Zipato Zipabox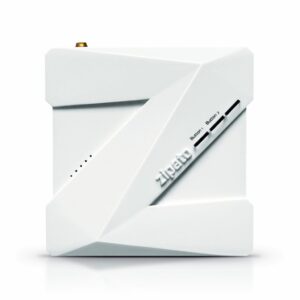 This Z Wave Controller has a very unique design but also very sophisticated technology. It has been created by the Romanian Company Zipato which is not yet very well known amongst home automation users yet but this could probabaly change with this product. Like the VeraLite controller the Zipabox also uses a Cloud Interface to store configuration data,schedules and timers. In order to function properly the controller therefore needs constant internet access and connectivity to the Zipato servers. Btw, after several complaints about the network connectivity of their own managed servers Zipato has switched to Amazon based Cloud Servers which has hugely improved the stability of the service resulting in an overall quality jump of the ZipaBox. The cloud based web interface makes it also possible to connect with every device that has internet access and a modern browser. Nowadays this should include all smartphones and tables making it possible to manage your home automation on the go. If the web interface doesn't feel really appealing you can also switch to the iOS or Android Apps that have been developed for the Zipabox. It also supports other protocols than Z-Wave with the help of extension modules.
Pros
Very simple to install
Nice and modern interface
Can be extended to support multiple protocs
Cons
Higher price tag
Design looks a bit cheap

Mi Casa Verde VeraLite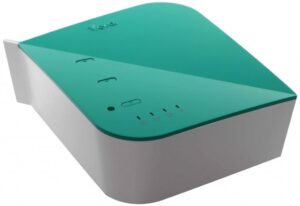 October 2017 Update: This device is no longer officially supported. Although available for purchase through Vera's official website, the company has shifted its focus towards its newest products. Nevertheless, we still decided to retain it as a honorable mention, due to its usability in 2017.
Note 01-12-2014: Due to the release of the new VeraEdge the price of its predecessor VeraLite has dropped. It is still a very viable option for people who don't need the new features of its successor including Z Wave Plus and the support for more nodes. But we guess the 50 devices that the VeraLite supports are more than enough for most home automation use cases.

The Vera Product Range is well known amongst Z-Wave users. This very sophisticated controller also adds the possibility to control all connected devices with your smartphone provided they are connected to the same network. The energy monitor supports you in optimizing your monthly costs and cutting your energy bill. Moreover the Mi Casa Verde community has become quite big which makes it easier to find questions for your problems in their support forums.
Pros
Very simple to install
Nice design
Nice and modern interface
Very low price tag
Cons

Revolv Smart Home Automation Solution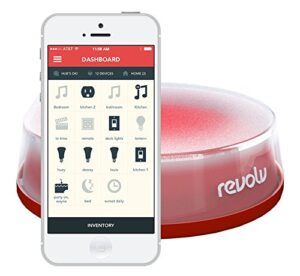 Update January 2015: This device was once the most promising Home Automation controller in our list with both offering state-of-the-art smartphone and desktop apps as well as providing the support for 7 (3) major protocols. But as we already mentioned in our introduction, things went a different way. Nest bought this company and the Smart Home Hub is basically abandoned right now. There is no support from the manufacturer anymore and the activation of the 4 additional radios will most likely never happen. We are very sure that Nest will release a beast of a controller in the near future with the acquired technology, but for now they have left an angry customer base behind, which is reflected by the most recent reviews for the Smart Home Hub on amazon. Perhaps they will even continue support for it in a couple of months. No one knows for sure right now, and if you are willing to take the risk and are happy with the features the Hub offers right now, you can still purchase used ones on amazon for a reasonable price.
This nice little gadget was designed to bring order to the home automation jungle. The Revolv Hub is currently able to talk not only to Z-Wave devices but also to Insteon and Wi-Fi devices. An upcoming firmware update will add ZigBee to the club while Revolv promises that this won't be the last protocol supported by the Smart Home Automation Solution since the controller already has 7 different radios built inside which just need to be activated by the aforementioned software updates. Ever dreamt of pairing your Philips Hue Wireless Lighting with your Nest Smart Thermostat by only using one controller? Revolv's solution will make your dream come true. It is also one of the very few devices that support Z-Wave and Insteon.
Pros
Very simple to install
Nice and modern interface
Supports Z-Wave, Insteon and WiFi
Cons