Starting with home automation can be a difficult and costly task and that's why different companies offer some of their products in bundles. To help you choose the most affordable, functional and easy to set up bundles, we've gathered the best smart home starter kit offers for your automated home. Check our top picks here.
One of the hardest steps to take towards integrating smart technology into your home is to actually replace the existing technology you already own with its smarter counterpart. Depending on your budget, migrating towards an automated home can be quite expensive, while at the same time you have to spend valuable time getting used with the new gadgets into your home to help them help you save time. With all this in mind, companies tend to present their small smart home gadgets in bundles, which come at a more affordable price and contain almost everything you need to help you get started. With that in mind, we decided to review some of the best smart home starter kit offers available on the market and present you with the different options you have for different areas, such as lighting, home security and more.
While the products mentioned below are not necessarily the best in their relative categories, we've decided to focus primarily on the affordability, ease of setup and overall functionality of the devices. That being mentioned, let's get started with the best smart home smarter kits available on the market today.
Best Smart Home Lighting Starter Kit
Philips Hue White and Color Starter Kit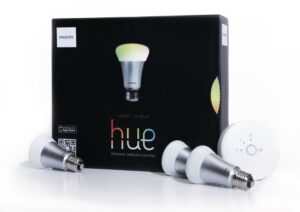 Even though Philips Hue are considered to be on the rather more expensive side of the spectrum, they are without a doubt the leaders in smart home lighting solutions. Even though you will be able to find more than one different smart light bulbs for your home coming at a more affordable price, the overall lighting ecosystems of Philips Hue isn't currently compared to any other smart light ecosystem on the market today. That being said, you should definitely check out the different array of starter kits offers they offer. For the purposes of this list, we've decided to include their White and Color Starter kits, due to the fact that it comes at a fairly reasonable prices, it includes three bulbs and a hue bridge. The hue bridge itself can control up to fifty light bulbs and allows you to create different lighting scenes, while the bulbs can easily be screwed to your existing lamps. What's more, if you are having any trouble, this product offers free smart home consultation from experts at Philips Hue. Additionally, Philips hue are both IFTTT and Z-Wave compatible, can be sold gift-wrapped and work with Amazon Alexa.

Best Smart Home Starter Kit for Power Outlets
TP-Link 2-Pack Kit with Energy Monitoring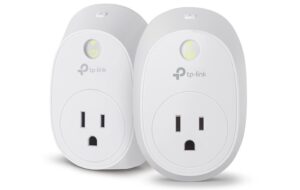 One of the easiest ways to start making your home smarter is to make your plugs smarter. One of the most affordable and best ways to do so is by simply purchasing a smart plug adapter. While there are a ton of different options of the market, one of the best are the TP-Link power plugs, which can be used for a variety of purposes. As the pick for the best smart home starter kit for power outlets, we've decided to include the TP-Link 2-Pack Kit with Energy Monitoring, due to the fact that they double as energy monitoring devices and are extremely easy to set up, working with Amazon Alexa and most smart home hub systems. Granted, these plugs come at the rather more expensive side of things, but they are without a doubt the better option, due to the overall ecosystem of devices that is created throughout your home.

Best Starter Kit for the Smart Home DIY Enthusiast
Gowoops RIFD Smart Home Starter Kit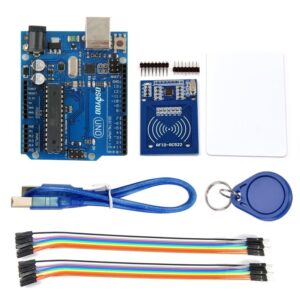 As we've previously mentioned in our piece on the world of home automation, some home automation enthusiasts prefer going DIY. If you are one of them, then you would love the Gowoops RFID starter kit, which includes a number of different items you will need for easy RFID projects. As a whole, the kit doesn't offer a lot of customizability with regard to the number of project options you can do, but it makes up for it in its extremely affordable price. What's more, the UNO R3 Board for Arduino can easily be programmed and you will definitely have some fun coming up with home security or other type of projects for your automated home.

Best Starter Kit for Wireless Doorbells
Crosspoint Multi-Unit Base Starter Kit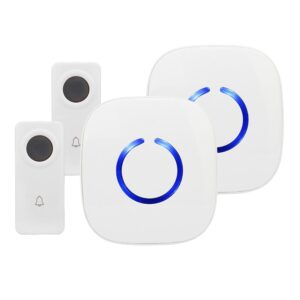 We all need doorbells. While the smartness of the product itself is a bit into question, due to the fact that the doorbells presented are not exactly the best home automation options, they are nonetheless perfect for those who want a great working doorbell with expandable options. What's more, the Crosspoint Multi-Unit Base Starter Kit comes at an extremely affordable price and comes with two long range plug receives and two waterproof transmitter units, allowing you to easily have a tiny bit better control over your doorbell system in your home. |

Best Smart Home Security Starter Kit
SkylinkNet Alarm System Starter Kit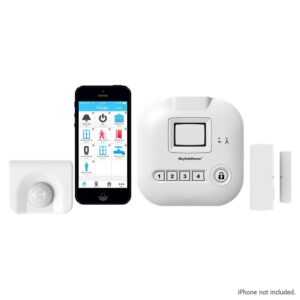 The question of smart home security is of the minds of many and there is a wide range of different options available on the market. However, SkylinkNet has proven to be one of the best manufacturers of home security products. Available at a rather affordable price, their Alarm System starter kit is perfect for apartments, homes and startup businesses, allowing you to easily control your alarm from your smartphone through the Skylink Smartphone App. One of the reasons why we chose Skylink as the top contender for Home Security Starter Kits on this list is the fact that their system is extremely affordable, easy to setup and works well within its own ecosystem. One of the downsides is that you will have a hard time making this device work with other smart home ecosystems, but the alarm system itself works perfectly, notifies you within seconds once the alarm is triggered and doesn't require any additional monthly fees to work.

Best Smart Home Hub Starter Kit
Insteon Comfort Kit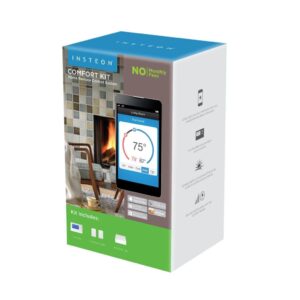 Insteon are considered to be the makers of some of the best smart home hub devices on the market. With this in mind, and the fact that the overall Insteon Hub allows you to control a wide range of Insteon compatible devices, we've decided to include the Insteon Comfort Kit on this list, as the best smart home hub starter kit. The kit itself includes a hub, which allows you to use and connect devices working with the Award-winning Insteon technology and two dimmer devices, which allow you to better control the lighting in your home.

What's the deal with monthly fees and smart home starter kits?
Instead of pushing their products as stand-alone, some companies would rather sell their product as an additional offer to a smart home service they provide. Usually done by smart home security companies and companies, which offer home security services, this strategy is considered to work best for both the client and the company, due to the fact that the client is usually not required to pay for the equipment itself, or the equipment comes at a far lower price, while a contract is made for the company to provide the service running on the device for a given period of time. While in some cases this works well, such services are often region or country restricted. With this in mind, we've decided to include only starter kits, which do not require additional monthly-fee-based services to run, which we could also review on our own. Nevertheless, based on your region, and especially for home security or general smart home setup, you might want to do some research on the available companies and monthly-fee-based services offered in your area, if this is a thing you prefer. However, you should also note that in this case you are often restricted to using one particular software and service provided by the company and devices offered by such companies are often relatively restricted to their own particular smart home ecosystem, which is a bit contrary to the overall openness required for a seamless smart home and home automation experience.
Should you buy a starter kit, instead of single devices?
A question often asked by many is whether or not a starter kit is the better choice, especially having in mind that with a starter kit you are investing towards a particular brand and product. While this is true, the starter kits mentioned on this list are tested and are pretty straightforward in the service and products they will provide you with. You might still want to purchase a single individual product to see how it works for you, before investing in a whole kit, but in most cases purchasing a kit is the overall better choice, not only because it provides you with everything necessary to run this product at its best value, but also because the kit usually comes at a far more affordable price, than if you were to purchase the contents of the kit as a single devices. What's more, some kits offer additional products, which are not easily found sold as separate devices.
Enjoy your smarter and more automated home
At the end of the day, whether you'd prefer buying a kit or a single product device, it all boils down to how you use the product itself. In the world of home automation, there are multiple things you are able to do with a single product or starter kit. That's why you should focus on making the best out of your purchase and enjoy your new gadgets and the products you've bought.
For the latest news, info and reviews of the home automation and smart home world, make sure to stay tuned to buildyoursmarthome.co