We all get forgetful sometimes and wonder did we lock the front door or want to check what kids are doing in another room or in the yard. With Alexa compatible cameras and door locks, you get one complete system for home security and you can check if you left the door open from the comfort of your sofa by Amazon Echo.
In this article, we made a choice of the best Alexa compatible cameras and door locks. Check out what they are and consider what is the best combination for your home.
Ring Spotlight Cam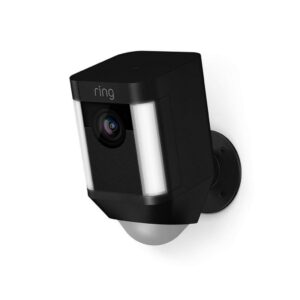 This wireless security camera has a resolution of 1080p and both indoor and outdoor option. Night vision is good even when integrates spotlight is off. But when it is on, it lights right as motion is detected. The camera can also be hardwired if you wish.
With a 140-degree field of view, you can watch over almost all outdoor spaces, with a little distortion of a fish-eye effect. However, with such a large area of view, it doesn't tilt or squirrel. The camera is equipped with a motion detector which can be sensitivity-adjustable.
The camera is connected via Wi-Fi to your mobile, either iOS or Android. It is Alexa and IFTTT compatible and can be integrated into a Wink or SmartThings home automation environment. The storage on the cloud is free up to 30 days and after the fee is 3$ for a month of storing the data per camera.
With Ring Spotlight, you can communicate with a person in front of the camera. And in case of intruders, it has a loud alarm. Our final thought is that this is an excellent camera for both indoor and outdoor surveillance and with useful features for everyday use.
Pros
Easy to install.
Completely wireless.
Motion-triggered recording.
Sharp video quality.
Loud siren.
Works with Alexa and IFTTT.
Cons
Requires subscription to view recorded video.
No pre-buffering.

Nest Cam IQ Indoor and Outdoor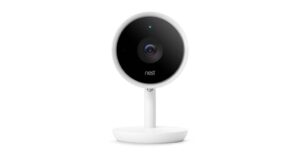 This camera is easy for installation, so we recommend it as a DIY option. It is wireless, with 1080p video resolution and sharp day and night vision and 12x digital zoom. And there is an indoor and an outdoor option. But, let's take a look on indoor model features.
A 130-degree wide angle field of view ensures excellent area coverage with hardly visible fish-eye effect. It has a motion detector, with the ability to detect different motions, so you can set motion zones and get alerted for each of them.
Regarding connectivity, it is through Wi-Fi, and the camera works well with Alexa, Google Home and IFTTT.
One of the significant advantages is face recognition, as it sends different notifications if it sees a familiar or unfamiliar face. It also has a two-way communication possibility. And the minus for this camera is that if you wish to store recordings on the cloud, you will have to pay a monthly subscription.
We'll close the story with a conclusion that even upgrades like face recognition, smart audio alerts and other improved features of this excellent device are not sufficient for a high price of this smart camera. However, at the moment of publishing the article, only the outdoor model was available on Amazon.
Pros
Good quality day/night imaging
Beautiful hardware design and build
Easy to set up
Intelligent alerts and smart video highlights
Cons
Expensive
Some smart features require the subscription

Logitech Circle 2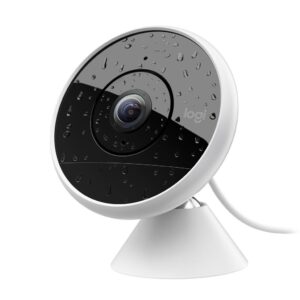 You can choose the resolution you prefer: 720p or 1080p and night vision picture is crystal clear up to 15 feet. The angle is very wide, 180-degree, for a panoramic view of the property. This model is both indoor and outdoor.
The Circle 2 has a motion detector and recording time is adjustable between 10 and 60 seconds. The camera is fixed to a base which you can rotate to suit almost any desired angle, and moving can be done without any problems.
The Logitech Circle 2 has Amazon Alexa, Apple HomeKit, Google Assistant support for integration with other smart home devices. The application is available both on Android and iOS, via Wi-Fi.
You will get free 24-hour event-based video history, or you can purchase different monthly options of recordings storage. Logitech Circle 2offers geofencing feature, so the camera can be automatically turned on when you leave home. Logitech claims that the rechargeable battery lasts for up to 3 months.
The Logitech Circle 2 is responsive, versatile and easy to use a security camera, but you should be prepared to do checkups on the battery so that it works 24/7.
Pros
Solid design
Records high definition footage
Built-in two-way audio
Cons
Battery needs regular recharging
Swivel mount not ideal for outdoor use

Netgear Arlo Pro 2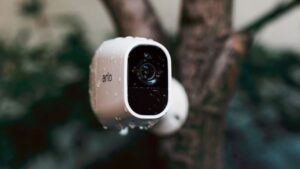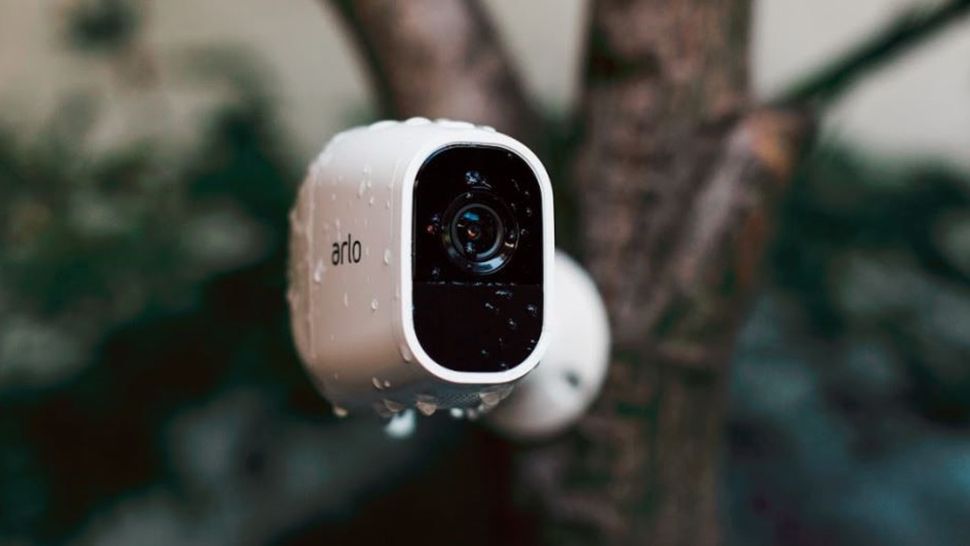 The Netgear Arlo Pro 2 is an outdoor security camera with a resolution of 1080p and a sharp and clear picture. Night vision is IR based, and the camera has 8x digital zoom and two-way audio option.
The field of view is 130-degree wide field of view which is perfect for most applications. Unfortunately, you can move neither the camera nor lenses.
This camera has a motion and sound detector. Repeated motion events would trigger the camera immediately, even if a previous clip had been saved just seconds before. The camera can alert you with a powerful siren if the motion is detected.
The Arlo Pro 2 has Amazon Alexa and IFTTT support for integration with other smart home devices. It is Wi-Fi connected.
Cloud storage is free for 7 days of recordings, and if you wish to have more than that, you can purchase one month Premiere or two months Elite plan. You can also keep records on USB ports and MicroSD cards.
Netgear Arlo Pro 2 offers both geofencing and scheduling, and they can be combined through the app. As the camera is wireless, you have to charge it via provided lead and plug.
This is one of the most advanced systems available, and it is a popular choice with those who take home security seriously.
Pros
Excellent-quality 1080p video.
Weatherproof.
Rechargeable batteries.
Supports IFTTT and Alexa voice commands.
Pre-buffered video recording.
Continuous recording capabilities.
Free and subscription-based cloud storage.
Cons
Expensive.
Requires hub (included).
Many features are only available when plugged in.

Smart locks
August Smart Lock, 3rd Generation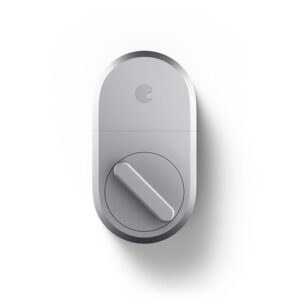 Even though 3rd Generation August Smart Lock looks significantly different from the first two versions it is a more affordable option. With a few new features, it is easier to install and more secure.
The DoorSense feature brings door sensor functionality to the August Smart Lock so it can track if your door is open and send you an alert if the door is left ajar. All you have to do is to install an included magnet on or in the door frame near the lock and calibrate it as prescribed in the manual and you can use this feature.
Via the mobile app, you can send permanent, recurring and temporary keys to your guests. This smart lock has an auto-unlock feature, which uses your phone's location to track when you get close to home and unlocks as you approach the door. Similarly, August Smart Lock auto-locks your door when you leave.
August Smart Lock 3rd generation is compatible with Amazon Alexa, Google Home, Nest, Xfinity, Wink, Logitech Harmony and others.
Lacks of this lock are that it doesn't have an alarm to deter intruders from entering your home nor it detects when someone tampers with a bolt or tries to force the door open.
Pros
Lower price and more compact.
Stylish design.
Simple installation experience.
DoorSense knows when your door is left ajar.
Wide range of third-party device integrations.
Cons
Wi-Fi bridge required for remote access and third-party integrations
Its lock motor is a bit noisy.

Schlage Camelot Touchscreen Deadbolt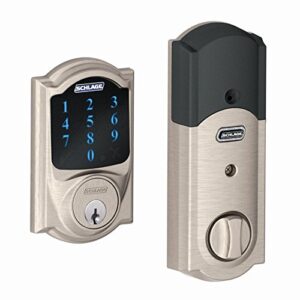 Schlage Sense built-in alarm activates when someone tries to force the door open or event of a nighttime break-in. This way, it helps to deter potential intruders from entering your home by attracting unwanted attention to them. Sense has an auto-lock feature to lock your door after a time between 15 seconds and four minutes to make sure you don't leave your door unlocked.
Mobile app of the Sense is simple, so you can add and remove guests from your guest list with little effort. You can assign up to 30 guests codes and share them via text message or email. This feature is very convenient because guests don't have to download an app to their phones. You can create permanent access or one based on a schedule.
The lock can also be used manually, which means you can unlock the door with a key, in case you lose your phone or batteries run out unexpectedly.
Schlage Sense is compatible with Amazon Alexa and Google Assistant.
With all nice features, this lock can't detect when your door is open, and it doesn't work directly with any video doorbells, but Amazon Alexa can control the lock and Ring Video Doorbell separately.
Pros
User-friendly, simple installation
Numerous colours and finishes offered to match your home's style
Comes with 2 unique preprogrammed codes
Can program up to 30 unique codes
Alarm is loud
Cons
Smart features require Z-Wave smart-home hub
Bigger than most smart locks

Yale Assure Lock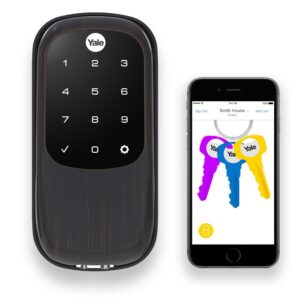 The Yale Assure Lock has an attractive futuristic outlook with touchscreen and is smaller, less bulky than other smart locks. It also has improved security by completely eliminating traditional key support. It might appear that if a battery is empty, you cannot enter the house, but Yale assured that with a 9V battery connected the lock gets enough power to unlock even when its inside one is empty.
Installation is straightforward and comfortable, as well as programming. It is possible to share the access code with 25 users, and the lock also has a Privacy mode which enables entrance of any other user if you wish to be undisturbed.
Yale Assure can be controlled by Apple's Home app for iOS or via Siri and is compatible with Amazon Alexa.
Lack of this lock is that the inner side is robust and doesn't have such a beautiful appearance as outer part.
Pros
Stylish touchscreen
Versatile keypad, app and remote lock controls
Easy, flexible guest access
Doorsense and comprehensive entry log delivers peace of mind
Amazon Alexa and Apple Homekit support
Cons

Kwikset Obsidian Amazon Key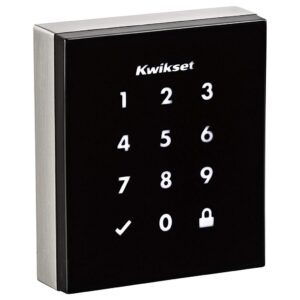 The sharp lines and square touchscreen of this lock will give your front door a smart and elegant touch. Touchscreen immediately illuminates in white when you touch it, allowing you to see the screen in all lighting conditions.
This smart lock is the second keyless option within Alexa compatible smart locks. Remove of a keyhole gives you additional security because there is no way of breaking into the house. The lock also has an alarm that sounds when someone tries to break it off.
For increased security, it has SecureScreen technology to prevent detection of user code via fingerprints on the touchscreen. SecureScreen technology helps protect against unwanted entry by having users press two random numbers before pressing their security codes.
You can create up to 30 user codes for family members and friends.
The lock's Z-Wave capabilities allow it to work with smart hubs such as Samsung SmartThings, Vera, Amazon Alexa, Control4, Crestron and Savant. But Obsidian requires a smart hub to add smartphone controls.
Pros
Anti-fingerprint security measures
Up to 16 guest codes
Amazon Key integration
Protects against stolen packages
Cons
No Google Home or Siri support
No security alarm settings
Tricky to install

If you wish to read more about smart locks, check out our article Which are the Best Smart Locks?.