A smart home can't be truly automated, unless you have a smart bathroom. Being waken up with the smell of a warm cup of joe with the sun rays hitting your face as your blinds automatically unfold in the morning is one thing. But having your shower start at the exact temperature to your liking every time, while your heater gives you updates when you are on the go is a whole another level of smart!
The Benefits of Automating your Bathroom
Of course, having the perfect water temperature is not the only benefit that comes with smart bathroom devices. As we've previously discussed an automated shower head can do wonders for water savings. Yet, the true wonder of an automated bathroom is the futuristic creature comforts. Having a toilet that raises and closes the seat is one thing, but a seat that automatically starts warming your bottom when you sit, is a whole another thing. Plus, your favorite music blasting through the shower with synced colored lights for atmosphere can truly turn the bath time, into fun time! Want to have a device that helps you switch the water between your shower and your tub? A tap is one thing, but a smartphone app is on another level!
Now, we might not sound too serious about this, but we are actually as serious as a person can possibly be when discussing the matter. A sophisticated smart bathroom is truly the pinnacle of exquisite home automation and until you've tried what it's like having those products in your home, you wouldn't be able to realize how necessary they are for a comfortable automated living.
The Gadgets We Tested
Unlike our small smart home appliances list and our other review lists, this time we decided to go for the best quality possible, instead for quantity of products. Granted, the reason behind this is that we had to pull quite a lot of strings to actually be able to test the items. And yes, we mean test and not a full and comprehensive review! The reason for this is primarily due to the high price of some of the items on the list and their shipping unavailability in some parts of the world. In addition, dealing with plumbing installations on products with such a high price tag, just wasn't a possibility for us mid-summer.
Of course, this is primarily because we are planning bigger things in the upcoming months, but for now, all you need to know is that we actually managed to get first-hand-experience on ALL of the products. Granted, we had to travel all across the map for some of these products, but it did fit quite nicely with our summer vacation plans.
As always, we've used the same five criteria we always do in our smart home product reviews. Thus, without further adieu, let's check out the most obscure smart home bathroom devices and products of 2017. Here they are!
The Amphiro Self Monitoring Smart Shower System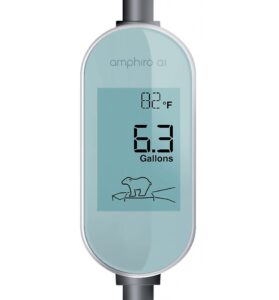 If you've read our list on the best smart shower heads, you are probably already familiar with the Amphiro. Even though it doesn't go a long way in increasing the comfort of your bathroom experience, this system definitely helps a lot with keeping track of your water consumption and temperature. A simple device that is also quite affordable, it is a neat piece of technology.
Design – 4.95/10
Build Quality – 9.5/10
Usability – 9.75/10
Necessity of 'Smart' – 5/10
Price – 8.95/10

GlassTek Smart TV Mirror – The best mirror for your Bathroom?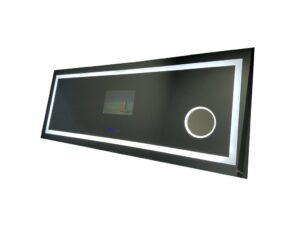 When we first heard about GlassTek we were pumped. Of course, we have previously heard about other companies and even DIY enthusiasts that have made smart mirrors. But a company to have it as a flagship product. Must be something good, right? The answer is, it depends!
We've managed to take a look at their Smart TV Mirror and while the touch UI interface worked surprisingly well, the color shift and the low brightness were definite deal-breakers. Supposedly, their LED Vanity Mirror, which is arguably better for your bathroom from a design perspective, is better in terms of brightness. However, we didn't manage to get our order processed in time for this review.
Design – 5.95/10
Build Quality – 8.5/10
Usability – 5.75/10
Necessity of 'Smart' – 3/10
Price – 1/10

The King of Toilets – Kohler Veil Intelligent Skirted Dual Flush Toilet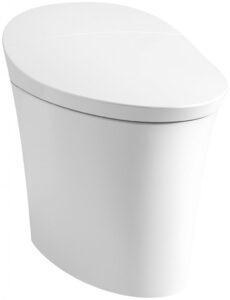 Have you ever thought that we were going to be reviewing a smart toilet? Well, we were just surprised as you are to find this product out there and we just had to share it. Now, on the surface, this stall looks stylishly designed, but nothing out of the ordinary, right? Yet, it's so fantastically odd, that you'd be surprised to find it in a product category of its own. Yes, smart toilets are a thing! Of course, outside this list, we will try to avoid bathroom-related matters as much as possible, but while we are on the topic, let's see the features!
For starters, the Kohler toiler automatically pulls the seat up and pushes it down, so you won't have to worry about in-house arguments on who's responsible for doing what. However, that's just the beginning. The toilet lights up in the evening and warms up not only your bottom, when you sit, but your toes as well. Ensuring the most comfortable experience you've ever had on a toilet, this smart bathroom product is simply a must for those who'd like to enjoy themselves in the bathroom. Of course, as aforementioned, we weren't able to per-say test it, but we did experience its functions first hand in a simulated run with our clothes on.
Design – 9.5/10
Build Quality – 8.5/10
Usability – 9.75/10
Necessity of 'Smart' – 2/10
Price – 2/10

The Oral-B SmartSeries Bluetooth Electric Toothbrush – Best Bathroom Hygiene Item?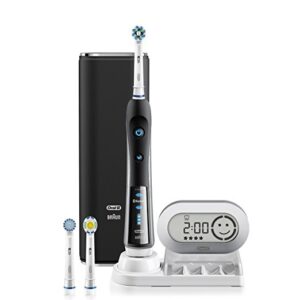 If there's one thing that you do in the bathroom, it's brushing your teeth! And who isn't guilty of being too tired to do so? Now, imagine your phone giving you push notifications each time you haven't brushed your teeth. Even though you are probably aware of such tracking apps on the market, did you know that now there's such a thing as a smart Bluetooth connected toothbrush?
Even though the concept might sound silly and the actual Bluetooth functionality doesn't give you much to work it, the quality of OralB is undeniable. We also picked ourselves up a Philips Sonicare. Of course, with some of our members guilty of brushing only once per day and with us not being dental experts, we 11didn't find much difference between the two brushes. But considering the avid comments from some of our fans, we are going to put the OralB one as a choice in our list. (Want to be a part of making such BYSH lists? Join our Reddit and follow us on Twitter!)
Design – 9.5/10
Build Quality – 9.5/10
Usability – 8.75/10
Necessity of 'Smart' – 2.5/10
Price – 5.95/10

Electric Water Heater Controller – WeMo Family by Red Coral Technologies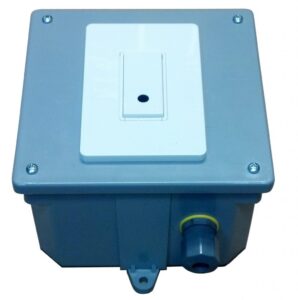 Some smart bathroom products are way more functional than others. Even though most modern water heaters come with build-in smart app support and wireless connectivity, this is not true for older models. Furthermore, some bigger heaters don't have a smart option, yet they might be the best choice for your bathroom. If this is the case, and you'd like to control your water heater on the go, then purchasing a wireless controller is a must.
Water Heater controllers are a niche industry on their own and most such products are quite similar and usually at the same price range. Nevertheless, we decided to get the one featured by Red Coral Technologies, as it was advertised to be a part of the WeMo family of the devices. And we loved it! Granted, the installation is relatively difficult and we had to get the help of a few friends that were familiar with plubming. But once the controller was up and running, there were almost no hiccups. Of course, as we've previously shared in our other reviews, the wireless network within your home is of utmost importance when it comes to connectivity issues. You might want to check out the Bluetooth mesh guide for this! 
Design – 6.5/10
Build Quality – 9.25/10
Usability – 9.75/10
Necessity of 'Smart' – 8.5/10
Price – 5.95/10

The smartest in Bathroom Tech!
Overall, we were genuinely surprised by the range of niche tech products available for your bathroom. From smart bidets to connected toilets, there is pretty much anything you can think of for your private moments. You can turn your bath into an exhilarating experience. What do you think of those products? Did we miss something interesting? Let us know in the comments below!