One of the biggest drawbacks for smart home devices is the over-saturation of products and the technology adoption curve that is still in the "early adopters" phase. Both home automation enthusiasts and mass consumers would love to have a seamless experience. Yet, almost every product that deems itself "smart" has a dedicated smartphone app. Additionally, the number of platforms with a core purpose to deliver such an easy-to-use all-in-one-place user experience is so big that those platforms add to the market segregation.
The BYSH Automated Home Guides Introduction
Here at BYSH, we've been and will continue to explain the different home automation concepts at an easy-to-understand language, while also reviewing different products, to help you achieve a seamless smart home experience. Nevertheless, for most people, this just doesn't work. Having to go through dozens upon dozens of products for each and every little item and to additionally learn about all the different home automation and wireless protocols is sometimes not a possibility. And it's understandable that not everyone is interested in doing so. That's why, we decided to start a new series called the "BYSH Complete Smart Home Setups." In the new series, each time we'll present you with a full smart home set up and a list of devices, which you can easily plug in and make your home smarter. Each time we'll focus on a different theme, such as budget, rooms, creative solutions and more. However, to kick things off, we'll start with a full smart home set up of quality and proven products on the market, all under our (current) favorite Z-Wave protocol. Without further adieu, let's get started!
The Full Z-Wave Smart Home Set-Up
The Complete Item List
For your convenience, here's the complete list of devices in a neat fashion.
The Hub
Lighting 
Controllable Light Bulbs – GoControl Dimmable LEDs
A Z-Wave Light Switch – GE Z-Wave Wireless Lighting Control Kit
The Electrical Installation 
The Outlets, Switches, Fan Control and More – GE In-Wall Replaceable Z-Wave Outlet
The Plugs – Leviton Smart Z-Wave Plug
The Security SetUp 
Basic Security – GoControl Premium Z-Wave Security Kit
Smart Lock – Schlage Connect Deadbolt
Smart Security Camera – The Piper NV
The Heating/Cooling
The Smart Thermostat – 2gig CT100
Other Devices 
The Smart Speaker – Amazon Echo
The Detailed Explanation
To start things off, this guide is intended for people who want to make their homes smarter, without having to spend days or months installing wall modules, playing around with IFTTT or building their own solutions. Instead, we are looking for a simple, functional and affordable setup that anyone can do. We'll go through each one of the products in their respective category, explain why we've selected those products and move on to the full setup conclusion. Note that in the upcoming weeks we'll do other guides as well, we'll feature other products and play around with different ideas. Feel free to select a different product at your heart's content. Without further adieu, here is the full Z-Wave smart home set-up.
The  Hub – Wink Hub 2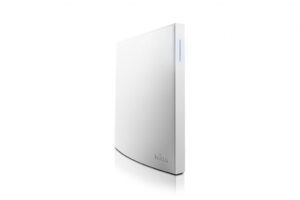 The first item we'll start is the most important of the bunch. A central z-wave hub will help you connect all of your devices and allow you to easily control each and every one of them without much hassle. Usually, we prefer the SmartThings hub, by Samsung, but due to the increasing number of Wink supported devices and the release of the Wink hub 2, we'll go with it for this tutorial.
The Wink hub is extremely easy to install, you just plug it in, download the app, follow the instructions and you'd be set to go. The app itself is relatively intuitive and will allow you to control the devices and products featured on this list.

The Lighting
Controllable Light Bulbs – GoControl Dimmale LEDs

For controllable light bulbs working with Z-Wave, we decided to go with GoControl Dimmable LED. The bulbs are relatively affordable and easy to install. Plus, while Philips Hue is a nice solution and would work great in certain smart home setups, it can be extremely demanding. What's more, making Philips Hue work with Z-Wave is not the most straightforward process.
This bulb from GoControl doesn't require you to have an ecosystem around your lighting and is a great quick solution. In addition, for this Z-Wave smart home setup guide we decided to go for long-term solutions and a complete ecosystem around your home, making this bulb the perfect choice, especially for night lights, bedroom lighting and more.

A Z-Wave Light Switch (for flourescent lighting) – GE Z-Wave Wireless Lighting Control Kit (Three-Way, Dimmable)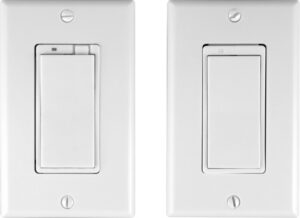 Fluorescent lighting can be automated via Z-Wave, but it's not as simple as putting on a light bulb. Instead, to achieve a dimmable effect and wireless connectivity and control, you should instead change your light switch. For this, we have chosen the wireless lighting control three-way switch from GE. The installation of the product is similar to that of a normal light switch, but this does require some background knowledge in electronics and you might be required to hire an electrician.

How to achieve a functional lighting setup?
On the surface, changing the lighting system in your home is a relatively simple process and for the most part it is. However, to achieve a functional setup that is easy to operate, your best bet would be to stick with one solution. LED Bulbs are easy to install, but if you also need to control fluorescent lights in your home, we would highly suggest to go only with the suggested light switches. The product is slightly more difficult to install, but especially if you are making an all-around smart home renovation, it is the better solution. First and foremost, the suggested product can be more affordable than multiple LED Bulbs. In addition, it is currently the best way to achieve a smart z-wave tube lighting solution. Plus, a light switch is a long-term solution and allows you to further change the lighting in your home when necessary, without harming your home automation setup.
For night lights, going with the z-wave LED bulb might seem the better option. However, similarly to the light switches, your might want to rather rely on the smart sockets we'll touch later in this piece. Yet, you should note that a Z-Wave socket doesn't have a dimmable effect. Thus, our suggestion for a functional and affordable home setup would be to change your sockets and if needed, to additionally purchase LED bulbs with a dimmable effect for your night lights. Let's go further!
The Electrical Installation of your Smart Home
We've already discussed the light switches, but we should also talk electrical installation renovation. As is the case with the switches, if you are about to renovate your home and invest in a long-term home automation setup based on Z-Wave, you might need to hire a technician to do the electrical work. As a whole, except the switches and the sockets, there's currently nothing more that you'd need to change up for your home to be as smart as possible.
The Sockets, Outlets, Switches, Fan Control and More – GE In-Wall Replaceable Z-Wave Outlet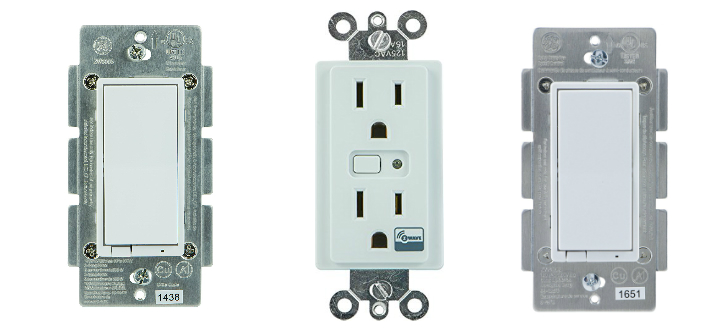 For the In-Wall Z-Wave solutions, we'll go with GE once again. The reason for this is their huge collection of different products under the same certified architecture, such as switches, fan control and more. In addition, their outlet is relatively stable and the build quality is a definite strong point of the family of products. Nevertheless, you should note that outside of their outlet, fan control and dimmable light switch, most other switches in the family are quite difficult to install and setup, thus we don't suggest going with them, unless you need to. That being said, for our z-wave smart home setup, we'll go with those outlet, fan control and light switches, because of the aforementioned reasons.

The Plugs – Leviton Smart Z-Wave Plug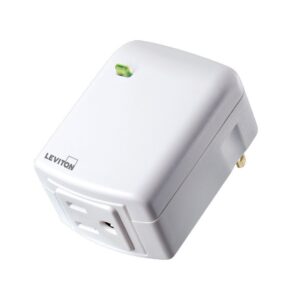 For the plug we decided to go with Leviton. One of the biggest setbacks of most plugs is that they are too bulky and often when plugged into a double socket, you won't be able to use the second outlet. It's the same with this plug, but as it has its bulkiness translated into the bottom part of the device, you might be able to plug two Z-Wave plugs into a double socket, one facing up and the other facing down. Of course, this is not the primary reason we chose this plug. As a whole, Leviton has a proven track record in the smart home industry and the build quality and design are on par with the required standards.

Tips on The Making the Electrical Installation in your Home Work
If you are renting a place, the best choice for you would be to go for the smart z-wave plugs. Even though they aren't necessarily that aesthetically pleasing and add to the cluster of your home, they are easily replaceable, don't require any electrical work and you can take them with you when you travel or if you move. Nevertheless, if you are invested in your home and want a steady long-term Z-Wave electrical installation, you should go with the sockets (i.e. electrical outlets). One of the slight setbacks of changing each and every outlet in your home is the cost. Even though the sockets themselves are rather affordable, the cost can quickly add up. Still, our suggestion would be to go for this renovation if possible, even before your install smart lighting in your home. Yes, it is not as functional, but the outlets are the foundation of a smarter home. Of course, we'll touch more on the budgeting and the steps to take in making your overall setup work later on.
The Smart Home Z-Wave Security SetUp
Before heading into entertainment, heating/cooling, appliances and other, we should make our smart home more secure. As we've previously discussed, especially with the introduction of the S2 Security Framework, Z-Wave is by far the most secure home automation wireless protocol. Thus, setting up the security of your automated home via Z-Wave enabled devices should be an obvious choice. For this smart home setup, we'll go ahead with a home automation security kit, a smart lock, and we'll also discuss a smart security camera setup.
Basic Security – GoControl Premium Z-Wave Security Kit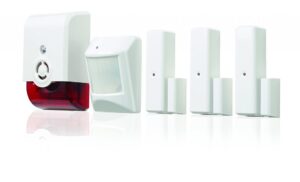 For the most basic level of smart home security, we chose the GoControl Premium Z-Wave security kit. The kit is relatively affordable and fits nicely within the existing ecosystem of devices for this setup. The kit is extremely easy to install and includes three door/window sensors, a motion detection sensor and a siren with a red light. it should be noted that the motion sensor is relatively stable and isn't activated by small animals, such as cats, so you won't have to worry about your alarm activating from a cat walking near your house in the night. The siren and the red light are extremely obstructive and are not a great choice for everyone, but they do the job they are supposed to do and might scare away any potential burglars. If you don't need the siren, you can check out the GoControl D/W and Motion sensor kit that is even more affordable and consists of two d/w sensors and one motion sensor.

Smart Lock – Schlage Connect Deadbolt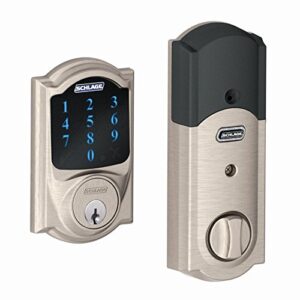 On top of our list for the best smart home locks, the Schlage Connect Deadbolt is the obvious choice for the security. Working perfectly with the Wink Hub 2 via Z-Wave, the deadbolt is one of the strongest and most secure smart locks available on the market today. What's more with its multiple design choices, you won't have to worry about the aesthetics. The slight downside of the product is the relatively high price, but compared with other quality products on the market, the Schlage Connect Deadbolt has a competitive price tag.

Smart Security Camera – The Piper NV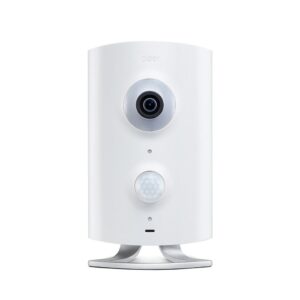 For a security camera system, we decided to go with one of the most versatile Z-wave products on the market – the Piper security camera. There are a lot of great features that come with this camera, including 180-degree vision and the ability to connect five of these cameras in one system to keep track of everything in your home. In addition, the Piper can check the temperature of your home, the humidity, the noise, the ambient light and more. If you are on a budget we suggest purchasing one of these and installing it at a secure location in your home to keep track of the entrance of your home.

The Heating/Cooling
The next important step in making your Z-Wave smart home setup complete is installing a smart thermostat. Usually, the process is relatively simple and all you need to do is replace your existing thermostat with the Z-Wave one, but things might get tricky.
The Smart Thermostat – 2gig CT100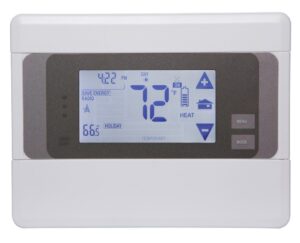 For the thermostat we've decided to go with the 2gig CT100. This product is not necessarily the best smat z-wave thermostat you can get today. Nevertheless, it is an amazing budget option that will help you save up some cash for the other products for your smart home setup. Plus, the device works perfectly and the only downside is its aesthetics. Even though the device does give out a plastic feel it also feels relatively sturdy, ensuring that the build quality will sustain a longer term use.

Other Devices
There aren't a lot more other devices that will add functionality to your smart home based on Z-Wave. As a whole, Z-Wave has a growing family of products and new devices appear on the market every day. But another thing that makes the wireless ecosystem based around the protocol so great is the DIY possibilities. There are a ton of ways you'd be able to easily create new solutions for your automated home.
To finish up our z-wave smart home setup, we'll go also mention a few notable products that you might be interested in, starting with a smart speaker. (This list is to be updated in the future, as we come across new smart home products based on z-Wave that we feel will fit into this setup.)
The Smart Speaker – Amazon Echo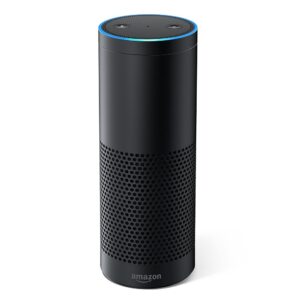 We love the Google Home. We are crazy about it! But leaving our biases aside, the Amazon Echo is currently the better product. At the end of the day, Amazon Alexa has been around for much longer, allowing for the company to create an immense ecosystem of Alexa-certified devices, that Google just can't keep up with. Even though for this complete smart home setup it shouldn't be an issue to purchase a Google Home smart speaker, the better option will definitely be the Amazon Echo. The first reason for this choice is, as we've mentioned, the huge family of Alexa devices. While the Z-Wave smart home setup is complete, chances are you'd be purchasing new devices that might not necessarily be Z-Wave enabled and you'd be better off if they are Alexa certified. In Addition, the Echo Dot allows you to have Alexa in each room of your home at a cheap price. Something that's currently not possible with the Google Home.

The Complete Z-Wave Smart Home Setup Further Explanation & Info
We hope you are just as excited as we are for your journey towards home automation via Z-Wave. Here are some additional facts, tips and info on the matter.
Frequently Asked Questions (FAQ)
The z-wave smart home setup is pretty straightforward, but here are some additional frequently asked questions that might help you out.
I know nothing about home automation, what should I do?
If you are new to the smart home, you shouldn't be worried. All you need to do is purchase the above devices, install them with ease and run the Wink app from your smartphone. That's it! Everything else is up to customization. And if you are interested in learning more about home automation, you can subscribe to our newsletter to immediately receive a free e-book as a starting guide. Or, of course, just wander around. We have some great guides for newcomers. And be sure to ping us on our home automation (sub)Reddit or in the comments with any questions you might have.
Any suggestions for doing this setup on a budget?
One of the core principals we have at BuildYourSmartHome is that we'd like to help people get the most value out of the products they purchase. This Z-Wave setup is built with this in mind. When deciding which products to feature, we weighed in both the quality and the price of each and every product.  Feel free to search for other product, just be careful about the bottom of the barrel products from unknown companies as purchasing such a product can end up costing you more in terms of stress, effort and resources.
What's most important in this setup?
The most important part of the setup is the hub. But without any additional products, the hub does nothing on its own. The way you should proceed to purchase the products when setting up your smart home is the following.
The Hub
Electrical Installation/Lighting Sockets
Smart Home Security
Smart Thermostats
Other Devices/Products
A note to consider is that you might also purchase the Amazon Echo when you purchase your hub, as it is a product that you can play around with and that will definitely increase the comfort and entertainment values of your home automation system.