We all know that Alexa can play you any song on your smart home speakers. However, have you thought about Alexa playing your favourite song on the jukebox? The guys at Liberty games certainly have, and they've created what may very well be, the perfect voice-controlled Games room in existence today.
Who said that a smart home can't be all fun and games? While we do tend to focus on the more serious aspects of home automation, we should also allow ourselves to sit back, relax and enjoy having fun for a bit. As a whole, we are constantly interested in checking out creative projects. Recently, we were contacted by Liberty Games to take a look at their idea of what home automation has to offer and we were quite impressed. Inspired by Star Trek, they've managed to turn almost every piece of game memorabilia that is a must-have in a games room into an Amazon Alexa controlled device.
A Voice-Activated Games Room Experience
Liberty Games Echo Voice-Controlled Games Room from Stuart Kerr on Vimeo.
Watching the voice-activated Games Room experience in action is quite mesmerizing. Simply imagine saying to Alexa to give you a few credits in the game, if you've run out of them. Better yet, tell her to rack your pool balls up. Of course, Alexa won't be able to actually stack your balls on the table, so that you can play a game, but hey, having them fall automatically with a voice command is pretty cool.
How they did it?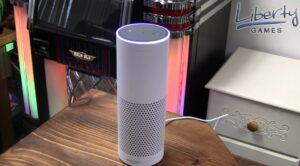 Those who are into the DIY-side of smart home solutions, already probably have a few ideas in mind on how the smart games room was achieved. And the guys at Liberty Games don't hide it either. In fact, on their website, you can find a pretty decent description of what they've used and how they've used it, if you want to do it for yourself. As a whole, the project was completed by using the API provided by Amazon, as well as a few Raspberry Pi boards and a Logitech Harmony Hub. However, the project also required a good bit of programming.
The Imagination Behind the Project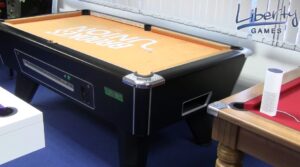 Liberty Games have put a lot of thought and imagination behind this Games Room project and it is certainly something unique and interesting. While, the Games Room is far from revolutionary and you don't certainly need voice control for the actions Alexa does, having your Jukebox play your song by simply asking Alexa is certainly neat. We can't wait to see what the guys at Liberty Games come up with next.
We are always interested in featuring new, creative and interesting projects on our website. Have something interesting to share? Comment down below or contact us at info@buildyoursmarthome.co right away. Of course, don't forget to stay tuned for the latest in smart home and home automation tech.