You certainly can live without them, but once you learn that vacuuming can be done even if you are not home, you will simply love smart vacuums! Why wouldn't you enjoy your free time while the robot vacuum is doing his job on the route you have set up? Check out best Alexa compatible robot vacuums!
Our friends from dealdragon.co are now providing us with a state-of-the-art dynamic list of the best Alexa Robot Vacuums. Below this iframe you will find our old blog post, but we now recommend this new list as it represents the current market more accurately.
iRobot Roomba 980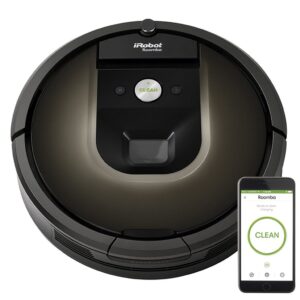 Roomba 980 is an advanced, feature-rich, user-friendly smart vacuum cleaner and it has a smooth, elegant and modern look. Small, lightweight, compact, and low-maintenance at the same time, Roomba 980 features an improved navigation system, so it easily avoids furniture and other obstacles, while cleaning every corner of every type of floor. Suction power is strong, which makes it excellent for pet owners because it will clean every single pet hair from your carpet.
It is easy to set-up and schedule the Roomba 980 to clean your home via mobile app whenever you want it to. An additional advance feature of this robot is that it returns to the charger when the battery is low, so you don't have to think about recharging it manually.
You will get an extra HEPA filter in the package. And the robot is equipped with removable caster wheels for added functionality, removable dustbin with a fast-access release button and the spinning side brush that aims to remove even the most dust particles and stubborn stains along the cleaning space.
Although its price is a bit higher than other robot vacuums, to conclude the review, we can say that it is an excellent long-term investment.

Samsung POWERbot R9350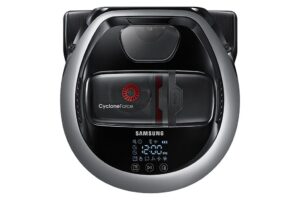 The shape of Samsung POWERbot R7070 has its D-shape as an advantage for better performance around the corners and edges than other, round shaped. But, it is a bit bulky, and with a height of 3.8 inches, it is possible it will get stuck under certain furniture.
POWERbot R7070 has a strong suction power and also can adjust it when it switches from one surface to another. It cleans all surfaces thoroughly, but it can suck the rug and draw it around the room due to its strong suction power.
You can steer the vacuum manually, and you can do it via voice control because it is compatible with Amazon Alexa and Google home. Also, you can watch the track it has cleaned on your mobile app. You will get a magnetic tape to isolate the sensitive parts in your home and protect them while cleaning.
Samsung POWERbot R7070 doesn't distinguish in any particular way, but it is perfect for big areas with little clutter, and with self-adjustment when changing surfaces, it performs excellent cleaning.

Neato Botvac D5 Connected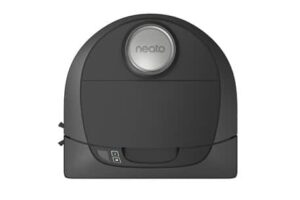 D5 Connected is one of the best of robot vacuums created for your home. Lasers navigate it, and the robot can even see in the dark. The pattern of cleaning is in straight lines, which helps it to clean the house better than a random path. It remembers which parts of the room it has cleaned, so you won't see it overlap its own path.
D-shape helps it to better clean corners and spaces along walls, and reach the places where round shaped robots cannot go. The battery is a real plus for this robot vacuum, as it lasts 75 minutes, which is perfect for homes and apartments.
D5 Connected is compatible with Amazon Alexa, Google Home, IFTT, or, you can message the Neato chatbot on Facebook. Setup is easy, and the application is straightforward. The app will send you reminders to empty the dirt bin, clean the brushes and change the filter.
If you don't mind if footprints leave some lines and gaps and adjusting the robot a bit longer during the first setup, but you do mind the budget, Neato Botvac D5 Connected is a very decent solution for you.

Hoover ROGUE 970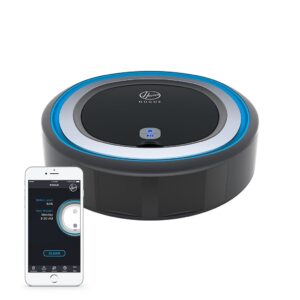 With Hoover app updated recently to the publishing of the article, its features are improved, and the connection is better. With laser navigation, it remembers the floorplan and optimizes its cleaning path for each following cleaning. It also has a triple cleaning system for improvement function: it utilises a trifecta effect of agitation, brushing and suction.
Like other smart vacuums, you can create virtual boundaries to protect the walls and furniture, in the mobile app. There is no need for magnetic tapes like you do need with some other models. The mobile app allows you to command the Hoover ROGUE 970 from wherever you are.
With compatibility with Amazon Alexa and Google home, it got another advantage, voice commands. However, models for each speaker are sold separately.
The battery lasts for about 120 minutes, and it recharges for 45 minutes. Its function is fine, and it works better on carpets than on hard floors. With medium price among vacuum cleaners and flexible scheduling options, this robot is more of routine maintenance rather than heavy-duty cleaner.

ECOVACS Deebot M80 Pro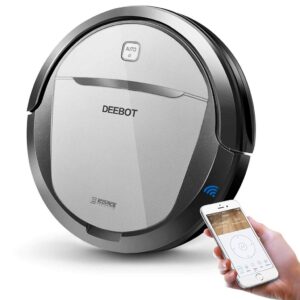 ECOVACS Deebot M80 Pro has 5 stage cleaning system, Smart Motion Cleaning, and Anti-Collision/Drop Sensors. It is compatible with Alexa, and you can start and stop cleaning by voice control. The mobile application allows you to select cleaning modes, monitor accessory status, schedule cleaning sessions and receive alerts. It also has a remote control.
A dustbin has a large capacity which has an advanced system for prolonged cleaning and prevents debris spilling around when cleaning the dustbin. The ECOVACS Deebot M80 Pro has its specific modes like spot cleaning (where it will circle an area you have pinpointed) and "intensive" mode where it will make several rounds through the area. When the battery is low, a robot will return to docking station itself, and the same happens when you press button Home.
The robot is good at cleaning every king of dirt and also pet hair. And considering the price which is among the lower ones for robot vacuum cleaners, ECOVACS Deebot M80 Pro is an excellent choice which will make you satisfied for each cent.

Read more about other models of robot vacuum cleaners in our previous review What is the Best Robot Vacuum?