Updates and Edits (September 2018) – We've added chapter Other options with smoke detectors that were not in the article earlier.
Every year in the United States, nearly 3,000 people die in residential fires. Although accidental fires can occur at any time, one of the best ways to keep you and your family safe is to install a smoke detector in every room of your home. With that in mind, we decided to head out and help you choose the best smoke detector available on the market today.
The Best Smoke Detector Available on The Market
Title
Best Choice
Nest Protect (2nd Gen)
Preview
Hardwired/Battery Powered
Best Choice
Preview
Hardwired/Battery Powered
Preview
Hardwired/Battery Powered
Preview
Hardwired/Battery Powered
Last update on 2018-10-18 / Affiliate links / Images from Amazon Product Advertising API
Once properly installed and maintained, today's advanced smoke detectors are on guard 24 hours a day, constantly scanning for signs of fire, smoke, or particulates in the air that can signal a problem. By maintaining constant vigilance, this simple and economical device can save your life, and help protect your valuable property.
The Technology Behind Smoke Detectors
Today's advanced models rely on three different core technologies to alert to the presence of smoke and/or fire. Many smoke detectors available now feature one or more kinds of sensors, doubling your protection. Regardless of the type of sensor or programming, all smoke detectors have two basic parts: a sensor, and an alert (usually a combination of a loud noise and a flashing light).
Some smoke detectors are powered by a battery in the unit, while others are directly connected to the house current. Regardless of what kind of smoke detector you choose, it is essential that you test your smoke detector once a year, replacing batteries or the unit if necessary.
Modern smoke detectors feature different sensor technology, including:
Ionization – By taking advantage of electromagnetic properties on the molecular scale, an ionization sensor is able to quickly and accurately respond to very small amounts of smoke. Many times, fast flaming fires like those that occur in the kitchen, or the ignition of paper or gasoline, produce very little smoke at the outset. An ionization sensor can quickly respond to these types of fires.
Photoelectric – The tried and true technology of a photoelectric sensor uses two tiny beams of light, cross-set at a 90-degree angle. When smoke or particulate matter interfere with the light beam, the sensor is triggered and the alarm sounds. Photoelectric sensors are particularly accurate at detecting slow-burning, smoldering fires, which can be the result of an electrical short or other household accident.
Dual Sensor – A combination of both a photoelectric sensor as well as an ionization sensor, these smoke detectors offer maximum vigilance in case of a fire or smoke.
How to Choose the Right Detector for You
Any smoke detector is better than none, as these invaluable devices can save your life. However, it is worth considering that ionization sensing smoke detectors often trigger accidentally when used in kitchens if they respond to burned food in the oven or hot grease used when frying. Photoelectric sensors are better at sensing fires that occur when people are asleep, the light sensor being particularly effective at sensing smoke from slow-burning, smoldering fires. Dual sensor smoke detectors offer the most comprehensive coverage, but it is important to know that some models will appear to be functioning normally even if one of their sensors has malfunctioned.
To help you choose the right smoke detector for you, below are reviews of three of the most popular models on sale today:
The Best Smoke Detector – Pro Tip: Nest Protect
This advanced multi-sensor smoke detector maintains constant vigilance against all types of smoke, and comes with an additional carbon monoxide sensor. Constantly connected to the internet, the Nest Protect will send alerts to your smartphone or mobile device, alerting you to problems even when you're not home. The Nest Protect is designed to speak aloud, informing you exactly what problem has been detected, as well as its source. It is certainly the best smoke detector, if you are lookigng for a smart home solution to your problems.
Advantages
Designed to last for 10 years – the maximum available by law
Able to be silenced remotely with your smartphone or mobile device
Connected to the internet without any special wiring necessary
Speaks aloud to give you more detail about the source of the problem
Can send alerts to your smartphone or mobile device
Elegant and stylish design
Also has a carbon monoxide detector
Disadvantages
Requires 6 lithium metal batteries, which must be replaced occasionally
Can sometimes be over-sensitive to smoke sources in the kitchen
Features
Inside the box, you'll get the main unit, 6 lithium metal batteries, easy mounting backplate, instructions for downloading the related free smartphone app, and a handy user manual.
Weighs just 13.3 ounces
Measures 5.3 by 1.5 by 5.3 inches
Comes with a 2-year limited warranty from the manufacturer
Features Google latest-generation programming technology
Instantly connects to your home Wi-Fi network
Can connect to other Nest sensors in your home, maintaining the network even if the internet goes down
Will send alerts to your mobile device in case of a problem
Overall Verdict
The Nest Protect is one of the best latest-generation multi-sensor smoke detectors available on the market. Able to be controlled remotely by a smartphone or mobile device, and with a speaking function to identify the source of a problem, this multi detector will instantly alert you to smoke, fire, or a build-up of deadly carbon monoxide gas. Easy to install, the Nest Protect will automatically connect to other Nest detectors to form a vigilant network of sensors in your home, protecting you and your family 24 hours a day.
Last update on 2018-10-18 / Affiliate links / Images from Amazon Product Advertising API
Kidde KN-COSM-BA Battery Operated Combination Smoke/Carbon Monoxide Detector with Voice Warning 
The Kidde KN-COSM-BA Battery Operated smoke detector combines both photoelectric and ionization sensors to give your home maximum protection against fire and smoke. The product is designed to be fully operational with batteries without the need of hard-wiring. The included "hush" feature allows you to easily silence any nuisance alarms with the touch of a button. As a safety feature, a small but powerful red LED light flashes twice a minute to let you know that it is functioning properly. Definitely worth a spot on our best smoke detector list.
Advantages
Advanced dual ionization and photoelectric sensors for maximum fire and smoke protection
No Need for Hird-Writing
Easy to use "hush" features silences unwarranted alarms
Convenient test/reset button allows for regular maintenance and testing
Designed to be hard-wired into your home current for long-lasting reliability
RED light pulsing indicator lets you know unit is functioning propely
Attractive white housing designed to blend in seamlessly with your interior decor
Thriple AA Batteries Included in the Box
Disadvantages
You Need to Regularly Check the Batteries of the Device
The Voice Low Battery Feature Chirp Can Be Mistaken for a Fire Alarm
Features
In the box, you'll get the main smoke detector unit, mounting assembly, three-wire harness, screws, three AA batteries and the installation and user guide.
Weighs just 13.6 ounces
Stylish white disc design that blends into ceilings and walls
Measures 7 by 3 by 4 inches
BLow Battery Chirp Indication
Voice Activated Alarm
Very easy to install
Test/reset button allows for regular safety check
Overall Verdict
With both an ionization and photoelectric sensor, the KN-COSM-BA is an excellent home smoke detector. Designed to be extremely sensitive to the first signs of a fire, the unit comes with a "hush" button in case of an accidental trigger. With a bright LED lights indicating power and function, you'll always know with a glance that the Kidde KN-COSM-BA is working properly. Definitely one of the best mid-priced smoke detectors available on the market today.
Last update on 2018-10-18 / Affiliate links / Images from Amazon Product Advertising API
Purchasing Tip (1):
If Kidde is your brand of choice, but you want to achieve full house coverage on a budget, you might want to choose the Kiddie i9050. Extremely affordable, the battery operated smoke alarm has a ionization sensor and as other products from the company, it also meets the Underwriters Laboratoriesr requirements and safety standards. With an aduio alarm of 85 DB at 10 feet and a test buttom to verify the alarm operation, this smoke alarm is a deinite recommondation, if you need large scale coverage.
Sale
Kidde Battery Operated Smoke Alarm I9050
Easy Installation - No wiring required.
Battery Operated (9V battery included) - Provides continuous protection even during power failures.
Quality Design - 10 year limited warranty.
Flashing LED - Indicates alarm is receiving power.
Test Button - Verifies battery and alarm operation.
Last update on 2018-10-18 / Affiliate links / Images from Amazon Product Advertising API
Purchasing Tip (2)
Another option for wide spaces, if you want complete protection and have the money to spare, is the Kidde KN-COSM-IBA smoke detector. As the name suggests, the product is the same in features as the KN-COSM-BA, with the only difference being the internconnectable operational feature that comes with the product. For your convenience, Kidde provides with more affordable pack options for the devices, as you can check out here.
Sale
Last update on 2018-10-18 / Affiliate links / Images from Amazon Product Advertising API
First Alert SCO5CN Combination Smoke and Carbon Monoxide Alarm
The First Alert SCO5CN features a combination smoke and carbon monoxide detecting technology based on the latest photoelectric and electrochemical CO sensing technology. Designed to be hardwired into your home AC current, the First Alert SCO5CN also features a battery back-up in case of power outages. Using the latest smoke detecing and carbon monoxide detecting technology, the First Alert SCO5CN will maintain a constant vigil against smoke and fire, providing reliable protection for you and your family.
Advantages
Attractive white octagon design
Two different "hush" features for accidental alarms
Has two different latching features for ultra-simple installation
Very loud piercing 85-decibel alert will wake up even the heaviest sleeper (Varying Frequency Option for Everyone)
Battery back-up is designed to give 4,320 hours of service before needing to be replaced
Test button lets you verify unit is functioning properly
Made in North America
Disadvantages
No way to tell if just one sensor is malfunctioning
May not fit some existing brackets used by other models of smoke detectors
Features
In the box you get the main smoke detector unit, two AA 10-year lithium batteries, mounting bracket, and user/installation guide.
Weighs 1.4 pounds
Measures 8.2 by 8.6 by 2.5 inches
Comes with two AA batteries included
7-year limited manufacturer's warranty
Powered by your home A/C current (at 120 Volts)
Easy to silence in case of accidental alarm
Simple to install
Overall Verdict
With an attractive octagonal design, the First Alert SCO5CN looks great wherever it is mounted, and is simple and easy to install. Featuring both a highly accurate electrochemical sensor as well as photoelectric sensors, the First Alert SCO5CN is ready to provide round-the-clock protection against any type of fire or smoke. Designed to use long-lasting lithium AA batteries as a battery back-up, the First Alert SCO5CN can provide reliable vigilance for up to a decade without needing any maintenance. A simple test button allows you to verify the unit is functioning, while a loud alert will signal that the batteries need replacing. With its array of features, the First Alert SCO5CN is one of the most comprehensive and reliable smoke detectors available on the market today.
Last update on 2018-10-18 / Affiliate links / Images from Amazon Product Advertising API
Purchasing Tip (1):
The First Alert SCO5CN is not going to be able to detect smoke throughout your whole house. If you want to expand your smoke detecting mesh network, but don't want to spend a lot, the First Alert SA303CN3 is a great add-on budget option smoke detector. Working with a 9-volt battery and coming with a 5-year limited warranty, the detector isn't as sophisticated as some other options by First Alarm, but it is nonetheless a great budget option.
Sale
First Alert SA303CN3 Battery Powered Smoke Alarm with Silence Button
Help keep your family safe with this battery-powered smoke alarm featuring an ionization sensor for smoke detection; a loud 85-decibel alarm sounds when smoke levels are elevated
Ionization sensor is effective in recognizing smoke from flaming fires such as paper and grease fires
Battery-operated alarm unit provides continuous monitoring even if there's a power failure; plus, it's easy to install
Tamper-resistant alarm also features a single test/silence button, side battery door, and missing-battery guard
To ensure complete protection make sure to place one on each level of your home and in each bedroom
Last update on 2018-10-19 / Affiliate links / Images from Amazon Product Advertising API
Purchasing Tip (2): 
First alert has three other smoke detector models within the same price range (under the same family of products) that might be a better choice, depending on your needs. Plus, they work great when connected both with this device and with one another.The BRK SC7010BV and BRK SC7010B are both combination smoke and carbon monoxide alarm detectors. The third one is the SC-9120B. The only true difference between the SC-9120B and the SC7010B and SC7010BV is the sensor technology. While the 9120B has a ionization fire sensor, both other produts boast a photoelectric smoke sensor. In addition, the BV-model has a talking voice alarm with location control feature, hence its slightly more expensive price. You can check out both of these options below.
Last update on 2018-10-18 / Affiliate links / Images from Amazon Product Advertising API
Smart Home Tip:
In case you want to future-proof your home, choosing the First Alert 2-in-1 Z-Wave smoke detector and carbon monoxide alarm might be your best choice. While the device is not Wink compatible, it works great with a number of Z-Wave ready systems, including Samsung SmartThings and Nexia Home Intelligence. The Smoke Detector itself is rather affordable and features a combination sensors both electrochemical and photoelectic ones to keep your home safe. It is easy to connect with your hub and works wonders, if you want a home automation solution for your home smoke detector. Note that you'd need a hub to take advantage of the smart home capabilities of this device. If you don't know where to start, check out our z-wave hub guide.
Sale
First Alert 2-in-1 Z-Wave Smoke Detector & Carbon Monoxide Alarm
Help keep your family safe with this battery-operated smoke and carbon monoxide combination alarm. This easy-to-install smoke and carbon monoxide combination alarm connects with other Z-Wave compatible alarms and a Z-Wave hub (sold separately)
Integrated wireless alarm system is Iris compatible to send you mobile alerts and emails, so you're aware of dangers after the alarm is activated, whether you're home or away
Alarm features photoelectric smoke-sensing technology optimized to detect larger smoke particles produced by smoldering fires, and an electrochemical carbon monoxide sensor
Certified for use with Nexia Home Intelligence, Ring Home Security System, and other third party Z-Wave systems; not compatible with WINK or Onelink
Includes test/silence button, side-access battery door, plus a tamper-resistant battery drawer and pins that lock the alarm to the mounting bracket
Last update on 2018-10-18 / Affiliate links / Images from Amazon Product Advertising API
Other Options
Considering the importance of a smoke detector, we cannot talk about more or less quality products. We chose ones that are equal in the function, but you might find that there are less expensive models or ones with simpler or more advanced functions that you prefer over the top three we wrote about earlier.
Leeo Smart Alert Nightlight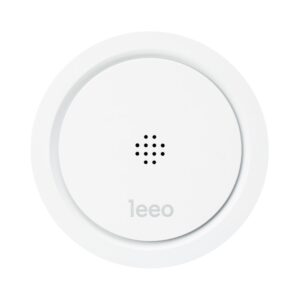 The Leeo Smart Alert Nightlight monitors existing smoke, CO and water levels and alerts you if they go off. It has a combined photoelectric and ionisation sensors, as well as sensors for temperature, humidity, and ambient light. Additionally, it is equipped with microphones that register unusual sounds and alerts you. This is a great feature if there is no one at home, but in case that there is someone in and makes some noise, you might get alerted about it.
This smoke alarm is easily connected via iOS 8+ or Android, by Bluetooth or Wi-Fi. The installation is easy, all you have to do is to plug it in, download the free iOS or Android app and connect to your home's Wi-Fi or Bluetooth.
So, how it works? When the alarm sounds, the nightlight will start flashing red, and a push notification will be sent to your iOS or Android device. If you don't respond to that, you'll get an automated call to your smartphone or another phone of your choice. If you still don't answer, after two tries, the system will call a designated emergency contact.
Nightlight is a great addition especially if you have kids. During the night it will light their way to the bathroom and release them from night fears. You can choose and change light colour depending on the time of the day or mood.
Advantages
Dual ionisation and photoelectric sensors for maximum fire and smoke protection
Sensors for temperature, humidity, and ambient light
Beautiful RGB colour adjustable nightlight design to fit your mood or décor
Plug it in directly
Provides your local emergency service phone number via the app or by text
Works with numerous smart products and services using IFTTT
Alerts you via an app or push notifications and automated phone calls
Disadvantages
Might give you false alarm due to unexpected noise at home
The registration process can be a little lengthy, and there is a possibility of fail on reading the number of alarms
No battery backup
Features
Weighs just 4.5 ounces
Stylish white disc design that blends into the surrounding
Measures 3.5 x 3.5 x 2 inches
Changeable light colour
Overall Verdict
Even with many useful features, Leeo Smart Alert Nightlight could use some software upgrade. With the simple and pleasant design and simple reassurance provided by a light in the darkness, this smart smoke detector needs a price drop, as now it costs as much as Nest Protect.

Halo+ Smart Smoke & CO Alarm with Weather Alerts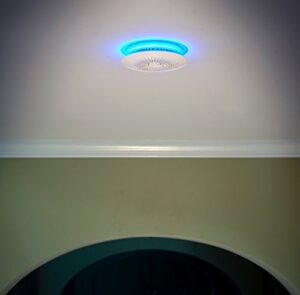 The Halo+ has both ionisation and photoelectric sensors for detecting fast- and slow-burning fires respectively. It monitors your home for carbon monoxide, which is very dangerous gas because it's invisible and odourless. It checks local weather and can warn you about hurricanes, tornadoes and winter storms so you can get to the safe place. The Halo+ also gives you voice prompts that let you know what kind of danger is detected and where it is in your home.
This hardwired smoke detector but it has a backup battery. It is easy to set up and connect to WiFi. Halo+ works with Alexa, Iris by Lowe's, and Samsung SmartThings. This gives smart home users plenty of alternatives when connecting the system to a broader smart home infrastructure. The Halo application for mobile is available in the iOS App Store and Google Play, and you can use the application to control, monitor and test your smoke detector.
Halo+ includes an adjustable accent light that can also be used as a nightlight. Like a colour-changeable smart bulb, you can choose the colour of this light from a colour wheel.
You might wonder why you need a weather alert. Well, radio connection gives you weather alerts for extreme conditions. Additionally, during setup, you can choose which weather events you want to be notified of, and you can change it in the future whenever you like it.
Advantages
The most full-featured of all smart smoke detectors
Very responsive, with excellent voice instructions
Radio connection gives you extreme weather alerts
Can be used as a night light
You receive notifications on your smartphone in real time if there is an emergency
Connected via Wi-Fi and Bluetooth, works with Alexa, Samsung SmartThings and Iris by Lowe's
Disadvantages
When want to hush the alarm you must be near it to type in the colour of the light
Light turns off automatically after some time, so it is not a throughout night light
Expensive
Features
White colour helps it blend well in the surrounding
Measures 6.5 x 6.5 x 1.6 inches
Weighs just 14 ounces
Data link protocol: ZigBee
3 years warranty
Overall Verdict
Even though it is the most expensive smart smoke detector, it has excellent features and considering the simplicity of installation and additional features it has, Halo+ can be considered as a good choice for home safety and could be an equal competitor to Nest Protect.

Roost RSA-400 Smart Alarm for Smoke, Fire, CO and Natural Gas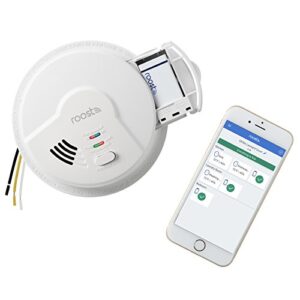 The Roost RSA-400 is 4 in 1 device. It detects fire, smoke, natural gas and carbon monoxide. This is actually the only smoke alarm that will detect natural gas.
The RSA-400 uses Universal Smoke Sensing Technology™ (USST) with microprocessor intelligence to detect fast flaming fires and also respond very quickly to slow smouldering fires – up to 87 per cent faster than the maximum allowable alarm limit. This system is more resistant to false and nuisance alarms than all other smoke alarms when utilising an ionisation sensor. So there will be no alarm caused by steamy showers and every day cooking smoke.
Unfortunately, this smoke alarm doesn't offer more than basic features. So let's see what they include.
Roost RSA-400 has to be hardwired to work, due to a number of its sensors. Manual suggests hiring an electrician to do wiring, as you will have to handle exposed electrical wires while installing the alarm. You will get the Roost Smart Battery in the package along with Quick Installation Guide, Contact info for Roost Customer Support and Link to install videos & FAQs.
Roost RSA-400 requires the installation of free Roost app on iOS 8 or higher or Android 4.2 or higher devices via Wi-Fi. You'll have to rely on IFTTT to connect it to other smart-home products, and there is only a handful of existing IFTTT such as ones that will turn on your Skylinknet light or Philips Hue in response to an alarm.
The Roost RSA-400 will notify you when the battery runs low, and in case of an emergency. As some other alarms, it will send a notification to your family and friends in an emergency.
Advantages
Detects fire, smoke, natural gas and carbon monoxide
Less false and nuisance alarms
Connected via iOS and Android
Uses IFTTT to communicate with some other smart devices
Reasonable price
Disadvantages
Except for Natural gas, detection doesn't have any special step forward the competition
Features
Measures 5.63 x 5.63 x 1.75 inches
Warranty is 10 years for the smart smoke alarm and 1 year for the smart battery
Overall Verdict
If you want to by a smoke alarm, you can consider that Roost RSA-400 is a regular alarm, without any smart feature. Roost Smart Battery is the part that gives the alarm its smart features. However, it has a good price, and with a natural gas detection, if you need only basic features, it could be worth buying.

Roost Smart Battery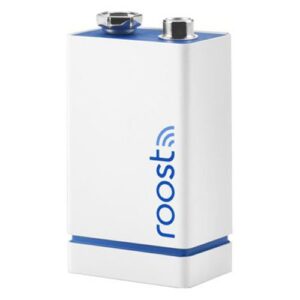 As previously said, Roost Smart Battery is actually the smart part of the Roost RSA-400. Even better: it can be installed into almost any traditional smoke alarm and make it a smart one. It is an excellent solution if you have lots of conventional smoke detectors around your home and don't want to spend too much money on upgrading them all.
The Roost Smart Battery's shape is the same as its original version. It's the size of a 9-volt battery, with a small speaker integrated into it. It should be able to fit into any smoke detector that uses a 9-volt battery.
Setup is quite easy, like with any Wi-Fi Connected device: you have to connect to the battery's Wi-Fi, and then connect the battery to your home Wi-Fi network. However, Roost Smart Battery can be connected to other smart home devices only via IFTTT.
Each installed Roost Smart Battery gets a unique name so you can tell which alarm is sounding off or which battery needs service whether it is lost connection with Wi-Fi or nearing the end on five-year battery life cycle.  Roost Smart Battery it will emit different alarm sounds accordingly to the cause of it, so you will know what the emergency is: smoke and/or fire, carbon monoxide or natural gas. You can turn it off from your smartphone, or place it to snooze option. It will also send an alert to your smartphone when the smoke detector goes off.
Advantages
Works with most smoke detectors
Great price for improvement of your existing dumb smoke detectors
Snooze feature
Notifies you when the Roost Smart Battery runs low.
Lasts for 3-5 years.
Disadvantages
Requires IFTTT to work with other smart home devices
Features
Size and shape as a regular 9-volt battery (1 x 1.9 x 0.7 inches)
1-year warranty
Overall Verdict
The Roost Smart Battery is an excellent opportunity to save money on upgrading your existing traditional smoke alarms into smart devices. However, you won't get features such as night light.

First Alert Onelink Safe & Sound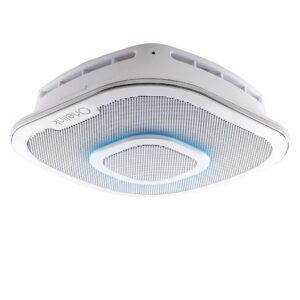 The First Alert's Safe & Sound is a 3 in 1 device that combines smoke and CO detector with a smart speaker. To detect smoke, the Safe & Sound uses a photoelectric sensor, a type that's better at detecting smouldering fires. This smoke alarm is hardwired, unlike other from First Alert which you can choose to buy as a wireless option. This is understandable because the speaker uses a lot of battery power, and you would have a hassle changing it frequently. However, it has a backup battery in case of electric breakdown.
You can choose which smart speaker your Safe & Sound alarm will work: HomeKit or Alexa. HomeKit is can send notifications if either the CO or smoke sensor detects something, and is able to control the brightness and colour of the nightlight. With Alexa, aside from getting notifications about smoke and CO is most useful when controlling music playback. However, it doesn't support IFTTT.
Installation of Safe & Sound is easy, especially if you are replacing traditional hardwired models. If you are replacing more than one smoke detector, you don't have to synchronise them one by one. You can do one synch for all of them at once.
As it is placed on the ceiling, it has a lot of coverage in the room, and the sound in it is good. If you connect it to Alexa, you can ask for a song, artist, or genre from Amazon Music, Pandora, Spotify, and more. Safe & Sound can also play Audible audiobooks, news, radio stations, and more.
As it uses a photoelectric sensor, there will be less false alarms than with ionising sensors. But even if you get one while for example having a bit more smoke than you anticipated while cooking or taking a bath, you can merely hush it by using the button on the side, or the Onelink app. This silences the alarm and gives you a couple of moments to turn the fan on and clear out the kitchen or bathroom.
Advantages
Smoke and CO alerts.
3 in 1 device that includes a Bluetooth speaker and nightlight
Alexa-enabled, Google Assistant-enabled, Apple HomeKit compatibility
Easy installation
Speaker sounds good
Disadvantages
Expensive
Requires hardwiring
Does not support IFTTT.
Limited Alexa functions
Features
Measures 6.8 x 6.8 x 2.6 inches
Weight 28.16 ounces
Has a backup battery
Warranty is 3 years
Mobile connectivity through the Onelink Home App
Overall Verdict
Even though the Safe & Sound is one of the more expensive smoke/CO detectors, it sends push alerts to your mobile when its sensors are activated, and it also serves as an Amazon Alexa device that has all features as an Echo. So the product is more potent than you would expect from First Alert who is commonly known as the maker of single-featured and inexpensive smoke detectors.

Summary
Regardless of which model or type of smoke detector you choose, it is essential that every home have one. While some models are pricier than others, it is worth the cost to know that you and your loved ones are protected in case of a fire. Be sure to always follow the manufacturer's recommendations for maintenance and testing, and to replace batteries when needed. A properly functioning alarm can save your life, and give you an advanced warning before a serious problem develops, allowing you to take action and spare your property from the devastation that a fire can cause.