Once you have purchased the Amazon Echo, an explorative adventurous spirit wakes up in you! What can it do, how can it help me and what are all its indefinite possibilities? Once you have connected it to all smart devices in-house and found out all Alexa's skills starting from morning alarm to telling a goodnight time story to your child instead of you, it is time for fun! So, let's check out what are possibilities regarding music and Echo.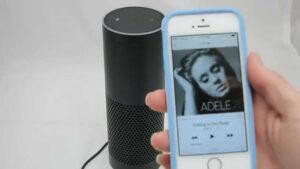 There are so many music options to choose from Echo and Alexa. It doesn't matter if you are a premium user or not; the choice is limitless. You can upload your favourite music, or go to the radio station you like the best. However, before having fun, you will have to do some setups on your Echo app and another device which you wish to connect. Here is a short instruction for different devices, so you can set it all up quickly and easily and start enjoying music experience with Echo right away.
The Beginning
Once you purchase an Amazon Echo, you have access to music services like Amazon Music, Pandora, Spotify Premium, and iHeartRadio.
To choose the music you want to listen through your Amazon Echo, open the Alexa mobile app and tap the icon with three horizontal lines (the hamburger icon) and select "Music, Video & Books." In this part tap on the music service, you would like to access. If you are accessing the service for the first time, you will have to link your Amazon account with the music service. Log in to your account and link it to the Alexa app and return to the app.
Now you can scroll down different types of music or radio stations by the service to see what is available. Once you find a tune you want to hear you can either tap it to play it via the device or merely ask Alexa to play it: "Alexa, play Spotify."
Stream from a Mobile Phone
If your favourite music is stored on your mobile device, you can play it on your Amazon Echo via Bluetooth. You can choose among different sources that Bluetooth connectable to pair it with your Amazon Echo. Here is how:
Position your mobile phone near your Echo and say "Alexa, pair". Once the devices are paired, your Alexa will be listed as connected, and Alexa will tell you that she is connected, as well.
You can perform connection via Alexa app by clicking on hamburger icon and then Settings option. Tap the name of your Alexa device, click on Bluetooth and then Pair a new device. After this, check your mobile to see if Alexa is among paired devices and tap on it to finish the connection.
Now you can open the Music app or any other audio app on your mobile device and tap a tune to play. You should hear it through your Alexa device. You can then control the current track, the volume, and other audio items either by talking to Alexa or by using your mobile device.
Disconnection and new connection are easy in the future, and it all goes through communication with Alexa. To disconnect your Alexa device from your mobile device, say "Alexa, disconnect from [name of device]." Alexa responds: "Now disconnected from [name of device]." To reconnect, say, "Alexa, connect to [name of device]." Alexa responds: "Searching. Now connected to [name of device]."
Stream from a Computer
The connection between your Amazon Echo and computer are pretty similar to one with a mobile phone. The connection is performed via Bluetooth as well. First, you have to sign in to your Amazon account, go to settings and click on the name of your Amazon Echo. Then, select Bluetooth and click on Pair a New Device.
Open the Windows settings screen and click on Devices, then Bluetooth and other devices and wait for Alexa to appear and be paired. Click on you Alexa name and the devices are connected. Now you can enjoy your favourite music.
Amazon Prime Music and Amazon Music Unlimited
Features Amazon Prime Music and Amazon Music Unlimited give you unlimited (over 10 million) of music tunes to choose from if you have purchased them.
Any music you buy from Amazon is automatically added to your account so that you can stream those albums to your Echo without any extra steps. Open the Amazon Music player web interface and click "Upload your music to your cloud library" on the left side. This prompts you to download and install the Amazon Music player app for Windows or Mac.
However, Amazon Music Unlimited provides much more tunes than Amazon Prime Music for which you also have to subscribe, either if you are a Prime member or you just want to listen to the music on your Echo.
Note: Amazon Prime Music lets you upload your tracks to the Amazon cloud, but the company has discontinued this feature. If you have uploaded any music to your Amazon music player, you will be able to access it until January 2019. After that, it will disappear.