Amazon Alexa is not just a smart home device; it is a lifestyle!
Amazon Alexa skill is the application that is performed after your voice command. It works as the brain of different smart devices in your home, and can also respond to you. The result is a smarter home controlled by your voice.
Alexa has implemented skills for finances, entertainment, cooking, smart devices and many more. But what are the best and most practical Alexa skills that you will use every day? Which Alexa skills are time, energy and money saviours?
We've searched throughout different user experiences and came up with 10 best Alexa skills that will upgrade your lifestyle!
1. Light control skill
It is time for a romantic evening or movie time. It is all set up in your living room, the only thing left is to adapt or turn off the lights. With Alexa, you don't have to get up from your sofa and go to the switch. Alexa will make the light adaptation on your voice command. If you have previously programmed romantic or movie profile, all you need to do is to give an order to Alexa:
"Alexa, set the living room lights to romantic" or "Alexa, turn off the living room lights".
Hue lights and Lifx work nice with Alexa. You can set any mode you like; you can even change the light colour. If you are starting with Alexa and smart home, Alexa skill for smart lights is perfect for getting used to benefits of a smart home.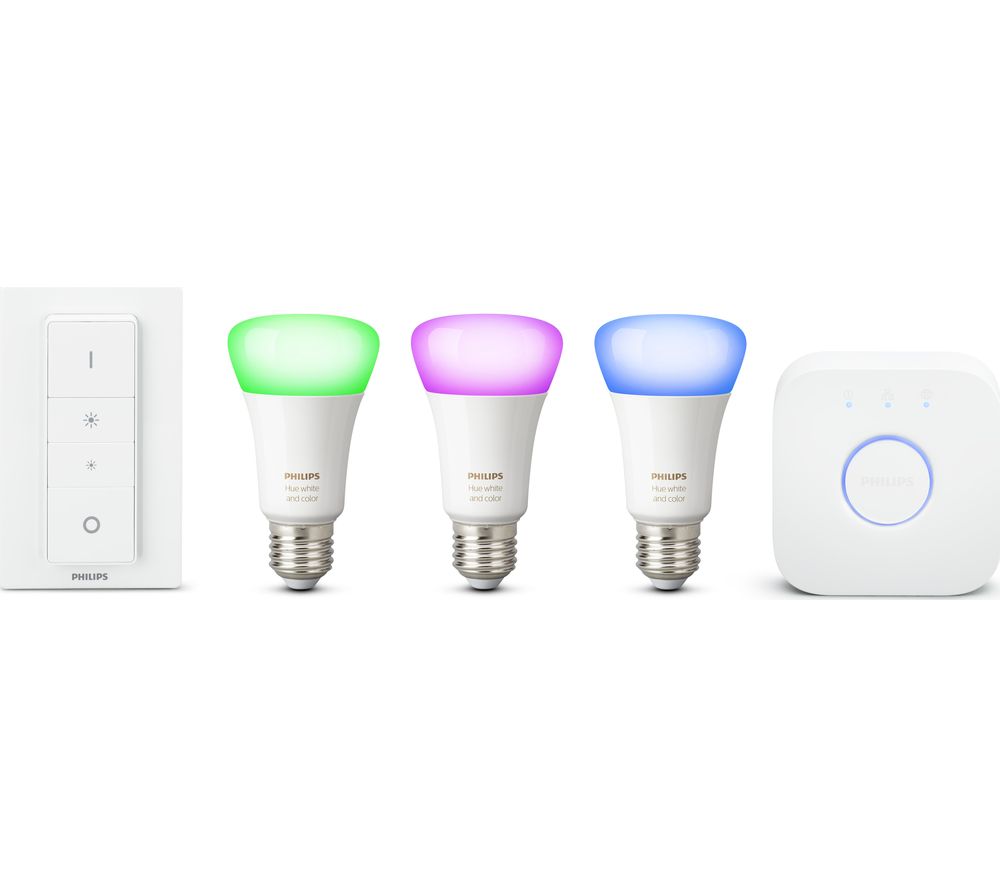 Image from Currys
2. Thermostat control skills
The Hive skill enables you to control the temperature of your house using Alexa. With voice control of temperature in your home, smartphone remote control will not be a necessity. You can change room temperature in a specific room, by simply giving Alexa a command such as:
"Alexa, change the kitchen to 22 degrees" or "Alexa, raise the living room by three degrees".
If you have a Nest thermostat, you can also use the Nest Thermostat skill. However there are other manufacturers of smart thermostats, and you can connect Ecobee4 or Emerson Sensi and have the same comfort as with Nest thermostat.

Image from Amazon.com
3. Skill for a Smart Camera
There is a couple of Alexa skills for smart cameras. You can check who's at the door from the comfort of your chair by simply saying "Alexa, show the front door camera". Also, there is a possibility to view a live video stream from a smart home camera on Echo Show or Fire TV. If you have a Nest Cam, there's the Cam skill, which enables you to view your footage straight from your Echo Show.
Following cameras work well with Alexa skills: Ring Spotlight Cam, Nest Cam IQ Indoor, Logitech Circle 2, Ring Video Doorbell Pro, Netgear Arlo Pro 2, Amazon Cloud Cam and Nest Hello Doorbell.
4. Smart lock skill
It is time for bed, and you are all relaxed and covered in bed sheets, ready to sleep, but you suddenly think: "Have I locked the door?" With Alexa skill for the smart door lock, there is no need to walk all the way to your front door to check it. You ask: "Alexa, is the front door locked?" and Alexa answers you. If the door is unlocked, order Alexa to lock it, and fall to sleep safely.
If you are busy preparing the dinner and guests are already at the door, there is no need to stop cooking. Alexa can unlock the door for you if you tell her to do so.
Alexa works well with Nest Lock, August Smart Lock, Schlage Camelot Touchscreen Deadbolt, Yale Assure Lock, Kwikset SmartCode Deadbolt and Kevo Convert.

Image from TechCrunch
5. Vacuum cleaner skill
A smart vacuum cleaner is a perfect smart home gadget for busy people and pet owners. Today latest versions are connected to Alexa as Android and iOS introduced the skill for it. If you need vacuum cleaning of your kitchen or living room, iRobot Roomba will work well on your voice commands. All you have to do is say: "Alexa, tell Roomba to start cleaning." However, Ecovacs, Shark ION, Neatic Robotics and Samsung Powerbot will do the job at the same quality.
6. Find my phone
Previously described skills were ones that would make smart devices perform a certain action. But TrackR skill helps you differently, it reduces stress by finding your phone! Because we all know how searching for hone while you are late for work can increase tension at home. All you have to do is link your account and add your number to the application. Once you lose your phone you only need to say: "Alexa, find my phone!" and your mobile will ring at full volume. You can also add extra numbers and tell Alexa to call them. However, only mobile numbers are supported.
7. Health and exercise
With Alexa, you don't need to go to the gym to exercise or visit your meditation mentor for relaxation. Aside from managing connected devices in your home, you can also use Alexa skills to live a healthier life, both mentally and physically.
With skills such as Push Up Century Club and ALOP Pilates, Alexa will give you instructions on how to exercise and will be your trainer who will bring you into shape with its strict voice. Also, Cal Pal is a skill which tells you what intensity of exercise is needed to burn off a certain amount of calories.
1-minute Mindfulness, Deep Breath and Meditation Timer are just a few of Alexa skills that help you gain a clear mind, relax and reduce stress through relaxing and deep breathing exercises. It plays relaxing sounds for the desired duration and gives you a sound notification when your time is up.
8. Skills for Children
Alexa will not be only your best pal! Your children will enjoy many Alexa skills for kids as well, and you will find them very useful! All skills created for children will develop their creativity and imagination and improve their cognitive and manual skills.
Amazon Story Time and Short Bedtime Story skills are perfect for small children. Along with telling your child a story, Alexa customize your kid's name into the story which makes it more interesting! With The Magic Door children can choose from three different story settings and these choices change the outcome of the tale. This skill makes children's imagination alive and explores their creativity. Similar to these skills for youngest, there are Escape the Room or Dungeon Adventure skills for older children and teenagers.

Image from Newsela
Science Friendly skill is a quiz in subjects of earth science, biology and physics. Questions are multiple-choice with three offered options. This skill is not only entertaining but educational as well. skill is a quiz in subjects of earth science, biology and physics. Questions are multiple-choice with three offered options. This skill is not only entertaining but educational as well.
Do your children love drawing? Than Draw It skill will make them busy and entertained for quite a while! This Alexa skill offers them ideas, and even more! It describes how the object should be drawn, and kids have to guess what the object they are drawing is. Excellent skill for developing creativity in children!
9. Alexa travel skills
You can make Alexa your personal and private travel agency with many travel skills. All you have to do is ask Alexa, and you will get the information you need:
Kayak Alexa skill will tell you how much certain flight costs or where you can go for the defined amount of money
If you live in the United Kingdom, National Rail skill can tell you train times, what's going on with delays, what is your commute if you need to change trains and so on. Tube Info skills give you the same information if you ask for underground traffic in the UK. New Yorkers can get the same information about New York subway from NYC Subway Alexa skill.
Uber and Lyft skills enable you to order a ride, ask for arrival statuses, cancel ride requests and for Lyft, you can even rate drivers.
If you are located in the USA, you can check security wait time for over 450 airports via The Airport Security Line Wait Times skill.
10. Food skills
You can improve your ideas cooking and cooking skill, home-bartending skills, wine knowledge, and make you a perfect chef. Skills such as Best Recipes, Meal Idea and Campbell's Kitchen will give you recipes for tasty meals. MySomm skill will tell you which wines pair well with which food. Nutritionix skill enables you to track your food intake. Usage of these and many other Alexa skills makes you a professional in the field of food and drinks!
Wrap up
These are some of Alexa skills you will find very useful but there are many more. Besides that, you can always find skills for entertainment, ordering a pizza and playing numerous games, skills for a smart car and others on Find a Skill skill. There is also a possibility to create your own skills if you are interested in the programming.
So, with the usage of Alexa skills, all you need to do is sit back and watch your lifestyle upgrades!