Ceiling fans are very popular in the United States and have a long history of existence.
The first models appeared in the 1860s and were not yet powered by electricity but rather by a stream of running water. Nowadays almost every U.S. based household has at least one ceiling fan at home. These devices work a bit different than your normal air conditioner. Instead of changing the temperature of the environment they are just moving air and are therefore primarily used for cooling. But during the last decades, even the technology of fans has evolved resulting in models that are capable of both cooling and heating. They doing this by either reversing their direction of motion or by rotating the blades in a specific angle. The Hunter Original is a very good example of such a model. Hunter, by the way, is the market leader in the production and development of ceiling fans and was founded in 1886.
Although there are already a lot of fan controls on the market effectively none of them can be easily integrated into a home automation system since they are normally directly wired to the fan or at least to the attached power source. You could intercept the power lines with a controllable switch but this would require a lot of technical knowledge and tedious handwork not to mention that you still wouldn't have full control over speed or even scenes without touching the actual control yourself. As a real Smart Home enthusiast, you would rather use your phone to do that.
But there is a better way. With more companies realizing the potential of the smart home industry, we've noticed the introduction of a range of new Z-Wave products. Even though not a lot of manufacturers have easy and ready-to-install solutions directly for Z-Wave fan control, there are a few products that get the job done. Without further adieu, here are the devices that will help you make your fan a tiny bit smarter.
GE Z-Wave Plus In-Wall Fan Control Paddle Switch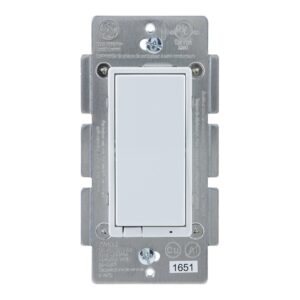 Getting into the Z-Wave market, GE has recently introduced a family of products that allow you to transform the electric system of your home into a smart home wonder. Available in multiple varieties, including outlets and switches, their product line of in-wall home automation products provides you with the items you need to create a smarter home. Their In-Wall fan control paddle switch does require a z-wave hub to work, but is nonetheless a great choice for easy fan control.

Leviton Vizia RF [VRF01-1LZ]
If you have read our article about Z-Wave Home Automation you might have come across a company called Leviton. They made special use cases like this their aim and are still the only manufacturer of a specific Z-Wave Fan Control. Ladies and Gentleman, meet the Leviton Vizia RF [VRF01-1LZ].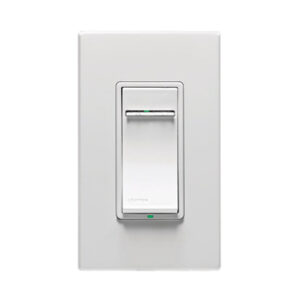 By default it offers three presets for speed: low, medium and high. The LED locator makes it easy to find even in dark rooms and the display indicates the fan speed. The face of the control comes in white but ivory and almond coloured ones are also included in the package and can easily be interchanged.
Things to note: The description of the product states the Vizia RF Remote Control as a requirement for wireless communication with the product. But since it is using the standard Z-Wave protocol it is supposed to work with all major Z-Wave controllers. Most of these controllers even provide more options for the Vizia Fan Control than the default 3-speed settings.
With a hefty price tag, Z-Wave Fan Control is a bit more expensive than your normal fan control but it is a dedicated device that gets the job done it is supposed to do. You can order it now via the button below:

PS: In case you are wondering which beautiful ceiling fan model we used in our post image: This is the Hunter 53091 Builder Deluxe, the Number 1 Bestseller on Amazon.
November, 2017 Update: The article was updated to feature the newest products available on the market.