Ever since the dawn of man, humans have been trying to make their lives easier. Even the wheel, the first machines, and the first computers had the purpose of completing mundane tasks and increasing our productivity. This idea is also one of the driving factors behind the recent trend of Home Automation solutions. Some might be inspired to automize their homes, because of the futuristic appeal of the technology. However, the ultimate goal of the Internet of Things is to help us be a more focused and productive society.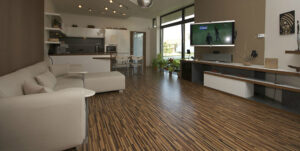 The Quest to a Productive Life with Home Automation Solutions
Nevertheless, many people still can't come up with the right automation solutions for their home. You might make your curtains open automatically, but does that help you in any way? It certainly adds to your convenience, but chances are these automatic curtains won't truly help you be more productive in any way.
Furthermore, with all the possibilities that the Internet of Things market has to offer, it's hard to think of how exactly to improve your home. With the technology being relatively new, you have to think outside the box and engage your creativity, to think up of just the right solutions for your home. With that in mind and to help you do so we've gathered some interesting smart home automation solutions and products that might increase the productivity in your home.

Turn on Your Appliances, when You Enter Your Home
Budget: $50-75
Difficulty: Easy
How about having some of your appliances or even your computer, TV or your surround sound system turning on, when you enter your home? There are a few interesting, smart home automation solutions that can help you do so.
How to achieve it?
The IoT market has a few interesting solutions that can detect your phone. However, to get an additional feature, your best bet would be MyFox Key Fob. This device is relatively easy to install and replaces the lock on your door with a smart lock that opens once it detects that your smartphone is in the radius.
To have something automatically start, you'll also need an intelligent electricity socket, such as the TP-Link Smart Plug or the Etekcity Smart Socket. These plugs are arguably the most useful smart home devices on the market today. By using them, you'd be able to turn on and off appliances connected to the socket via your smartphone.
To activate your desired device, once you enter the home, all you would have to do is connect the two smart devices. To do that use IFTTT, a free internet service, which gives you the opportunity to connect two actions together. Just connect your MyFox Key Fob and the Socket with IFTTT. Then make the plug turn on, once the MyFox Key Fob has detected that you've entered your home. Now you can listen to your favorite music before you've even entered your home!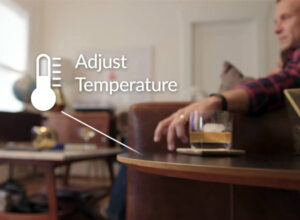 Using Knocks to Control Your Home
Budget: $50-100
Difficulty: Easy to Moderate
Chances are when you are at home, you are probably spending your time generally in one room. For example, if you are working from home, you are sitting on your PC or laptop most of the time. Or, if you cook for your family, you're in the Kitchen most of the time. If this is the case, you are probably well aware that certain mundane and easy to do actions can obstruct your productivity with you having to get up and attend to them. Especially in a mentally burdensome task, this will ruin your focus. However, you can avoid this easily, with the help of these smart home automation solutions.
How to achieve it?
The most notable device choice here is Knocki. Even though the product is still not available on the market, it is a tool, which registers how many times you've knocked on a surface. Once it does, it sends a signal to your network and you can use it to control a variety of appliances. With the help of IFTTT, you can choose multiple actions to be done in accordance with the number of knocks performed.
For example, if you have Philips Hue, you can control your lighting. Or you can set a few knocks to help you find your phone if you have lost it. You can even set Knocki to use your smartphone to call someone or send a text. The possibilities are endless.
If you can't wait for Knocki there are other DIY solutions that help you do the same. Using a Piezo Sensor and connecting it with a Particle Photon can easily help you achieve this effect. If you want to learn more about this possibility, feel free to check out this project by our friends at Hackster.io by clicking here.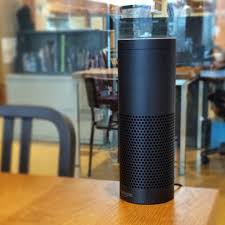 Using a Voice Activated Smart Hub
Budget: $100-250
Difficulty: Easy
Another excellent choice that requires little-to-no-effort to install and can help you increase your productivity is a voice automated smart hub, such as the Amazon Echo. Such devices recognize your voice and via some commands can do a wide variety of tasks. Furthermore, you should consider getting a more permanent smart hub solution. Z-Wave devices are on the rise and Z-Wave smart hubs can help you control them. Thus, be sure to consider looking into and purchasing a Z-Wave control hub.
The Possibilities of Smart Home Automation are Endless
The smart home automation solutions we've provided you with are just a fraction of what's possible with IoT. Once you get the hang of it, you'll be easily able to automize the things in your home creatively. For example, if you like gardening, you can put different sensors to track the soil of your plants. The smart home of the future is already here, but you have to be creative enough to come up with the right solution.
What smart home automation solutions do you need? Have any idea? Feel free to leave a comment below and be sure to contact us, if you need help with the automation of your home. We'll be happy to help you out! Also, be sure to stay tuned to buildyoursmarthome.co for new smart home solutions, tutorials and everything that's happening in the IoT world!