The days of relying on an inaccurate spin-dial thermostat are long over. Programmable thermostats have come a long way over the last decade, and one of the latest advancements is something known as a smart thermostat.
While regular thermostats allow you to adjust and set the temperature in a room with a control panel or dial, smart thermostats give you greater control over your home's heating and cooling system. Think of it this way: a regular thermostat allows you to adjust the temperature in the house by using a control panel for your HVAC system. A programmable model is a step up, allowing you to set a specific temperature and have it change automatically throughout the day.
What makes a smart thermostat "smart" is the fact that it can learn from your behavior and preferences, show energy use in real time, adjust based on ambient environment conditions like humidity, and allow you to control your home's temperature settings remotely.
Curious if a smart thermostat is the right choice for you? If you want more control over your HVAC system and home environment with greater energy savings, a smart model is probably right for you.
This guide will walk you through the process of choosing the best thermostat for your needs and explain what to look for.
Advantages and Drawbacks of a Smart Thermostat
Out of all of the new energy gadgets on the market, smart thermostats stand out from the pack. There are many benefits to installing a smart thermostat in your home:
Low upfront cost. While a smart thermostat is more expensive than a standard programmable thermostat, it is still one of the most affordable energy upgrades you can make to your home. Most smart thermostats range in price from $200 to $450.
Energy savings. A programmable smart thermostat can save you about $180 a year, according to Energy Star. While any programmable thermostat can save you money, a smart thermostat can give you insight into your energy use, including showing you exactly how much energy you are using on any given day and how much adjusting the temperature will save you.
Adjust your home's temperature remotely. A thermostat enabled with Wi-Fi allows you to adjust your home's temperature while you're at work or even on the other side of the country with an app on a smartphone or a computer. Most smart thermostats even tell you how long it will take to get your home to the temperature you select. This makes it easy to get your house to the perfect temperature as you head home without wasting energy.
Internet connectivity. Because smart thermostats can connect to your home's Wi-Fi, it opens up a huge range of possibilities. Some models can learn your preferences and automatically adjust heating and cooling levels, while others give you an in-depth breakdown of your energy use. You can learn more about the many features in the following section about what to look for in a thermostat.
Despite the advantages, a smart thermostat isn't necessarily right for you. Virtually all smart thermostats have a higher initial cost than a simple model. While many of the most popular models are designed to be installed fairly easily, you will still need to know what you're doing or hire a professional, which adds to the cost.
While $300 to $500 is not a huge investment for a homeowner in terms of energy improvements, it can be a high cost for renters or people who are planning to move soon. Of course, you can choose to install the thermostat yourself and take it with you when you move, in which case the thermostat will pay for itself over time.
Finally, you may not necessarily save much money by switching to a smart thermostat if you are already the type of person who turns your thermostat off every time you leave the home and carefully conserve energy. The energy savings can be compared to more affordable programmable models, although a smart thermostat does show you how to optimize your energy use to save a bit more each month.
What to Look for in a Thermostat
There are two broad types of smart thermostats: some will learn from your behavior and adjust themselves automatically without the need for programming, while others offer internet connectivity to remotely manage and program your HVAC setting. The very best thermostats do both.
The following are some important features you should consider as you shop for a smart thermostat.
Heat Pump Balance
Along with choosing between these two broad categories of smart thermostats, you will need to look for an extra feature if you have a heat pump. Heat pump systems benefit from a heat pump balance feature, which allows you to choose how much auxiliary heat to use.
Heat pumps are more efficient than other heating systems but they can take a long time to heat a home when it's cold outside. Most are paired with powerful auxiliary heat that is far less efficient but turns on when the heat pump alone is not heating the home fast enough. Most thermostats offer a single way to control this expensive auxiliary heat: an AUX lockout temperature. A heat pump balance feature means you don't have to worry about setting a lockout temperature. Instead, just choose whether you prefer comfort or savings and the thermostat will automatically adjust the lockout temperature for you.
Thermostat Design
Most smart thermostats today feature a very modern design that fits into any home far better than the old-fashioned beige plastic boxes. A slick design and attractive user interface will likely cost you more. If you prefer a lower-cost model, you can find cheaper smart thermostats that offer Wi-Fi connectivity and some type of scheduling with a less attractive style.
Internet Connectivity
Most smart thermostats offer Wi-Fi connectivity, which allows you to change your home temperature settings from anywhere as long as you have an internet connection. This can come in handy when you want to adjust the temperature before you head home from work, or if you're away from home and know there's going to be a major cold front moving in. Another benefit is your device will be able to make automatic software upgrades when they become available.
Smartphone Compatibility
Many smart thermostats can be controlled with a smartphone app, which allows you to adjust your home's temperature on the go. Otherwise, you may need to sit down at a computer and log into a website to control your HVAC's settings. If you choose a model that includes an app, make sure the app is available for your phone's operating system.
Statistics and Monitoring
If you want ultimate control of your energy use, look for a smart thermostat that includes a monitoring system with reports and statistics. This allows you to track your energy use and see how much energy you use throughout the week or month to look for times when you waste energy and adjust your settings accordingly. Some models include real-time energy monitoring.
Self-Programming
One of the most popular features of a smart thermostat is its ability to program itself by remembering your manual adjustments and preferred settings. Some models, such as the Nest, even have an "auto away" setting that drops your system to a pre-set minimum when it does not detect movement for a certain amount of time, or if it's installed near the front door and detects you walking past.
Installation
Not all smart thermostats are easy to install, and most require at least a bit more than simply removing your old thermostat and attaching new wires and screws. Some models are easier to install than others, though. Consider ease of installation when you make your decision, or be prepared for the additional installation fee by a professional.
Sensors
Some thermostats can help you save even more by reducing air conditioning run time when the humidity in your home drops. These thermostats have humidity sensors that work with your home's dehumidifier or humidifier to keep your main HVAC system operating as efficiently as possible.
Other sensors you may appreciate include a motion sensor, a sensor for weather conditions, and a sensor that detects the equipment status.
The Best Smart Thermostat Models
The following are the most popular and highly rated smart thermostats currently on the market.
Our Recommendation: Nest Learning Thermostat (3rd Generation)
The Nest Thermostat was one of the first smart thermostats, and it remains one of the very best. The Nest combines a great design and bright LCD screen with a remote energy management and a number of tools that help you save money while better managing your home's environment. The Nest is also a learning thermostat. This means it can sense when you're home or when humidity gets too high and adjust itself. The Nest learns your preferred temperature settings from your manual adjustments and begins to adjust your home's temperature with no programming necessary, although you can always edit its settings.
The Nest has some of the most popular smart thermostat features, including:
Remote control. The Nest connects to your Wi-Fi so you can control if from a tablet, laptop, or smartphone with an app.
Auto-Away, which automatically reduces the temperature to your pre-set minimum when you leave the house.
Auto-Schedule, which remembers the temperatures you prefer throughout week and adjusts itself automatically.
Energy history shows you how much AC or heating you have used in the last 10 days and why so you can adjust your settings to save money.
Airwave saves on cooling costs by automatically reducing AC run time when humidity is low.
Attractive and intuitive interface. Every Nest setting can be controlled by either spinning the ring or pushing on the device face. The display is red when heating and blue when cooling.
Easy installation. With a bit of know-how and clear instructions, the Nest can be installed in under 30 minutes.
One of the biggest drawbacks of the Nest that users complain about is it doesn't have external sensors. This means you can't feed Nest temperature or data from other locations without hardware, which can be a problem when the Nest is installed on a floor that is not used as often or in a hallway that is rarely used.
Nest's most popular feature among users is its energy usage and savings reports and intuitive design.
Design Tip: Ecobee3 Wi-Fi Thermostat
The Ecobee3 thermostat is a major competitor to the Nest and sold at the same price. It does offer some unique advantages over the Nest, particularly if you have a large home but one HVAC system or you want to measure the temperature in rooms where the thermostat is not installed.
The Ecobee3 features a touchscreen that you use like a smartphone app. This can make it easier to access information at the touch of a finger. Tapping the cloud icon, for example, brings up your local weather forecast. This model is more high-tech than others, and it offers several unique features, most notably its remote sensors. It comes with a single battery-operated sensor that you can place elsewhere in the home. This sensor monitors occupancy and temperature so the device can better monitor temperature and occupancy throughout the house, not just the room where the thermostat is installed. Up to 32 additional sensors can be purchased.
Popular features of the Ecobee3 Wi-Fi Thermostat include:
One included remote sensor to measure temperature and occupancy throughout the home. Up to 32 additional sensors can be installed at an additional cost.
Mobile app allows you to control your HVAC system remotely.
Automatic schedule programmed upon installation based on your geographic location.
Turns on your heating or cooling based on your home's energy profile and outside weather.
Intuitive interface with a large color touchscreen.
Users have pointed out several drawbacks to the Ecobee3 thermostat. This model has high power needs, which can make it much harder and more expensive to install than other models if your home doesn't have a common wire. Users have also complained that the smartphone app sometimes quits randomly and is less than responsive when it does work.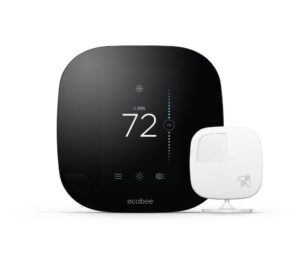 Price Tip: Honeywell Wi-Fi Smart Thermostat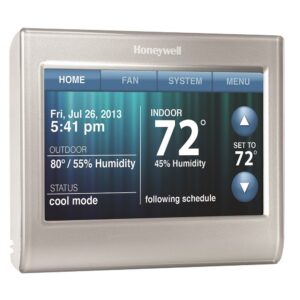 The Honeywell Wi-Fi Smart Thermostat is one of the more affordable smart thermostats available today. If you like the look of a traditional thermostat but you want something that is more adaptable with remote HVAC control, the Honeywell may be a good choice. This thermostat offers some neat tricks to make it stand out from the competition, including its ability to match the touchscreen display to the wall or any other color you hoose. The Honeywell also helps you stay on top of things with email and smartphone alerts when your home exceeds your temperature and humidity extremes, when you need to change your filter, or even when your Internet connection goes down.
The Honeywell smart thermostat learns how fast it takes to heat or cool your home, then makes it happen with the least amount of energy. It doesn't learn your preferred temperature settings by your manual thermostat adjustments, but this may work better for you if you frequently adjust your thermostat.
Features of the Honeywell Wi-Fi thermostat include:
Easy set-up with onscreen assistance and the ability to choose the display's color scheme.
Smartphone app for iOS and Android devices offers remote HVAC control.
Smart Response temperature timing learns how much time is necessary to reach your preferred temperature.
Indoor humidity sensor reduces air conditioning costs.
Programmable mode saves on annual energy costs.
Compatible with heating and cooling systems as well as heat pumps.
The most common complaint about the Honeywell thermostat is its fairly basic and blocky design that's smaller than it looks. Some users have also complained that the Honeywell can't learn from your manual temperature adjustments the way other models, like the Nest, can.