The future is now and whether you'd like to upgrade your old garage door system to work with your smart home devices or install a completely new garage door controller, we've gathered the best smart garage door opener and controller options currently available on the market. 
One of the most notable devices that truly sparked the dream of home automation in the last couple of decades is the garage door opener. Allowing for people to easily open their garage door via a remote control, the first such smart systems are now considered to be relatively archaic when it comes to technology. Today with everything connected to the Internet of Things, it's hard to imagine a garage door opener that can't be controlled from any of your smart devices.
With the appearance of new technologies that make your garage doors not only smarter but more secure, 2017 may very well be the best year to upgrade your garage door controller. Whether you'd like to completely change up your old opener system or simply make it smarter by installing a new gadget that helps you do so, we've gathered some of the best available options currently available on the market. Without further adieu, here they are.
Chamberlain Ultra Quiet – The Best Garage Door Opener for 2017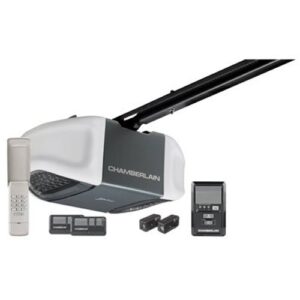 The Chamberlian Ultra Quiet is one of the newest additions to the long line of garage door opener products released by Chamberlian. Featuring a sectional single and double wide door style integration at a maximum door height of seven feet, what makes the Chamberlain Ultra Quiet stand out as a truly smart garage door opener is its incorporation with MyQ technology. While a number of other openers harness the home automation capabilities of MyQ, the Chamberlain Ultra Quiet presents people with what may very well be the best value for the money. With 300 pounds of maximum lifting capacity, the Ultra Quiet model of Chamberlain is able to pull up almost any garage door, and while the opener has only 1/2 total horsepower, it is nonetheless a great choice, because of its, as the name suggests, ultra quiet action. The opener is able to achieve that by replacing the usual chain system with a belt. The device also incorporates a timer-to-close system and usually comes with a lifetime guarantee.
Pros:
Easy to Install and Operate
Packed with User-Friendly Features
Highly Reliable and Future-Rich
Cons:
May Experience Compatibility Issues with Older-Generations of Accessories

LiftMaster 8550 – The Runner-Up Solution
Able to lift up any garage door that is up to 7 feet high, packed with a 3/4 HP motor, the LiftMaster 8550 is one of the best smart garage door openers available on the market today. Similar to the Chamberlain Premium, the device has a maximum lifting capacity of 550 pounds, incorporates a backup power source and is able to lift up gatehouse, sectional and double-wide garage doors. With the MyQ home automation system making the opener truly smart, the LiftMaster also has the most sought after safety and security features, including rolling code, motion sensor lights, infrared beam, automatic and manual reverse as well as lock mode. The only few downsides of the device compared to the Chamberlain Premium is the fact that out of the box the LiftMaster 8550 comes with only one remote control and that the device also doesn't feature a keyless entry pad. Nonetheless, it is one of the best garage door openers and at the end of the day, if you are choosing between the Chamberlian Premium and the LiftMaster 8550 it comes down to which brand of garage door openers you actually prefer or are keen to.
Pros:
Simple and Easy to Install
Incorporates All of the MyQ Smart Home Garage Door Opener Security and Safety Features
Uses Quiet Belt Technology
Cons:
Comes with only one remote out of the box
Doesn't Feature a Keyless Entry Pad
Not Compatible with Older Garage Door Accessories

The Ryobi Ultra-Quiet Garage Door Opener – The Most Innovative of the Bunch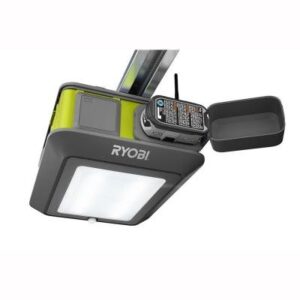 If we are talking about truly smart garage door openers, then we should definitely mention the Ryobi Ultra-Quiet Garage Door Opener. While it is not for those, who are looking for affordable conventional solutions, the Ryobi Ultra-Quiet does do its job of opening your garage door. In fact, it does so with its 2HP motor, which can open even the heaviest of garage doors. Furthermore, the Ryobi Smart Garage Door Opener is connected to your smart home system via both Homelink and Wi-Fi. Nonetheless, what makes this device truly amazing and what makes it the most innovative smart garage door opener for 2017 is the range of its unique features. It has a range of different accessories that can be plugged directly into the device, including a retractable cord, a fan, and a Bluetooth speaker. This truly turns the Ryobi into a true powerhouse. The only downside is the fact that these accessories will cost you even more. With that in mind, if you have a few extra bucks to spend on your garage door opener, you should definitely go for the Ryobi Garage Door Opener, which is one of the most innovative garage door openers.
Pros:
Compatible with Both Homelink and Wi-Fi
2HP Motor
UltraQuiet Technology
A Range of Accessories
Easy to Setup and Install
Cons:
A quite steep price tag
Accessories Cost Even More
Lacks Certain Safety and Security Features

Chamberlain Premium – The Expensive Option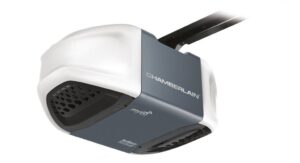 We've given the award of the best smart garage door opener to the Ultra Quiet version of Chamberlian, simply because of its more affordable price. However, if you have a few extra bucks to spare, you should definitely purchase the Chamberlain Premium garage door opener. Having all the best features of the Ultra Quiet model, the Premium opener comes with a maximum lifting capacity of 550, because of its total horse-power 3/4 motor. Furthermore, the device is packed with an additional backup power source, if anything goes wrong with the electrical input of the device.
Pros:
More Powerful Than the Ultra Quiet Model with 3/4 HP Motor
Back-Up Electricity System
Cons:

LiftMaster MyQ Universal Smartphone WiFi Garage Door Controller – The Best Wi-Fi Garage Door Controller of 2017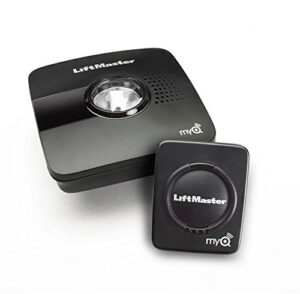 Designed to be compatible with almost any of the older garage door openers, the LiftMaster MyQ Universal Smartphone Wi-Fi Garage Door Controller is the perfect gadget you need to buy, in order to bring your old garage door opener to the smart home ecosystem of devices. Coming at a reasonable price, the device is packed with features that will keep your home protected. Furthermore, the LiftMaster MyQ Garage Door Controller is compatible with both Android and iPhone devices and is extremely easy to install. The device works with Wi-Fi, but if you prefer Z-Wave technology, be sure to check out our piece on the best garage door z-wave controller available to date on the market.
Pros:
Simple and Easy Installation Process
Android and iPhone Compatible
Incorporates All Needed MyQ Security and Safety Smart home Features
Extremely Reasonable Price
Compatible with Almost Any Garage Door Opener
Cons:
May Experience Certain Compatibility Issues Depending on Your Garage Door Opener

The Chamberlain MyQ CIGBU Gateway Wi-Fi Garage Door Controller – The Best Most Affordable Garage Door Controller of 2017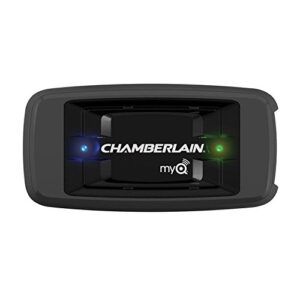 If you want to make your garage door opener smart quickly and without spending too much, then you should definitely check out the Chamberlain MyQ CIGBU Gateway Wi-Fi Garage Door Controller. With its extremely affordable price tag, the device is also extremely easy to install and works well with both Android and iOS. Extremely user-friendly the Chamberlain MyQ Wi-Fi Gateway Garage Door Controller works, as the name suggests, with Wi-Fi at a range of up to 150 feet. The only true downside of the device is that it is not compatible with a wide range of garage door openers, so you should research if your opener is compatible with this device before buying it, in order to avoid further issues. Furthermore, if you are searching for an extremely cheap and affordable garage door controller option, be sure to check out our piece on the best Bluetooth garage door controllers.
Pros:
Extremely Affordable Price
User-Friendly and Easy to Install
Cons:
Experiences Compatibility Issues with a wide Range of Garage Door Openers

What is the MyQ System?
First introduced on LiftMaster garage door openers, the MyQ system is a home automation system incorporating both software and hardware that helps the users keep track of their garage door, as well as provide them with additional information and safety and security features. Later introduced to Chamberlain devices, MyQ allows people to receive garage door activity alerts and monitor the status of their garage door on their smartphones, as well as to open and close it.
What garage door opener you are using and what are your plans of upgrading it? Will you be buying a new smart garage door opener or simply purchase an upgrade and add a controller to achieve the home automation functions you desire? Make sure to leave a comment below.
Also, for the latest news, updates, tutorials and more on the IoT, Home Automation and Smart Home world, make sure to stay tuned to BuildYourSmartHome.co