If we asked you what furniture manufacturer is worldwide known, with practical, yet contemporary furniture created, who would you think about? Of course, most of us think about IKEA!
IKEA pieces have modernist designs for various types of furniture and appliances, and its interior design is eco-friendly and straightforward. It is well known for its attention to operational details, cost control, and continuous product development.
But IKEA is much more: dedicated to sustainability, green manufacture, renewable energy sources, recycling and ecology, it took a step forward and introduced smart home gadgets into its portfolio! The Ikea smart home is called "Home Smart" holding up to economic branding.
Opening the world of smart home gadgets in IKEA is not much of a surprise, as it keeps up to date with the latest technologies. However, as IKEA main attributes are reasonable price and simplicity, smart home appliances had to wait to fulfil consumers' expectations. Because, IKEA wanted to make its smart home gadgets super easy to install and to understand, all at the best price tag.
As it is the best for every beginning – to start small – IKEA first introduced smart light bulbs. The line has a name Trådfri – smart and simple.
Trådfri – IKEA smart lighting collection
So, let's see how IKEA will enlighten customers by smart light bulbs!

Image from IKEA
First of all, most people that are devoted IKEA products consumers will like this improvement. Beside smart LED light bulbs, the light system includes LED light panels, LED doors, wireless dimmers, motion detectors, and a gateway and the IKEA Trådfri App for digital light control. Generally speaking, lighting is a low-cost entry point for a smart home. This fact fits well into one of most important IKEA features – low-price products.
The second most important thing is that Trådfri light bulbs are easy to install. They work right out of the box. All you have to do is to screw bulbs in, put a battery in the remote which is included in the package, and you're set. Another way of controlling Trådfri is to buy a hub and download an app, and you can control light bulbs through your phone.
Trådfri smart light works well with voice control through Alexa, Google Assistant, and Siri. With the iHaus app, you can connect Trådfri smart light bulbs with your existing smart home devices. Trådfri smart light can be switched on and off combined with other smart devices such as Philips Hue, SONOS, Netatmo Elgato Eve, and many more in the iHaus Smart Home App.
It is possible to use a single IKEA Home Smart device with the iHaus App, but it is much more exciting when you pair devices with each other. You can create SUM-ITUP situations for the lamps to react simultaneously by grouping all IKEA devices. In this way, SUM-ITUP with the IKEA Trådfri smart home devices also listens to Amazon Alexa.
In addition to the SUM-ITUP scenes, the iHaus App contains the TRIGGER feature. A TRIGGER automatically starts the SUM-ITUP situations whenever a particular event occurs. For example, an IKEA motion sensor would activate not only a Swedish lamp but also other smart home devices.
IKEA smart lighting products use the ZigBee Light Link standard to communicate with the rest of the smart home. This means it'll be well synchronised with a wide range of devices.
Now, let's consider LED light panels…

Image from engadget.com
They are an excellent choice in case that you don't have enough natural light in the office or at home. Even if you work from home, you can adapt lighting to different activities – a brighter colder light for working and a warmer light for dinner.
You can control up to 10 LED light panels, LED light doors or LED light bulbs using Trådfri remote. Those lights will dim, turn on, switch off, and switch from warm to cold light in the same way. You can also create and control several groups of light sources in different ways using Trådfri gateway and Trådfri app.
Depending on which mobile device you have, you can download the free Trådfri app via Google Play or App Store. Additionally, you can dim up or down and set the scene for reading, cooking, working or watching TV via your remote or smartphone.
IKEA smart plugs
The smart plugs by IKEA are expected to be released in October 2018. New smart devices will join an existing Trådfri series of smart light devices. It is not yet confirmed if smart plugs will require the Trådfri base for connectivity.
The smart plugs will include a built-in remote control which can attach to either any magnetic surface or the plug within about 30 feet of the device that is to be controlled. You will be able to control the devices via the app or by voice, since Ikea's line of smart home products supports voice control through Google Assistant, Alexa, and Siri. Another option that is cheaper will be a "control outlet kit" that has an on/off remote.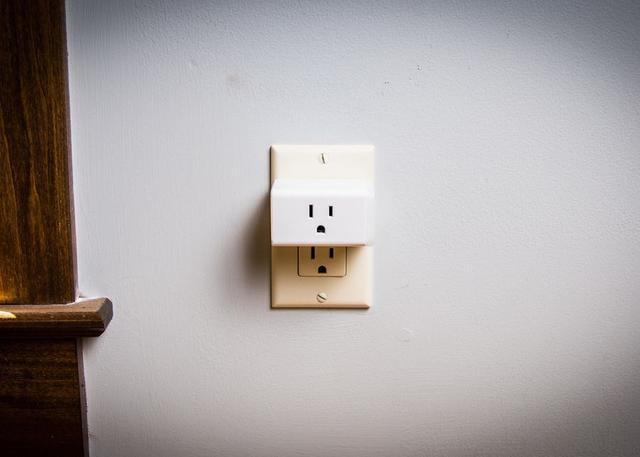 Image from twoeggz.com
A price is set to be competitive, and the device should work as any other smart plugs seen so far. IKEA smart plugs will enable you to link the device to your wireless home network and let you control devices that are connected to the plug using your phone via the Internet.
The release of Trådfri smart plugs, with a super-available price that other providers could also use to make their way directly into the smart home, will put the company one more step forward in the competitive market of smart homes.
Deeper into the future: IKEA and SONOS – Symfonisk smart speaker
Even though IKEA already sells Bluetooth speakers, the first result of the collaboration between IKEA and SONOS, Symfonisk smart speaker prototype was demoed at IKEA's annual Democratic Design Days conference in Sweden.
During the presentation, representatives confirmed that the final products would fully integrate with Sonos' existing range of Wi-Fi speakers and Ikea's "Home Smart" range of Trådfris smart devices which will include lights, switches, and dimmers. Additionally, as it is made for IKEA, the speaker will be possible to use as a shelf or to attach beneath an Ikea kitchen cabinet.
Symfonisk marks the start of a series of Sonos and IKEA products, and long-term cooperation between companies, with this smart speaker being the first coming in the line. The model presented on the show was a non-working unit, and the price is not known yet, but with described performances, it will be many people dreams come true: save the space and have great sound from the speaker.

Image from Geeky Gadgets
With prototype presented, we can happily expect the first speakers from the Symfonisk series available after summer 2019.
More to come: Smart Kitchen by IKEA
Our homes change and evolve the same as our lifestyles and technology. IKEA did great steps to help you and your home stay up to date. And this includes improvements to the kitchen, with introducing smart appliances for this creative space.
IKEA has made kitchen appliances that not only make your everyday life more comfortable but also help you live a more sustainable life at home. Devices have smart functions, and they're built to stand up to day-to-day demands. The design is following all IKEA products, with attention given to details which will enhance the look of your kitchen.
To make one step ahead of competitors, IKEA in cooperation with IDEO London and a group of students from Lund and Eindhoven universities explored the technological, social, and demographic forces that will impact our behaviour around food in 2025.
Cooperation resulted in the creation of future Concept Kitchen 2025 which is not a functional kitchen, but a journey to the future behaviours in the kitchen that will shape the company's future, which will eventually include smart kitchen devices. The kitchen is using "casual technology" that offers guidance when needed but is hidden otherwise, help you prep and cook your food, suggest recipes based on leftovers, reheat your coffee, charge your phone, or augment play.
One device that came up as a useful smart appliance is the digital table from IKEA. The table acts as an integrated cooking hob and dining table. It can suggest recipes based on the ingredients you put on it, which are recognised by a camera that is placed above the table. It will then suggest other ingredients to combine with it and can take the user through a full step-by-step recipe with instructions projected directly onto the surface of the table.

Image from New Atlas
This futuristic kitchen will help you master the virtue of cooking!
Wrap up
As we can see, IKEA is taking small but essential steps in entering a smart home market niche with "Home Smart" line. Some of the appliances will be available very soon, and some of them are still in the creative phase. But we can be sure that in years to come IKEA concept of homes will be completed with many smart devices and a lot more expected to arrive.
So, if you are a devoted IKEA customer, we are sure that before you know, you will enjoy voice-controlled smart home created by your favourite furniture and home accessories manufacturer.